JT Responds To New Social Media Hate After She & Yung Miami Call Out 'Clout Chasers' In i-D Mag - 'I Don't Give A F*** What Nobody Think'
​
Jun 22 | by _YBF
​ ​ ​ ​
City Girls rapper JT reacts to social media hate right after she and Yung Miami addressed "hating clout chasers" in the cover story for i-D magazine's newest issue. Check out her latest social media post, plus what they said about folks clout chasing off their name inside...
It seems folks love to hate the City Girls, but that's not stopping them from doing what they love to do.
Over the weekend, JT and Yung Miami jetted to Mississippi for the Lil Baby & Friends Juneteenth concert held at the Mississippi Coast Coliseum in Biloxi.
During their performance, it appears a fan tried to hand JT her phone, but the Miami raptress declined and rolled her eyes. Fans in the section weren't feeling it, so one person uploaded the interaction and called her "ugly."
"How you ugly and have a nasty attitude???," a Twitter user asked.
Peep the clip below:
How you ugly and have a nasty attitude???? pic.twitter.com/ccDhYHNakv

— DARKAYLA DASH (@darkaylamfdash_) June 21, 2021
Some fans felt JT wasn't obligated to take the fan's phone and make a video, while others felt she could have grabbed the phone for a few seconds to make the fan's night:
She is absolutely not obligated to take someone's phone and record herself which the person was tryna make her do, ESPECIALLY when her verse is up... y'all be so entitled for absolutely no reason and she's not ugly pic.twitter.com/TclBM7jSef

— Tarot by Jang/Desi readings are CLOSED (@destineejordyn) June 21, 2021
Fair, I just no damn well a lot of "fun" and "good energy" artists that simply enjoy performing, would find it even more fun to record themselves on someone else's phone while performing. She can do her, but I'd swoop that phone and make a fans night

— G Boppa (@TheGregPage) June 21, 2021
Y'all just be calling anybody ugly her attitude yes but the outside looks fine

— (@nicebitchg) June 21, 2021
She not cute... she just got money it's a difference

— RAW (@iamniakouture) June 21, 2021
i just wanna know WHY do y'all be feeling like jt and i swear its only jt is OBLIGATED to do any and everything her fans say……like what is it about this woman make y'all have so much entitlement like what……

— YJ (@dontgetnear) June 21, 2021
JT hopped on IG Stories to respond to the "ugly" drama that was trending on Twitter: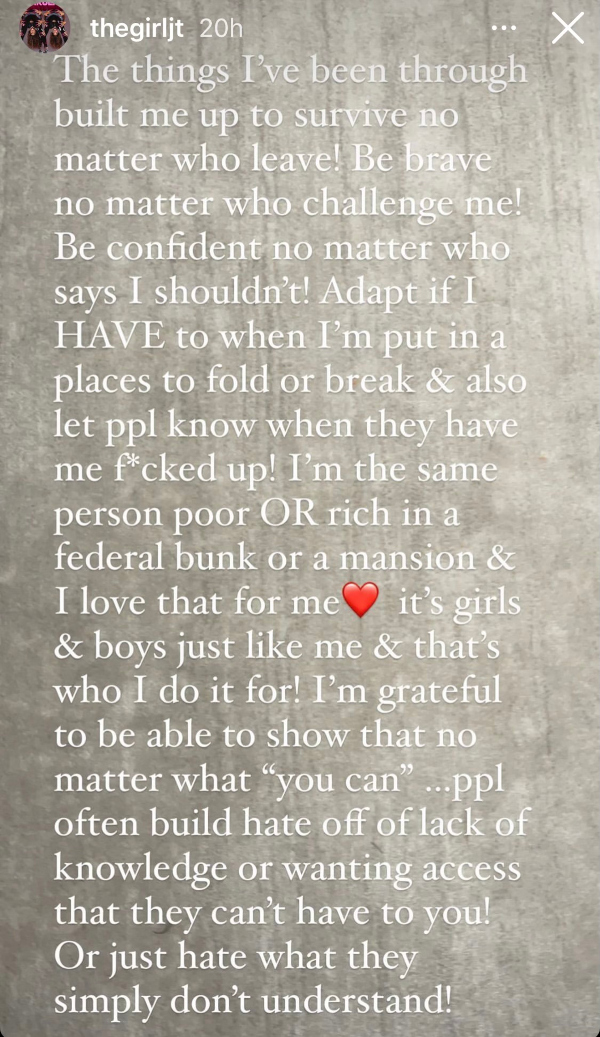 "The things I've been through built me up to survive no matter who leave! Be brave no matter who challenge me!," she wrote. "Be confident no matter who says I shouldn't! Adapt if I HAVE to when I'm put in a places [sic] to fold or break & also let ppl know when they have me f*cked up! I'm the same person poor OR rich in a federal bunk or a mansion & I love that for me [heart emoji]. It's girls & boys just like me & that's who I do it for! I'm grateful to be able to show that no matter 'you can' ... ppl often build hate off of lack of knowledge or wanting access that they can't have to you! Or just hate what they simply don't understand!"
Watch the ladies participate in a twerk-off with fans (where Yung Miami took off her boots to compete) during their set in Mississippi below:
On the magazine front...
Receiving online hate isn't anything new for the rap ladies.
Since they first made a splash on the music scene there has been heavy criticism of the ladies - from their raunchy lyrics, how they dress and, how they talk. JT even did a prison bid while Yung Miami held the group down.
For the latest magazine cover, the City Girls cover i-D magazine where they opened up about how folks love to hate them on social media for CLOUT.
"Man, lemme tell you something. Put this in the magazine," said JT. "At this point, I don't give a f*ck what nobody think. Dead a**."

"These people gon' make up what they gon' make up anyway. They don't know me," she added.

"They damn sure don't know [Yung Miami]. So, I don't care what they think," said Yung Miami aka Caresha. "Twitter and the internet world have got out of control. Period. It's out of control. People gave the internet an inch, and they done took a motherf*cking mile. People doing things for tweets, viral moments, comments. It's not even genuine hate no more."
She continued: "You could give a million dollars, and they be like, 'All you donated was a million dollars?' You could be a f*cking perfect person in the world, and they still gon' pick out something about you that they don't like. At the end of the day, it's your life. You cannot live to make other people happy."
PERIODT.
Check out more from their feature below:
Killed it.
You can read more from their feature here.
Photo: City Girls' IG
​ ​
​ ​ ​