Angelina Jolie Helps Ring The Alarm About Racial Disparities In Health Care After Experience With Daughter Zahara's Surgery
​
Jun 24 | by _YBF
​ ​ ​ ​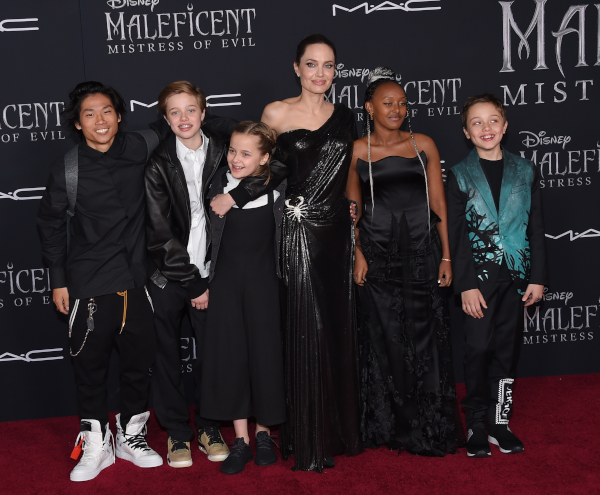 Angelina Jolie opens up about institutionalized racism in the medical field after an experience she had with her daughter Zahara's post-surgery care. Find out what she said inside.....
Angelia Jolie sat down for a much-needed interview that's shedding light on racial disparties in the medical field.
The Hollywood actress interviewed 21-year-old medical student Malone Mukwende for TIME magazine. While in medical school in London, Mukwende identified a fundamental problem: almost all the images and data used in its teaching were based on studies of white patients. And that's a huge problem. Medical symptoms can present very differently on Black and brown skin, which leads to misdiagnosis, suffering and even death.
Now, Mukwende is on a mission to teach other aspiring doctors how conditions and diseases can be present in non-white patients. Mukwende discussed what he hopes to achieve with the recent launch of his handbook, "Mind the Gap," and Hutano, which is a new online platform intended to empower people with knowledge about their health.
The Maleficent actress shares six kids with Brad Pitt - three of whom were adopted internationally. They are the parents of Maddox, 19, Pax, 17, Zahara, 16, Shiloh, 15, and 12-year-old twins Knox and Vivienne.
During the interview, Angelia shared she experience institutionalized racism firsthand after her black daughter, Zahara, underwent surgery recently.
Get into their chat below:
Jolie: "The gap isn't just because there haven't been studies on Black and brown skin. It's because it wasn't considered important, right?"

Mukwende: "After the publication of Mind the Gap, someone reached out to me who is a student in Zimbabwe. They said that all the books and reference images they use are also from white skin, even though the population [is] predominantly of darker skin. It really shows you that the legacies of colonialism are still living in 2021."

Jolie: "I have children from different backgrounds, and I know when there was a rash that everybody got, it looked drastically different depending on their skin color. But whenever I looked at medical charts, the reference point was always white skin. Recently my daughter Zahara, whom I adopted from Ethiopia, had surgery, and afterward a nurse told me to call them if her skin "turned pink."

Mukwende: "Almost the entirety of medicine is taught in that way. There's a language and a culture that exists in the medical profession, because it's been done for so many years and because we are still doing it so many years later it doesn't seem like it's a problem."
While it may not SEEM like it's a problem, people who aren't white are all too familiar with the issue. With almost all tests and gauges being white centered, so many important health issues could be missed in or on a person who does not have white skin or has added biological stress due to dealing with racism daily.
Jolie: "What do you hope Hutano will achieve?"

Mukwende: "We want people who are living with these conditions to have a platform to be seen and empower their health care literacy….We need to start empowering the individual, and that, I hope, will start to reduce some of the health care disparities that exist."
You can read the full piece here.
Interested in Malone Mukwende's social platform? Follow the IG page above for updates.
Photo: DFree/Shutterstock.com
​ ​
​ ​ ​