'MY LIFE' DOC: Mary J. Blige Talks Wanting To Die From Trauma & Pain, Turning It Into POWER
​
Jun 26 | by _YBF
​ ​ ​ ​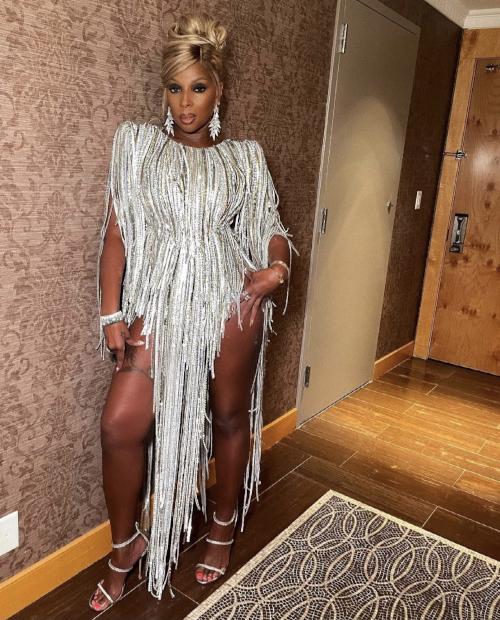 Mary J. Blige is a walking testament of what can happen when you never give up. The legendary singer gives fans an inside look at the making of her sophomore album, My Life, which launched an unbreakable bond between the singer and her fans.
More inside...
Over the past 30 years, Mary J. Blige has fed our souls with heartfelt tracks that serve as part of the soundtracks of our lives. Her chart-topping hits brought us joy, pain and every emotion in between as Mary belted out sincere lyrics that showed vulnerability like no other female singer had done before.
When Mary released her sophomore album, My Life, in 1994 she provided her fans with a musical offering that built an unbreakable bond. During the time she was recording that album, the New York native was living through some of her darkest moments. She was battling depression and was caught up in an abusive relationship with singer K-Ci of K-Ci & JoJo.
The Grammy Award winner used her pen to write through that pain and served up a raw album about her life that fans instantly connected with.
To celebrate the 25th anniversary of the impactful album, the Queen of Hip Hop Soul teamed up with Amazon Studios for a documentary title "Mary J. Blige's My Life."
With direction from Academy Award winner Vanessa Roth, the doc explores the iconic singer's life, her struggles with addiction, how she crafted her sophomore album and more. The doc includes interviews from Sean "P. Diddy" Combs; Mary's sister, LaTonya Blige; Mary's stylist/friend Misa Hylton; her I Can Do Bad All by Myself co-star Taraji P. Henson; rapper Nasir "Nas" Jones; producer Chucky Thompson; and music executive Andre Harrell, who died last year.
With footage of Mary's recording sessions of My Life, the multi-platinum artist reflected on changing up her "around-the-way girl" image she had with her debut album to sharing a more complete picture of who she really was.
"I've done pretty much everything that I've always wanted to do," the "Power Book II: Ghost" star said in the doc. "But success comes when you're successful inside. And for a long time, I didn't know I was successful outside because I was a wreck inside."
Mary talked to Yahoo Entertainment while promoting the doc saying:
"For years, from album to album, I was still in so much pain until I got to the No More Drama album [released in 2001]. That's when I made the choice, 'I'm tired of feeling like this. I'm tired of having suicidal thoughts. I'm tired of hating myself, and now I don't want to die. How do I live?

"So it was still heavy for me when everyone else was like, 'Oh my God, this album did so much for me. This album saved my life.' When I was still stuck in hell."
Mary's parents divorced when she was just five. Mary, her mother and her three siblings (one older sister, one younger sister and one younger brother), moved to Schlobohm housing projects in Yonkers, New York. She said in the documentary she always had to have a poker face because smiling symbolized weakness.
"I think [what] people don't understand about the families that live in the projects, is that it's like a prison… people are just suffering…. I remember hearing women being beaten. My mother was one of those women. I carried her pain. I carried the neighbors' pain. I carried people all over the environment's pain. And I carried my own pain," she said.
On her journey to self love after hating herself:
"Now, I love my sharp, pointy nose. I love my high cheekbones. I love my lips. I love everything about me and, nowadays, people are buying these features [laughs]." pic.twitter.com/WyP2dtMg7A
— BuzzFeed (@BuzzFeed) June 25, 2021
While singers like Anita Baker and Diana Ross were role models to her, she defied industry trends and created her own style.
"At that time, the rule for black female artists was: sing loud and smooth yourself out," Danyel Smith, the former editor-in-chief of Vibe, said.

"I saw something [in Blige] that we'd never seen before but knew existed," actress Taraji P. Henson said about Mary's persona. "She gave us a face, she gave us a name, she gave us a story, she humanized us."

"I started to feel good about who I am, about being a little rougher around the edges, about having a strong point of view," singer Alicia Keys said. "I felt like I could be who I actually was and that was cool."
The "Be Without You" singer opened up about her failed relationship with K-Ci.
"It became very dark, the whole thing, and abusive," she shared. "There was a lot of manipulation," to the point where she decided, "I'm gonna dumb myself all the way down, play myself all the way down, so I don't think I'm special, so I can be with you."

"I've had to physically fight for my life a lot," she continued.
In the doc, Mary talked about being molested, her battle with addiction, which she used to cope with the trauma and pain she had endured as a child.
In the end, it was her vulnerability that helped pushed her to ICON status and transformed her into a symbol Black women could look up to and be proud of.
"Mary J. Blige's My Life" is currently streaming on Amazon Prime.
Photo: Mary's IG
​ ​
​ ​ ​