The Highlight Of Soulja Boy & Bow Wow's Star-Studded VERZUZ Was Their Playful Ish Talking - 'You Sell Durags, I Got Lemonade!'
​
Jun 27 | by _YBF
​ ​ ​ ​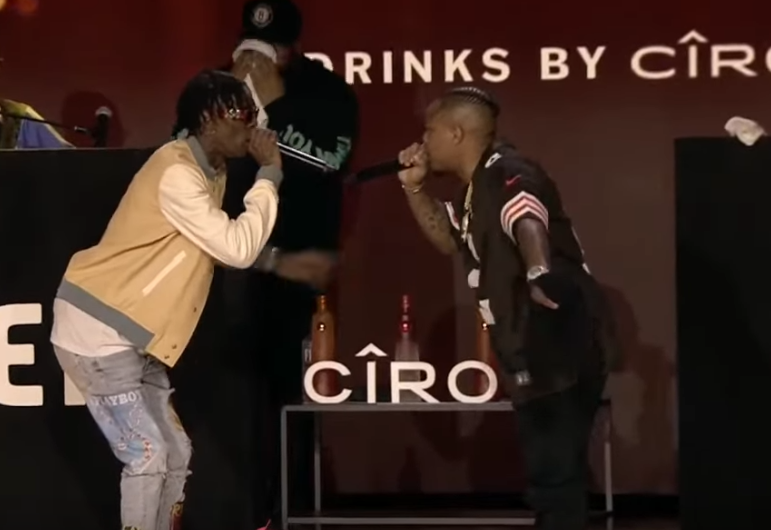 Soulja Boy and Bow Wow's highly anticipated VERZUZ Battle became a trending topic on social media following over a month's long online battle of the rappers firing shots at one another. Their playful banter plus their throwback hits were everything. More inside...
Over the last month, Soulja Boy & Bow Wow have been "bickering" online leading up to their VERZUZ Battle.
A lot of trash talk has been exchanged online before the battle - like that time they hopped on IG Live together and was "dissing" one another for their business ventures. Soulja clowned Bow for being a durag model while Bow was talking ish about Soulja's lemonade.
"You sell durags, I got lemonade Bow Wow!," Soulja said.

"Is it good though?," Bow asked.
Peep the clip below:
Bow Wow and Soulja Boy goin' at it again pic.twitter.com/R9S1BEAaUC

— XXL Magazine (@XXL) June 26, 2021
HA!
The early 2000s rap face-off included a slew of surprise guests. Bow invited Omarion for "Let Me Hold You," Jermaine Dupri, Da Brat, and Dem Franchize Boyz for the remix of "I Think They Like Me," and Three Six Mafia's DJ Paul for the "Side 2 Side" remix. Meanwhile, Soulja invited Lil Romeo on stage for "2-Way" and later French Montana hit the stage for their unreleased "She Make It Clap" remix.
During the round where Bow brought out DJ Paul for "Side to Side," Soulja performed his verse off of Drake's "We Made It."
"How you never did a song with Drake," Soulja joked.
It appears Drizzy would have cleared his schedule to make an appearance. He said he would have in the comments. Check it:
This would've been FIRE! pic.twitter.com/3OMyTF4IFK

— Stefon (@WaltD336) June 27, 2021
Champagne Papi also shared a throwback pic of himself with Bow Wow, Soulja and someone who appears to be Trey Songz:
HA!
There was a Beyonce "BEYHIVE" battle moment when Bow Wow played his Destiny's Child feature on the "Jumpin' Jumpin'" So So Def remix. Then, Soulja reminded "Shad" that he worked with The Queen too when he played the sample from Bey's "Hold Up" before performing his hit, "Turn My Swag On."
During the battle, both guys were very animated as they cracked jokes on each other in between performing their hits.
"The difference between me and you, Bow, is all those songs are old man!" Soulja said before playing "Make It Clap" AGAIN - this time with a feature from Nicki Minaj. Bow pretended to take a nap on stage.
However, it was all love between them. At the end, they praised each other for their talent.
"My brother, you deserve every inch of respect. I never planned on doing a Verzuz," Bow Wow said to Soulja. Soulja told Bow Wow that he inspired him to do music before announcing his Big Draco album is set to drop July 28th.
Romeo gave flowers to both of them too:
Watch the full battle below:
Good vibes.
Photo: Screenshot
​ ​
​ ​ ​