Fans Say Simone Biles' Boyfriend Jonathan Owens Belongs In The CAP Olympics After He Said He Didn't Know Who She Was When They 1st Met
​
Jul 06 | by _YBF
​ ​ ​ ​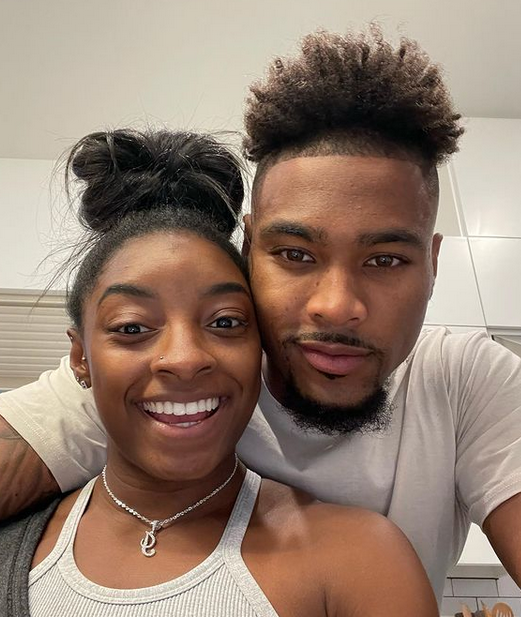 Fans are cutting up after a clip of NFLer Jonathan Owens saying he didn't know who his now-girlfriend Simone Biles was when they first met goes viral. Basically, they're saying he needs more people to help them believe he didn't know who the GOAT of gymnastics was when they first met. Get it all inside...
From Instagram DMs to a full-out match made in sports heaven romance.
Just as the COVID-19 pandemic lockdown was beginning (March 2020), Olympic gold medalist Simone Biles and Houston Texans safety Jonathan Owens were in each others' DMs. That was 16 months ago. And since then, the world has been watching the adorable love story between the most decorated American gymnast in history and the NFL defensive back.
On the latest episode of Simone's Facebook Watch Series, "Simone vs. Herself," Jonathan revealed he had no clue that the 24-year-old five-time Olympic medalist is the GOAT of Gymnastics.
.@simone_biles' boyfriend, Jonathan Owens, had no idea who she was when they first started dating

Watch Ep. 3 of Simone vs. Herself, only on Facebook Watch. pic.twitter.com/QlouLBuByj

— Religion of Sports (@religionofsport) July 3, 2021
"Her work ethic was really the first thing that caught my eye. I never really watched gymnastics before I first started talking to her," Jonathan said in the episode.

"When I met her, I honestly didn't know who she was. It was just kind of like, 'Oh, she's got a lot of followers. You know, she must be pretty good or something.'

"That's how I would tell people, and they're like, 'Simone Biles?! You for real, the gymnast?!' And I'm like, 'Man, she's good like that?!' Like I didn't [know]," he continued in the clip above.
Fans aren't buying it.
"this n*gga belong in the capolympics," one fan wrote.
"Give this man 10's across the board for that triple- double lie!," another wrote.
"This is cute. It sounds like a lie tho… but still cute nonetheless," said another IG user.
In the new episode, fans get an inside look at Simone and Jonathan's cutesy relationship outside of their coupled up social media posts. Since they're both professional athletes, they like to do fun activities together...like a rope climbing challenge.
#SimoneBiles is all boo'd up and unbothered after her ex #StaceyErvinJr's shady comments. Deets when you swipe up in Stories or click the link in our bio! https://t.co/DxATLcxkaQ pic.twitter.com/kxXeSmFxHr

— YBF CHIC (@TheYBF) July 27, 2020
In the "gymnast vs. NFL player" challenge, Simone asked Jonathan what's the wager and he jokes about her giving him a 30-minute foot massage. She then reminded him that they agreed the loser has to pay the winner $50. Take a good guess who won:
YASSSS!
These two... #SimoneBiles #JonathanOwens #YBFCoupledom https://t.co/Ba5wqQIc6j pic.twitter.com/ADncCgsPO8

— YBF CHIC (@TheYBF) November 30, 2020
At the upcoming Tokyo Olympics, Simone has the opportunity to snatch up five gold medals and based on her record, she'll likely nab them ALL.
You can check out the entire "Simone vs. Herself" episode below:
Cute.
Y'all already know who we're rooting for.
Photo: Jonathan's IG
​ ​
​ ​ ​