Trouble In Paradise? G Herbo & Taina Stop Following Each Other On IG After He Pops Up At His Ex-Ari's Player's Club-Themed B'Day Bash
​
Jul 11 | by _YBF
​ ​ ​ ​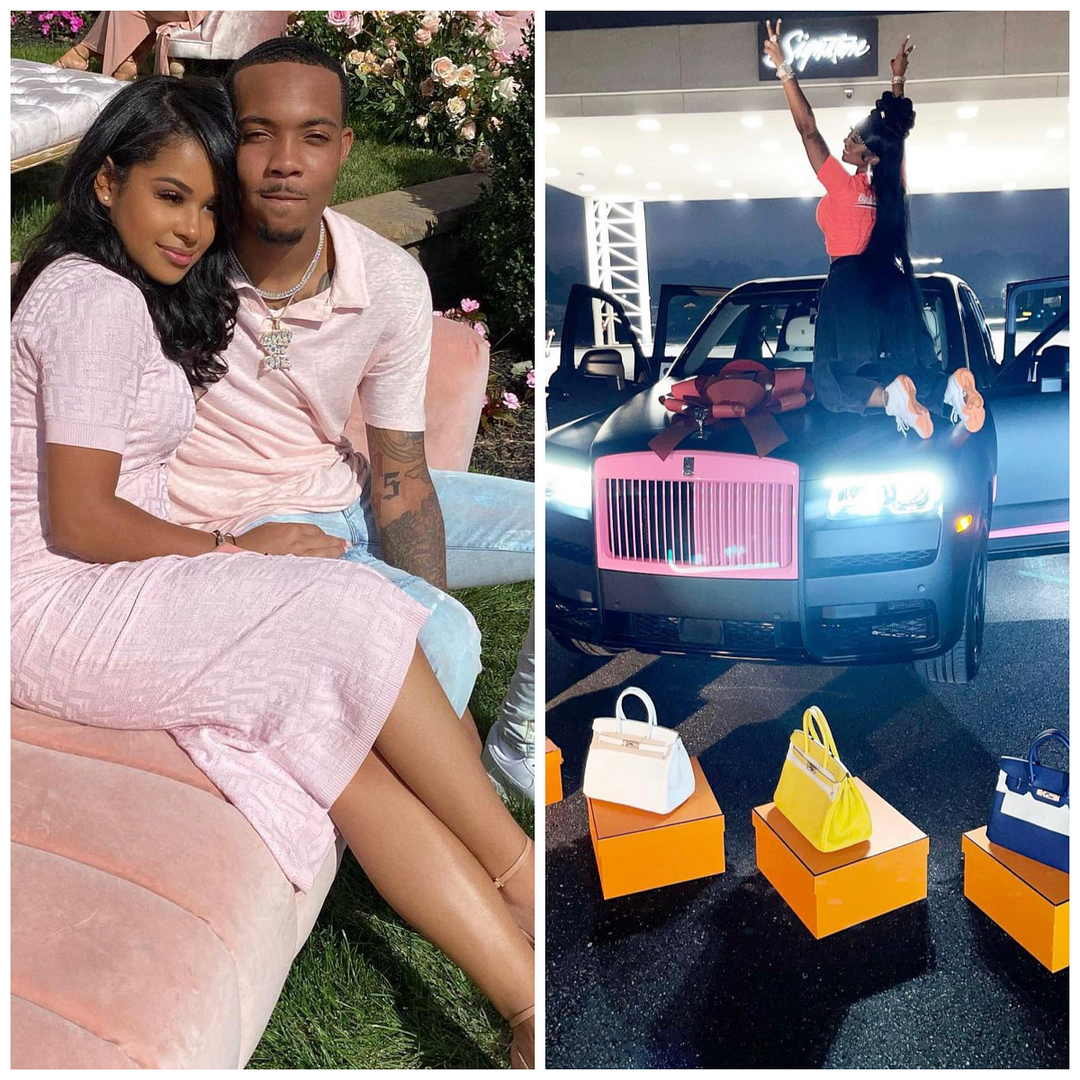 Rapper (and new dad again) G Herbo popped up at his ex/son's mother Ari Fletcher's Player's Club themed birthday bash last night. And his appearance has seemingly caused drama with his fiancée/son's mother Taina Williams. She stopped following him on social media after videos of him at the party surfaced. Trouble in paradise?
More inside...
Rapper Moneybagg Yo made sure to make his girlfriend Ari Fletcher feel special for her birthday.
Leading up to last night, Ari Fletcher has been posting about her Player's Club-themed bash, which went down last night at Allure Gentleman's Club in Atlanta. Thrown by Hannah Kang's MBP events, the party featured real strippers, stripper poles, custom cars and more.
Check it:
Ari's boyfriend Moneybagg Yo laced her with some luxury gifts, including a black and pink matte Rolls Royce, five Birkin bags and he iced out her wrist.
"He go crazy every time," she captioned. "Thank you so much baby! You always go above and beyond! WTF @moneybaggyo You the f*cking GOAT!"
Ari's bestie/hairstylist Arrogant Tae also iced her out with a customized chain:
"And y'all know my best friend don't f***ing play about me," she captioned. "I love it!!!!! @arrogant_tae123 I love you!"
Now that you've seen the gifts, go inside the Player's Club-themed bash below:
Turns out, Ari's ex/son's father G Herbo - who is currently fighting a federal fraud case - was also in the mix. Oh? Video footage of the Chi-town rapper pulling up at Ari's party quickly started circulating on social media, which seemingly caused some drama between Herbo and his fiancée/son's mother Taina Williams. Herbo and Taina welcomed their baby boy, Essex, back in May. Essex is Taina's first child and Herbo's 2nd. He shares a 3-year-old son, Yosohn, with Ari.
While Herbo was partying, Taina was home with Baby Essex. Peep the clips above.
Fans quickly realized Taina and Herbo stopped following one another on Instagram after his party appearance. Trouble in paradise? Sure seems like it.
Twitter has been sounding off since the couple stopped following one another on IG:
Taina unfollow gherbo for what when she was the same person taking pictures with Ari at the boy party

— Lil short (@liljohn3xx) July 11, 2021
Why he can't just be cool with his babymama? You have to also remember that @gherbo is an artist and @MoneyBaggYo is plugged which could help him get ahead #taina #GHerbo https://t.co/jsy78VrdIj pic.twitter.com/EfMLoWCZW7

— Chicaghetto (@Tweethomechicgo) July 11, 2021
Am I the only one who thinks Taina is childish for unfollowing GHerbo? That's the mother of his first child. She there with HER nigga. Is he not supposed to celebrate someone who gave him a seed?? He not going to creep.

— Dee (@DestiniKristal) July 11, 2021
ari and gherbo coparent. what's the big deal if he show up at her birthday party? they're both in happy relationships. y'all so bitter. i'm pretty sure him and Taina beefing over something else like NORMAL couples do. y'all be wanting to see other women suffer so bad.. sickening.

— court. (@forever_lashaun) July 11, 2021
I cant sympathize with the situation. Taina wasnt boohooing when Ari was sitting up there with her newborn getting cheated on. Now that the tables are turned she feeling exactly how Ari felt. Not saying its right but Ari called it exactly as it happened

— Lil Mama (@LuhBabyRed) July 11, 2021
Ari said gherbo was gone cheat on Taina like he did with her she knew that man came to her party she just didn't care

— (@_alluringLex) July 11, 2021
Taina unfollowing gherbo bc he went to his bm party

— $-Nice (@S__Nice) July 11, 2021
Yikes. Taina is probably pissed that she's home with a newborn while her son's father is partying it up in the streets of Atlanta. It doesn't help that he's partying at his ex's birthday bash.
Thoughts on G Herbo attending his ex's birthday bash with a newborn at home?
Photos: Taina's IG/Ari's IG
​ ​
​ ​ ​