Safaree Samuels Considering Legal Action Against Erica Mena After Claiming She DESTROYED Expensive Motorbikes & More!
​
Jul 16 | by _YBF
​ ​ ​ ​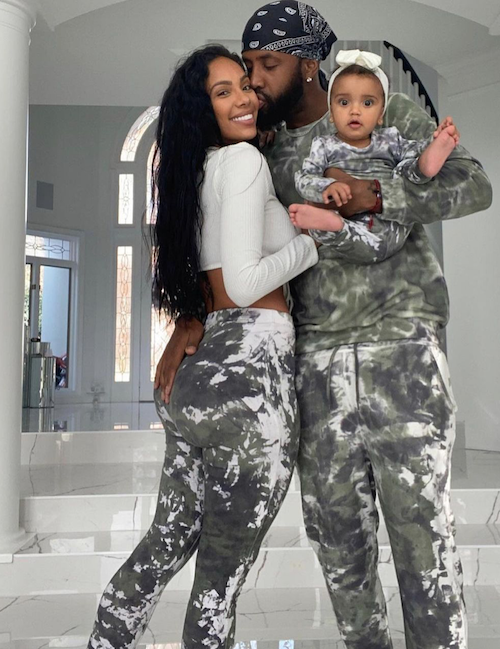 Erica Mena went "Waiting To Exhale" on her estranged husband Safaree Samuels most prized possessions. Now, he's considering legal action - felony charges and more!
Find out what went down inside...
Safaree Samuels and Erica Mena's divorce just got messier...and more expensive. Which means, more storylines for "Love & Hip Hop: Atlanta."
Just days after Erica filed for divorce from Safaree, she went straight "Waiting to Exhale" on his most prized possessions. And Safaree wants her to PAY UP.
According to TMZ, the "Love & Hip Hop: Atlanta" star doused bleach on his custom made sneakers, reportedly worth $30,000, and cut up the shoe laces. It gets worse.
Safree claims Erica poured paint into the exhaust pipes of two of his motorcycles and his four-wheeler motorbike as well as poured the paint all over the bikes. She also allegedly poured paint in gas tanks of all the vehicles.
This allegedly happened on May 23rd, while Erica ws 8 months pregnant with their second child (Erica's third). Their home's security cameras recorded everything and he said he's not against passing the footage to police to have her convicted.
Safaree wants the judge to hold Erica responsible for destroying his things because he believes she violated their domestic relations standing order. The order was put in place to keep them from destroying each other's property during their divorce proceedings. It's unclear if this order was put in place before or after Erica destroyed his things.
The new dad is even considering pushing for felony charges against Erica for criminal destruction.Yikes. He's requesting the judge make his estranged wife cough up $50,000 for the damage.
No one is surprised by this. These two have been going at it for quite some time.
In May, Erica filed for divorce less than two years after their huge made-for-tv wedding. The reality couple tied the knot in October 2019. It was weird because weeks before she filed for divorce, Erica and Safaree put on a united front to announce baby #2 is on the way. The announcemnt came after a very public spat between the two where Safaree criticized her for gaining weight during her pregnancy and she called him out for running to social media with their issues.
Most recently, Erica called out her estranged husband and Kaylin Garcia (Joe Budden's ex who also starred on Love & Hip Hop several seasons ago) for smashing all 4th of July weekend and for pulling up to Safaree's bday party together.
Uh oh. #EricaMena blasted her estranged husband #Safaree #KaylinGarcia (#JoeBudden's ex who also starred on Love & Hip Hop several seasons ago) for smashing all weekend and for pulling up to Safaree's bday party together. Erica - who filed for divorce ba… https://t.co/WVFUk7Q9Zk pic.twitter.com/XWlXljdc8S

— YBF CHIC (@TheYBF) July 5, 2021
For his birthday festivities, Safaree hopped on a plane and jetted to Jamaica to turn up while his son was still in the NICU.
Thankfully, Baby Legend is home now:
Since the divorce filing, the former couple has been back and forth filing paperwork. Before their son, Legend Brian Samuels, was born, Safaree filed paperwork, demanding he be allowed in the delivery room to witness the birth of his son.
It appears he got his wish:
#Safaree and #EricaMena just welcomed their new baby boy. Congrats. https://t.co/Md6y5bVcXg pic.twitter.com/IQJCyB3NPn

— YBF CHIC (@TheYBF) June 29, 2021
However, they're still feuding over custody of their 1-year-old daughter, Safire, and their newborn, Legend.
Hope they get it together soon - whatever that means for them - for the sake of these babies.
Photo: Instagram
​ ​
​ ​ ​