Jodie Turner-Smith Was The One Who Popped The Question! Joshua Jackson Spills The Engagement Tea
​
Jul 20 | by _YBF
​ ​ ​ ​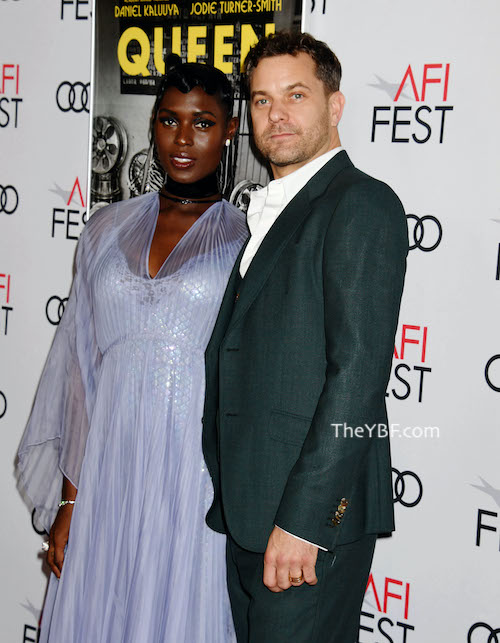 When Jodie Turner-Smith wants something, she isn't afraid to ask for it. That's how she got her husband. Go inside for deets on how the Queen & Slim actress proposed to her man Joshua Jackson inside....
Traditionally, the man usually asks the woman for her hand in marriage. But in this day and age, more women are asking men to marry them. The ladies are tired of waiting, so they're making things shakes when it comes to tying the knot.
Queen & Slim star Jodie Turner-Smith knew she wanted to marry "Dawson's Creek" alum Joshua Jackson, so she asked him first!
While chopping it up with "Tonight Show" host Jimmy Fallon, Joshua shared details on how his engagement to Jodie went down. When asked if he always knew Jodie was "the one," he responded,
"I knew the moment she asked me," the 43-year-old actor spilled.
Turns out, Jodie popped the question during a New Year's vacay in Nicaragua.
"She asked me, yeah. On New Year's Eve. We were in Nicaragua. It was very beautiful, incredibly romantic. We were walking down the beach, and she asked me to marry her."
"The Affair" actor said he had no idea she was going to propose.
"There was like a preamble. There was a lead-up to it. I did not know [about it beforehand], but she was quite adamant, and she was right. This is the best choice I ever made," he continued.
OH?
Watch the clip below:
Jodie and Joshua tied the knot in 2019 after fueling dating rumors a year before. Paparazzi caught the couple several times together, grabbing lunch and holding hands.
In November 2019, the couple seemingly put their relationship on front street when they appeared on the red carpet at the Queen & Slim premiere together. TheYBF.com put Jodie on Preggers Watch and a few weeks later it was confirmed she was pregnant with their first child.
The couple welcomed a baby girl in April 2020 during the height of the COVID-19 pandemic. The couple decided to welcome their daughter, Janie, at home due to the high death rate of Black women during child birth.
"The American medical system has a horrendous track record with Black women," the Canadian actor recently told ESQUIRE. "She wanted to be in a place where she was as comfortable as possible, understandably, and I wanted her to be in a place where she felt like she was being heard at every step along the way, rather than having to go through that filter of being a Black woman interfacing with the American medical system."
He continued, "I'm grateful for every second I got to be a part of bringing our daughter into this world. It's a magical experience—we don't talk enough about the positives."
Well good for them.
Previously, Jodie and Joshua said they were considering to raise their children outside of the U.S. due to white supremacy.
Photo: Pacific Coast News
​ ​
​ ​ ​