YIKES! Nicki Minaj & Husband Kenneth Petty Are Being SUED By Sex Assault Victim For Harassment & Intimidation, Nicki Only Speaking About Upcoming Docu
​
Aug 16 | by _YBF
​ ​ ​ ​
In the words of Nicki Minaj: "YIKES!" The NYC raptress and her husband Kenneth Petty are being sued! The woman who accused Petty of rape in the '90s has filed a lawsuit accusing the couple of harassing and intimidating her. And Nicki's only words after the news have been about her upcoming documentary. TRIGGER WARNING: This article mentions sexual assault.
Details inside....
Right now, Nicki Minaj and her husband Kenneth Petty should be all wrapped up in birthday party details to celebrate their son's upcoming birthday. It'll be his first, so they'll likely go all out with a huge venue, activities, decorations, etc.
However, The Pettys will be discussing more than just party planning details now that they've been hit with a new lawsuit.
According to reports, the woman who accused Kenneth Petty of rape in the '90s has filed a lawsuit in the Eastern District of New York. On Friday, Jennifer Hough, 43, reportedly filed a lawsuit against the couple with several claims that include witness intimidation, emotional distress, harassment, assault and battery.
USA Today reports:
Jennifer Hough's lawyer, Tyrone A. Blackburn, wrote in the filing that Minaj, 38, and Petty, 43, intimidated Hough, directly and indirectly, pressuring her to not speak about 1994 rape charges against Petty after the case became public knowledge on social media.

USA TODAY reached out to Minaj's representatives for comment. Petty's lawyer, Michael A. Goldstein, declined comment to USA TODAY.

Blackburn, Hough's lawyer, says Hough was left with "no choice other than to fight back."

"As a result of the Pettys' actions, Ms. Hough has incurred serious debt after having to move three times in a span of seven months," Blackburn told USA TODAY in a statement. "She also quit her job out of fear of being found and attacked. The Pettys acted in concert to destroy Ms. Hough's life, now they will be held accountable for their actions."
The lawsuit comes five months after Jennifer publicly spoke out about Nicki & Kenneth allegedly harrassing her. In an exposé by the Daily Beast, Jennifer made claims that Nicki and people from her camp were using severe intimidation and bribery in an attempt to get her to recant her story. At the time, she only revealed her first name.
Here's a little backstory...
On November 15, 2019, Kenneth Petty was pulled over by Beverly Hills PD for a traffic stop and that's what started his legal troubles on the west coast. Petty moved to Cali with his rapper wife in July 2019, but according to court documents, he failed to register as a sex offender after the move.
In 2020, Petty ended up turning himself in to police after he failed to register as a sex offender in California.
After his arrest, the "Chun-Li" raptress allegedly got on the phone with Jennifer to propose that she meet Nicki's publicist in order to make a statement recanting Petty's 1994 rape charge.
According to the lawsuit, Jennifer is said to have told Nicki, "I need you to know woman to woman, that this happened." After she said that, Nicki allegedly hung up the phone.
Since Jennifer's refusal, she claims she and her family "suffered an onslaught of harassing calls and unsolicited visits." Jennifer said she has been unable to work since May 2020 "due to severe depression, paranoia, constant moving, harassment and threats" from the celebrity couple and people in their camp.
In fear of retaliation, Jennifer has been living in hiding. According to the lawsuit, Jennifer is asking for a trial by jury for her claims and she plans to seek damages as well as statutory damages and attorney's fees.
In April 1995, Petty was convicted of attempted first-degree rape for a 1994 assault that occurred when both he and the victim were 16. Both Nicki & Kenneth – who welcomed a son last September – both deny the incident ever happened and claim the two were actually a couple. Jennifer says that's completely untrue.
"For many years my client did the best she could to move on with her life and away from the horrors of 1994. My client had no contact with, or any interest in coming after Mr. Petty or Ms. Minaj - they came after her. Now she fights back!," Jennifer's lawyer wrote on Instagram.
By the way, Mr. Petty recently accepted a plea deal for not registering as a sex offender in Cali. The convicted sex offender could possibly still do time. He's currently awaiting to be sentenced.
We will see how this all plays out in court...unless a settlement is reached before then.
In other news...
Nicki Minaj shared a clip from her untitled docuseries that's coming to HBO Max. She's executive producing the six-episode documentary that will explore her rise to fame in the music business.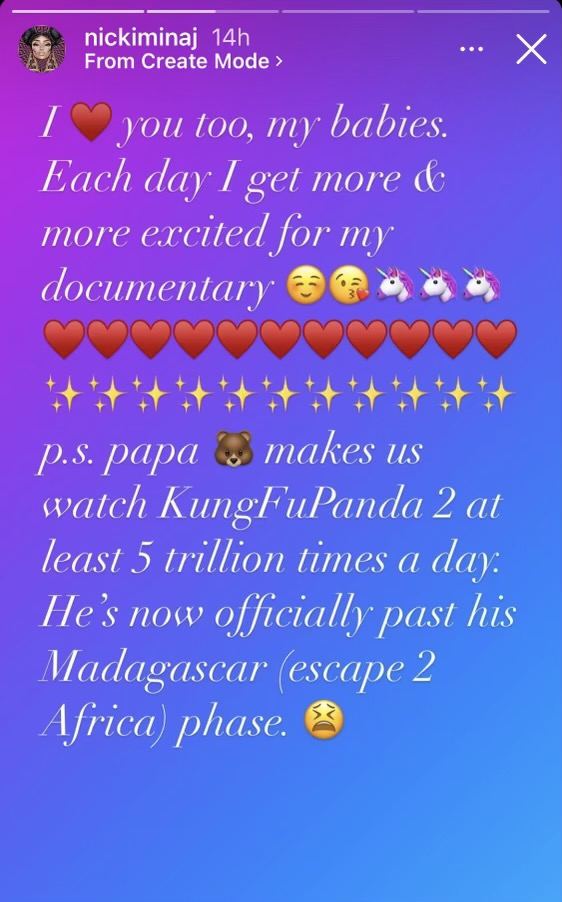 A release date for the series has not yet been announced.
Photo: Nicki's IG
​ ​
​ ​ ​