Nick Cannon To Kevin Hart On His Kids: 'I Got 8 & A Possible 9' + Kev Praises Nick In 'Drumline,' Reveals Thoughts After Not Landing The Role Himself
​
Aug 19 | by _YBF
​ ​ ​ ​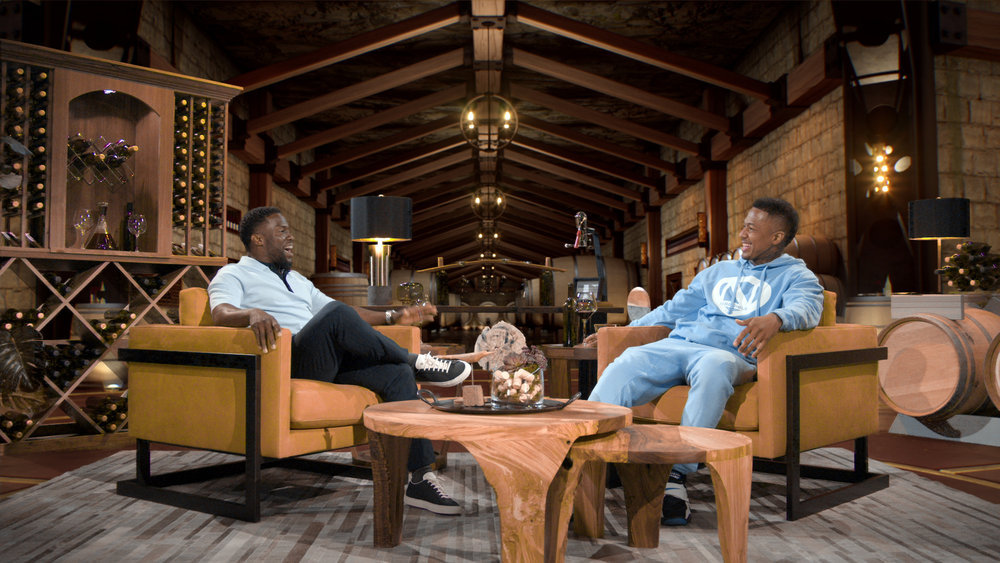 Kevin Hart sits down with Nick Cannon for a "HART TO HEART" discussion on Kev's new Peacock original series. Not one to shy away from drama, Kev asked Nick about having four children within a year and he didn't hesitate to respond and even dropped tea about a possible new baby? Chile...
The YBF comedians also reflected on when Nick nabbed the "IT" role every young, black actor and rapper wanted in Drumline and Kev felt about it. Get it all inside...
Kevin Hart and Nick Cannon go way back. Like, early 2000s.
Kevin Hart and Nick Cannon both grew to fame while competing for similar roles and opportunities, yet there was never animosity for the other's accomplishments. They reflected on how their friendship evolved on a new episode of Kevin's "HART TO HEART" Peacock series.
A "role of a lifetime" for so many young, black entertainers came up when Hollywood began looking for its lead male role in 2002's Drumline. Nick nabbed the role and Kev talked about what it felt like when he learned the "Wild 'N Out" honcho was chosen - possibly over him.
"I remember when you got the part, there was no animosity. There was no ill-will. 'Like, damn. I can't believe I didn't get it. Damn, it went to Nick Cannon.' It was like 'That's a good dude. That's a good dude. He deserves it. And you not only rocked that opportunity, but as others came...we developed a great energy and its always been that ying and yang," Kev said.
In response, Nick talked about feeling the same way about Kev when he would land big opportunities. The two powerhouse comedians talked about setting the stage for the next generation and how Nick felt pressure to help more young comedians along the way.
They talked about how the friendship has grown throughout the years, leading up to that infamous llama birthday/billboard fiasco. They love pulling pranks on one another, but they also make sure to check up on each other when they're going through things. Especially drama in the press.
Peep a clip from their discussion below:
Towards the end, the Night School actor touched on the topic of fatherhood.
"Who is Nick Cannon as a dad?" Kev asked. "Right now, Nick Cannon as a dad, the numbers are growing," he said after mentioning he just welcomed a baby boy and twin boys in June.
"I'm a dad to a whole bunch of motherf******," the 40-year-old father-of-seven responded while laughing.
As you know, "The Masked Singer" host has been heavy in the headlines for fathering four children in less than 12 months. In total, he has seven children with four different women. When asked how many child he has, Nick responded,
"I don't know. You're gonna put me on the spot? It's like Spades. I got eight and a possible nine," he said.
Does that mean...??
"I like children, damn it!," Nick yelled.

"The Cannon name is going to live on," Kev said.
"Forever," Nick responded.
On a more serious note, Nick said he takes fatherhood seriously.
"It gives me the ability to say, 'Man I can affect so much,' " he told Kev.
Well, he did previously say he was having all of these children "on purpose." You can stream their full conversation here.
Get the rundown on all of Nick's kids and their mothers HERE.
Photo: Peacock
​ ​
​ ​ ​