R. KELLY TRIAL - Ex-Girlfriend Says Singer Forced Her To Get An Abortion, Smear Feces On Herself & Shares Shocking Details About Explosive Gayle King Interview
​
Aug 26 | by _YBF
​ ​ ​ ​
One of R. Kelly's ex-girlfriends took the stand to testify against the embattled singer after previously defending him. She shared details about how the R&B crooner forced her to get an abortion, how she was forced to record videos of herself smearing feces on her face and in her mouth, and she shared explosive details about what Kelly was doing behind-the-scenes when she sat down for an interview with Gayle King.
Everything inside...
One of R. Kelly's ex-girlfriends who sat down for an interview with Gayle King to defend the singer is now speaking out AGAINST him in court. We will refrain from using her name since she's testifying against the singer anonymously and is only being referred to as "Jane Doe #5."
The woman identified herself as one of the two women who lived with Kelly at his Chicago Trump Tower condo until the end of 2019. She also confirmed that she was one of the two women who participated in the explosive Gayle King interview. The CBS anchor also interviewed the 54-year-old singer.
This week, Jane Doe #5 - one of six accusers testifying during his racketeering and sex crimes trial in Brooklyn - took the stand to share details about how she was abused sexually, mentally and physically during her five-year relationship with the Grammy Award winner.
The now 23-year-old said she met the R&B crooner at a hotel after one of his concerts in Orlando, Florida when she was a 17-year-old high school student. She told Kelly she was 18 at the time. The woman was an aspiring singer and thought Kelly could help with her music career. She quickly learned that wouldn't be the case.
Instead, he allegedly pressured her into having sex with him before he even listened to her music. During their first meeting, she said Kelly "peer-pressured" her into letting him perform oral sex on her. Months down the line, she said she started experiencing abdominal pain that got so severe she could barely walk. Eventually, Kelly scheduled a doctor's appointment for her and she was diagnosed with vaginal herpes.
"This man purposely gave me something he knew he had had. That he could have controlled," Jane told jurors in Brooklyn federal court.
One of Kelly's physicians testified earlier in the trial and confirmed the singer has herpes.
Jane Doe #5 said Kelly had strict rules that she and his other live-in girlfriends had to follow and if they didn't, they were punished. He would make them record demeaning videos of themselves when they broke the rules. She talked about how he forced her to smear feces on her face and put it in her mouth. Gross.
The victim said she was forced to wear baggy clothing and had to address Kelly as "Daddy," which sounds very similar to what the women said about Kelly's abuse in LIFETIME's "Surviving R. Kelly" docu-series. According to the woman, she had to ask for permission to use the restroom and would sometimes have to urinate in a cup. If she broke the rules, he would beat her with his sneaker or force her to stay locked up in a room for days at time.
She also said Kelly forced her and the other girls to write at least four fake letters every year that claimed they'd stolen money or had been molested by family members.
"They were to basically exploit us to protect him," she explained.
The victim also shared the singer forced her to get an abortion in 2017 because he wanted her to keep her body "tight."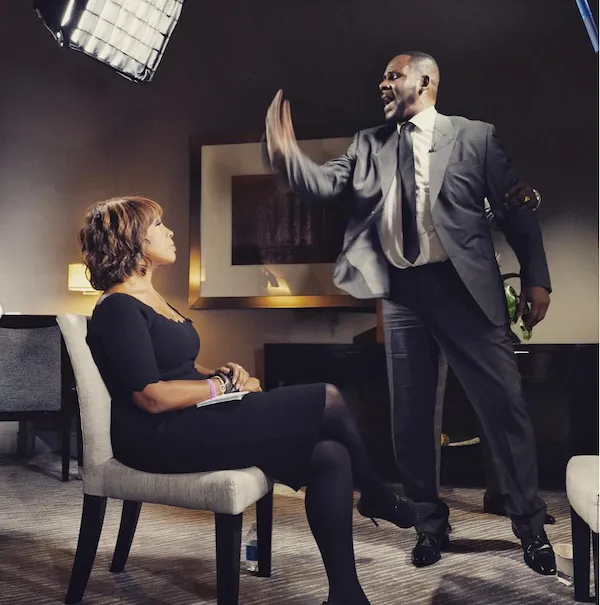 "He had expressed that he had still wanted me to keep my body tight and he wanted to have a family after he got rid of the rest of the girls," she said.
During her sitdown with CBS anchor Gayle King and another one of Kelly's girlfriends, Jane said she was forced to defend him. She said he made them practice answering questions about him. When asked if she was truthful in the Gayle King interview, she said she "was not" and that Kelly was secretly in the room during her sitdown with King.
"He did a cough to let us know he was near," she said. "He was letting us know he was in the room with us."
Jane Doe #5 hasn't had any contact with Kelly since January 2020. You'll recall, two of Kelly's girlfriends got into a brawl inside his Trump Tower condo in January 2020 and it was caught on IG Live. After the fight, one of the women said they were leaving and that she was going to expose everything.
Throughout the trial, Kelly's legal team has been trying to discredit the victims, arguing that the accusers all had consensual relationships with the singer and called them "liars." Jane Doe #5 is the second accuser to take the stand against Kelly, following Jerhonda Pace's testimony.
Earlier in the trial, R. Kelly's tour manager Demetrius Smith, who worked for Kelly from 1984 and 1996, testified that he was aware of Kelly's marriage to late singer Aaliyah (who was 15 at the time), but he didn't want to intervene because he wanted to "stay in the loop." He revealed he bribed a court clerk with $500 and was able to get Aaliyah a fake ID so they could get a marriage license.
The Pied Piper is facing a slew of charges, including sex-trafficking and racketeering, which date back decades and involves six women. He has been charged with sexual exploitation of children, forced labor, and violations of the Mann Act, which prohibits the transport of people across state lines for sex.
Kelly also racked up charges in Minnesota and Illinois. Those cases are currently pending. If he's convicted in the New York case, he's facing 10 years to life in prison.
The disgraced singer has pleaded NOT guilty to all charges against him and has repeatedly denied any wrongdoing.
Photo: AP Photo/Elizabeth Williams/Gayle King

​ ​
​ ​ ​