Kanye West Escorts Estranged Wife Kim K In Balenciaga Wedding Gown At DONDA Listening Party, Weirdly Brings Out DaBaby & Marilyn Manson
​
Aug 27 | by _YBF
​ ​ ​ ​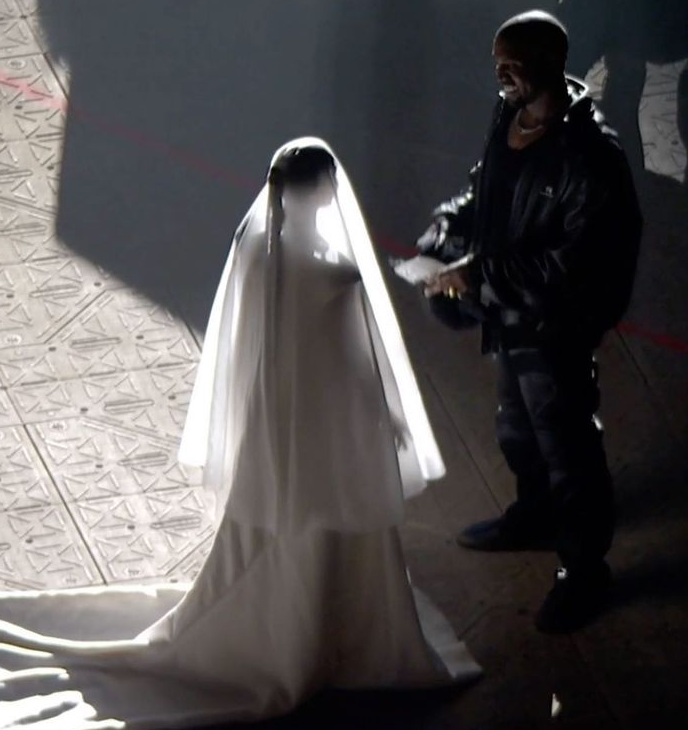 Kanye West hosts yet another DONDA listening party where his estranged wife Kim Kardashian West was in attendance. Except this time, she was actually involved in the show. Watch the rapper and his estranged wife, rocking a wedding gown, plus deets on DaBaby and Marilyn Manson appearances inside...
Another wedding amid the divorce?
Returning to his hometown, Kanye West hosted another album listening party for his musical offering DONDA at Chicago's Soldier Field stadium. Although she filed for divorce back in February, Kanye's estranged wife Kim Kardashian West has been present for all of his album listening parties in Vegas and Atlanta (where he hosted two separate events). It's the listening party that never ends it seems, but why would it when he's getting all the money and adoration he's so thirsty for at all times?
During the last listening parties in the "A," Kim K dressed up in matching Balenciaga threads as her estranged husband. This time, she pulled out all the stops in a wedding gown.
The "Keeping Up With The Kardashians" star rocked a white wedding gown from Balenciaga's Fall 2021 Haute Couture collection. Apparently she decided against wearing the Givenchy Haute Couture lace gown she wore down the isle to marry 'Ye in 2014.
Another video of @KanyeWest and @KimKardashian leaving the #DONDA event in Chicago tonight (8.26.21) pic.twitter.com/aVJqkemxJk

— Photos Of Kanye West (@PhotosOfKanye) August 27, 2021
Oh. OK.
This is the third time she made an appearance at Kanye's DONDA album listening events amid their divorce. The Wests were also in attendance.
It's a no-brainer that bringing Kim and having a weird wedding re-do out would cause a stir. But he wasn't done stirring up the pot. The Grammy Award winner also brought out DaBaby (who people have been trying to cancel) and artist Marilyn Manson (who recently turned himself in on multiple brutal sexual assault and abuse charges).
Kanye brought out DaBaby and Marilyn Manson #DONDA pic.twitter.com/vggi9ECc63

— Rap-Up (@RapUp) August 27, 2021
The Chi-town native brought the two artists out and they stood in front of a replica of his childhood home as the audience erupted.
It appears Kanye removed Jay-Z's verse on his album and replaced it with a verse from DaBaby. The Internet is utterly confused by the move:
Everyone when they heard Kanye replace Jay-Z with DaBaby:#DONDA
pic.twitter.com/y07oxaSSMc

— Kenny Eaton (@TheKennyEaton) August 27, 2021
Kayne took off JayZ for daBaby.... #DONDA pic.twitter.com/I5d2IWBJ4B

— KOFI (@PressStartKofi) August 27, 2021
I'm sorry is that Dababy and Marilyn Manson? What is this cancellation time machine Kanye built on the field

— Zach Schwartz (@zachzachzach) August 27, 2021
Kanye took Jay Z verse off for Da baby pic.twitter.com/DJo7J7TO8a

— Rude Boi (@RudyJb1024) August 27, 2021
Folks weren't feeling the presence of Marilyn Manson either being that he's currently facing multple sexual assault lawsuits.
Singer-songwriter Raphael Saadiq received backlash on social media after he shared a photo of himself and Marilyn Manson back stage:
By the way, there was a lack of COVID safety protocoals during the event. Guests were not required to show negative tests results nor proof that they were vaccinated to attend. Hopefully, folks were masked up.
So check it...
It's been reported Kanye will finally drop DONDA on September 3rd after numerous delays. Well, his "beef" with Drake just got amplified after it Drizzy teased he's dropping his upcoming album Certified Lover Boy on the SAME DAY. It was oddest announcement. During a "Sports Center" promo, someone is holding up a piece of carboard that says "CLB September 3rd."
Check it:
Did Drake just announce Certified Lover Boy's release date of next Friday on SportsCenter? pic.twitter.com/nTq3s4OvpM

— XXL Magazine (@XXL) August 27, 2021
Hmmm....this will be interesting.
Missed how Kanye & Drake's beef reignited? Catch up HERE.
Next Friday will be many things. Which album will you be listening to first?
Photo: @teamkanyedaily
​ ​
​ ​ ​