Fat Joe Apologizes To Lil Mo & Vita For Calling Them 'Dusty B*tches' During VERZUZ Battle With Ja Rule + Remy Ma Enters The Chat
​
Sep 15 | by _YBF
​ ​ ​ ​
Fat Joe is apologizing for comments he made during his VERZUZ Battle against Ja Rule. While trying to pop back at Ja, he came for Lil Mo and Vita, dubbing them "dusty b*tches."
Mo posted he should issue an apology and then Remy Ma joined the chat. More inside...
Things got heated during Fat Joe's VERZUZ Battle with Ja Rule when he threw out that "dusty b*tches" comment aimed at singer Lil Mo and raptress Vita.
Last night, the two New York rappers pulled out all of their biggest hits. They even invited several of their biggest collaborators to join them for the battle, including Nelly, Ashanti, Remy Ma and more.
After Ja performed "Put It On Me" featuring Lil Mo and Vita, Fat Joe followed up with some disrespectful commentary aimed at the two ladies.
"Oh, them dusty b*tches," Joe said about Lil Mo and Vita. "You had to go to the crack house to find them b*tches."
Just...wow.
Later, Ja called Joe out for disrespecting the ladies. Check it below:
After Joe started to receive backlash online for his comments, he hopped on Twitter to apologize:

"Shout to the ladies very sorry if I disrespected," he tweeted. "I love Vida and Lil Moe I'm super sorry love my sisters."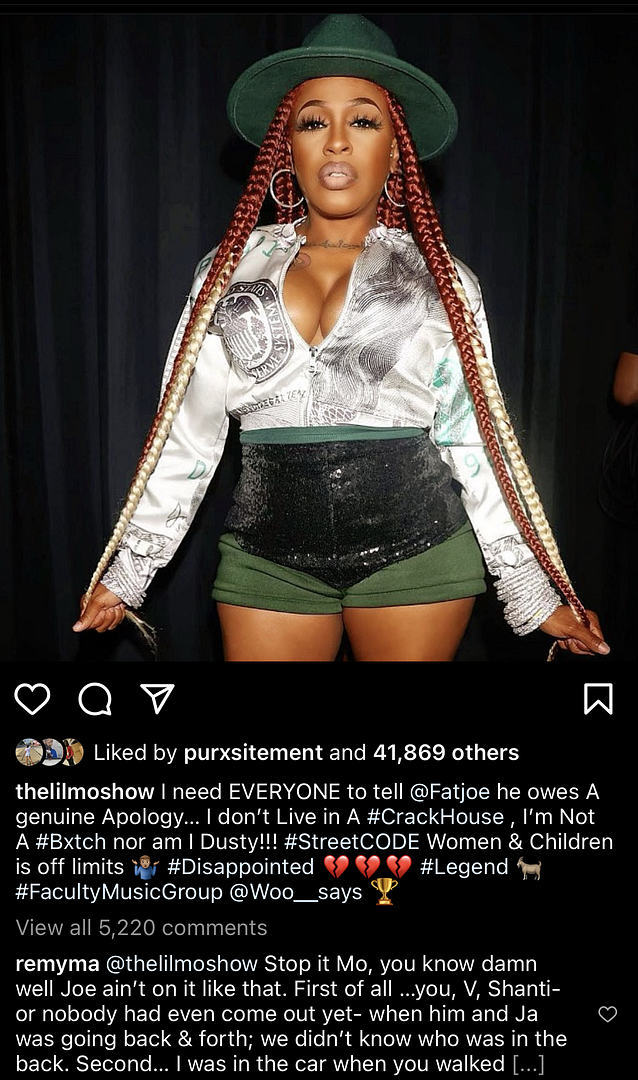 That wasn't enough for Mo. She hopped on Instagram to clap back at Joe's comments.
"I need EVERYONE to tell @Fatjoe he owes A genuine Apology," she wrote. "I don't Live in A #CrackHouse , I'm Not A #Bxtch nor am I Dusty!!! #StreetCODE Women & Children is off limits #Disappointed #Legend"
The "Lean Back" rapper hopped in her comments to apologize again:
Remy Ma - who also performed during the VERZUZ - hopped in Mo's comments to defend her "brother" Fat Joe.
"@thelilmoshow Stop it Mo, you know damn well Joe ain't on it like that. First of all …you, V, Shanti- or nobody had even come out yet- when him and Ja was going back & forth; we didn't know who was in the back. Second… I was in the car when you walked thru the parking lot and he hugged you, & showed mad love as usual…no need for your followers to tell him anything, as someone that personally knows you I'm sorry you were offended - you can call my phone ; matter fact I'm gonna dm you my number in case you don't have it anymore - but also as someone that personally knows Joe he was not intentionally trying to hurt anyone- it was a battle between friends that are like family, sidebar: #streetcode don't do social media"
Sheesh.
Vita said she was wondering why Joe was issuing an apology to her because she was in the dressing room when he made those comments:
"@fatjoe Yooooo bro I was wondering why U was apologizing to me last night N @jarule Dressing Room Except his apology or Naw???," she wrote on IG. "What y'all think??? what you think Mo @thelilmoshow @fatjoe vs Rule or was it @fatjoe vs The Ladies #Grrrrrrrr #cartierShades4TheShady #BerMuda"
That wasn't all of the foolery that went down during the battle...
Nelly really walked through these people's concert to give Ashanti a hug #VERZUZ pic.twitter.com/J02cjG7XxD

— Kathleen Francois, MSW, LCSW, LCADC (@katfrancoislcsw) September 15, 2021
Did Nelly walk over and try to ask for a hug from Ashanti? #VERZUZ pic.twitter.com/ATd4adeIY4

— Mr B. (@HoeAssMrB) September 15, 2021
Newly single Nelly walked clean across the stage to get a hug from his ex-girlfriend Ashanti. Peep the clips above.
Nelly & Ashanti on stage with Fat Joe & Ja Rule at the #Verzuz battle pic.twitter.com/rkAGmqXpJS

— 2Cool2Blog (@2cooI2blog) September 15, 2021
And here's a clip of Nelly debating if he should ask her for a hug:
Someone got Nelly on video saying he if he should go out there with Ashanti during the #VERZUZ. pic.twitter.com/cDK6F77w8i

— Hip Hop Ties (@HipHopTiesMedia) September 15, 2021
Chile...
Oh. Fat Joe gifted Remy & Ashanti Hermes handbags on stage:
Fat Joe gifted Ashanti and Remy Ma Birkin bags in the middle of his #VERZUZ. pic.twitter.com/iI4AzPwzcp

— Hip Hop Ties (@HipHopTiesMedia) September 15, 2021
Who did you pick as the winner of the VERZUZ Battle?
Photos: Fat Joe's IG/Ja Rule's IG
​ ​
​ ​ ​