Birdman Explains Why He Kissed Lil Wayne On The Lips In Viral Photo, 'I Love Him Like My Own'
​
Sep 23 | by _YBF
​ ​ ​ ​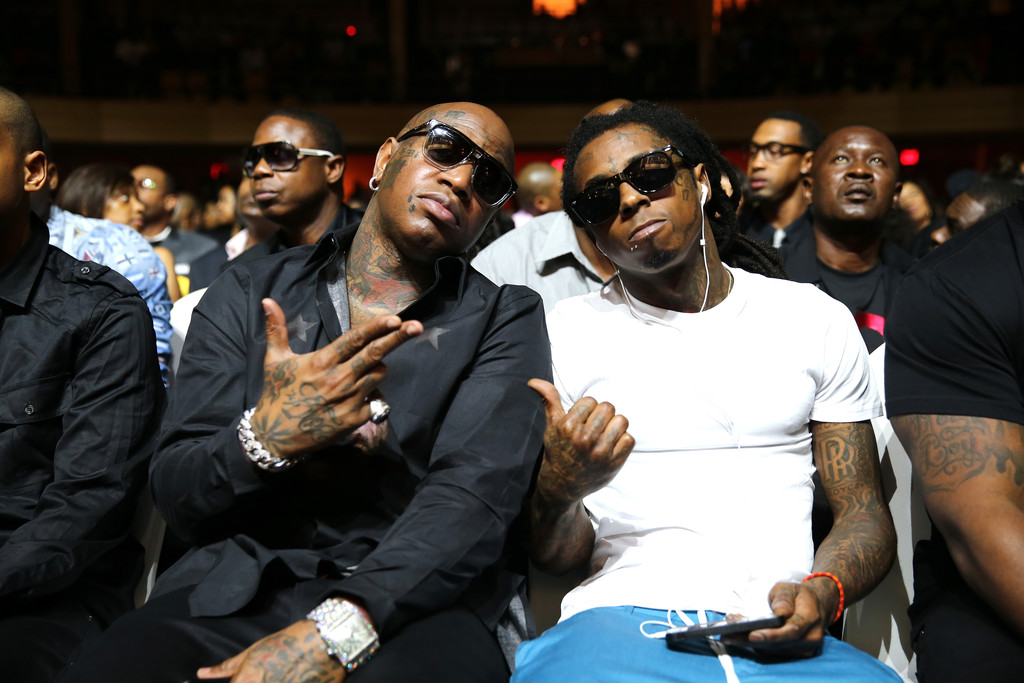 Birdman opens up about that infamous viral photo that shows him kissing his artist Lil Wayne on the lips. Find out what he said inside...
Yep, he's talking about THAT picture.
If you're a Hip Hop head, you've seen the infamous 2006 photo of Birdman laying a kiss on Lil Wayne's lips.
The Cash Money Records honcho isn't shy when it comes to showing affection for the ones he love. So, when the photo of him kissing his artist went viral, he was a bit confused behind the reactions from the public being that he didn't see his actions as anything out of the ordinary towards the people that you love. It's all family love and nothing more.
Birdman Explained Why He Would Kiss Lil Wayne On The Big Facts Podcast. pic.twitter.com/lLoXzCqp6W

— Major Leakz (@MajorLeakz) September 22, 2021
During an interview on the Big Facts Podcast, Birdman explained why he kissed Wayne on the lips.
"First of all, my own son, I would kiss him," he said. "I always looked at Wayne as my son and I always looked at it like, 'cause I was in the streets, and I thought this might be the last time he ever see me. I was his father when he didn't have a father since he was 9 years old. And I love him like my own and I'd give my life for him."
Peep the clip below:
Birdman talks infamous kiss with Lil Wayne and why it was on the lips pic.twitter.com/7wL0TnQFlO

— Power 106 (@Power106LA) September 22, 2021
This isn't the first time Birdman has addressed the photo. In 2009, he talked about the kiss with Tim Westwood:
"That's my son. If he was right here, I'd kiss him again," he said. "I just think people took that too far, man. That's my son. I'll do it again tomorrow, I'll kill for him. Ride and die for him."
At one point in time, fans thought Birdman and Lil Wayne's relationship was severed forever after Weezy sued Cash Money for $51 million in 2015. The lawsuit came after his fifth album, The Carter V, kept being delayed. It got so bad, they weren't even on speaking terms.
In 2018, Wayne and Birdman were able to come to a settlement for an undisclosed amount and Birdman issued a public apology during the annual Lil Weezyana Fest. During the interview, Birdman revealed he paid Weezy $50 million to squash their beef:
Birdman explains how him and Lil Wayne fixed their issue, he paid him $50 Million pic.twitter.com/nfLNTKSJ7C

— Complex Ambition (@ComplxAmbition) September 22, 2021
The Cash Money CEO also said he gave Wayne, Nicki Minaj and Drake a combined $1.4 billion:
Birdman says he paid Lil Wayne $500m, Drake $500m & Nicki Minaj $400m pic.twitter.com/tXqAwFhe3G

— Daily Loud (@DailyLoud) September 23, 2021
Check out his full interview below:
Photo: Getty
​ ​
​ ​ ​