R. Kelly's Lawyer Brings Up MLK JR. In Sex Trafficking Trial, Calls Accusers Liars & Fame Seekers + Jury Expected To Start Deliberations Today
​
Sep 24 | by _YBF
​ ​ ​ ​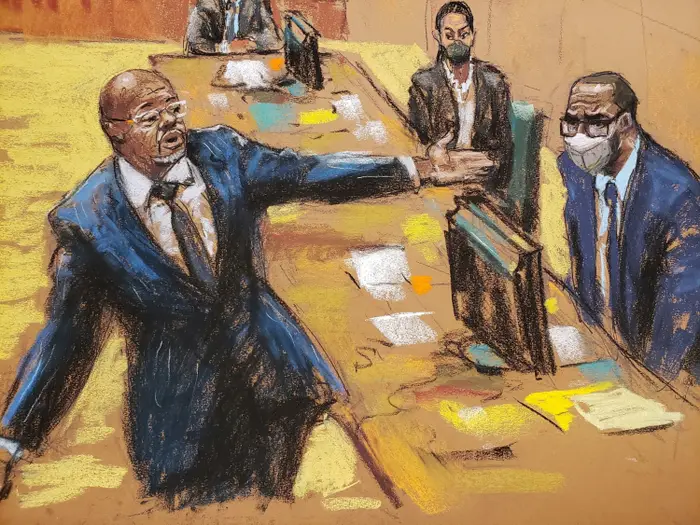 After six weeks of testimony, the jury in R. Kelly's sex trafficking/racketeering trial is expected to begin deliberations today as closing arguments end.
As Kelly's defense lawyer gave his closing argument, he accused the victims of lying and seeking fame. He also invoked civil rights activist Dr. Martin Luther King Jr.
Now, wait a minute...
R. Kelly's federal sex trafficking trial in Brooklyn is coming to an end after almost six weeks of testimony from 50 witnesses and three days of closing arguments.
This morning, prosecutors wrapped up their rebuttal argument before U.S. District Judge Ann Donnelly. The judge will entrust the jury to begin going through the 10-count indictment to come up with a verdict.
In 2019, the 54-year-old R&B singer was hit with a slew of federal charges in U.S. District court in Brooklyn, including racketeering and violations of the Mann Act, an interstate anti-prostitution law. He's being accused of running a criminal enterprise that he employed to help him lure and trap young girls and women to satisfy his twisted sexual desires.
Victims have shared graphic and soul disturbing testimony about how they were allegedly abused - sexually, mentally and emotionally - by a man who was once one of the biggest R&B stars in music.
R. Kelly has pleaded not guilty to all charges and has repeatedly denied any wrongdoing.
During closing arguments, R. Kelly's defense lawyer - Deveraux Cannick - accused the many alleged victims of lying and even compared Kelly to civil rights activist Martin Luther King Jr., Playboy magazine founder Hugh Hefner, and former Vice President Mike Pence. Oh yes, he pulled out all of the stops.
Chile...
Kelly's defense attorney compared the jury to Dr. Martin Luther King Jr, seemingly saying the backlash he received is similar to backlash they may receive.
"See, unlike Dr. King and those who were like-minded, you don't have to worry about atrocities. You just have to be courageous and fair," he said.
He added a "heroic and unflinching jury" would clear R. Kelly of all the charges against him. Hmph.
"Older man, somewhat younger women ... some people just like it that way," Kelly's defense attorney said in his closing argument.
Cannick described Kelly's obsession with young girls as nothing more than a "May-to-October relationship," an apparent confusion of the saying "May-to-December romance." He said the Grammy Award winning singer was an international sex symbol known for his playboy lifestyle and compared Kelly's "playboy" lifestyle to how Hugh Hefner lived.
"Hugh Hefner — that was his life," Cannick said. "Not a crime."
Several witnesses made claims that Kelly would make them call him "daddy." He said it was something normal and compared it to how former Vice President Mike Pence calls his wife "mother." Oh.
Cannick tried to paint a picture that characterized all of the victims as liars, who are only seeking fame and financial gain.
"Some of the witnesses, just lie after lie after lie ... and the government let them lie," Cannick said.
In response, Assistant US Attorney Nadia Shihata, encouraged the jury to keep their attention on the pieces of evidence presented during the trial, including DNA, travel records, text messages, screenshots, handwritten letters and more.
She told the jury to not let Kelly's defense "gaslight" them and she criticized how the defense blamed witnesses for their own alleged abuse.
"It's like we took a time machine and went back to a courthouse in the 1950s," Nadia Shihata said. "What they're arguing is that all of these women and girls were asking for it, and they deserved what they got — never mind that many of them were teenagers, too young to consent."
Assistant U.S. Attorney Elizabeth Geddes said in her closing argument, which stretched for 6 1/2 hours over two days, that Kelly needed to be convicted and thrown in jail for the way he treated the victims.
"It is time to hold the defendant responsible for the pain that he inflicted on each of his victims," listing the six women included in the main racketeering charge each by their first name. "Convict him."
The jury starts deliberations today. What do you think the outcome will be?
Kelly also racked up charges in Minnesota and Illinois and those cases are currently pending. If he's convicted in the New York case, he's facing 10 years to life in prison.
Photo: Jane Rosenberg/Reuters
​ ​
​ ​ ​