COVID Vax Drama: NBA Dealing With Kyrie Irving, Andrew Wiggins & More Players Not Wanting To Get Vaccinated
​
Sep 29 | by _YBF
​ ​ ​ ​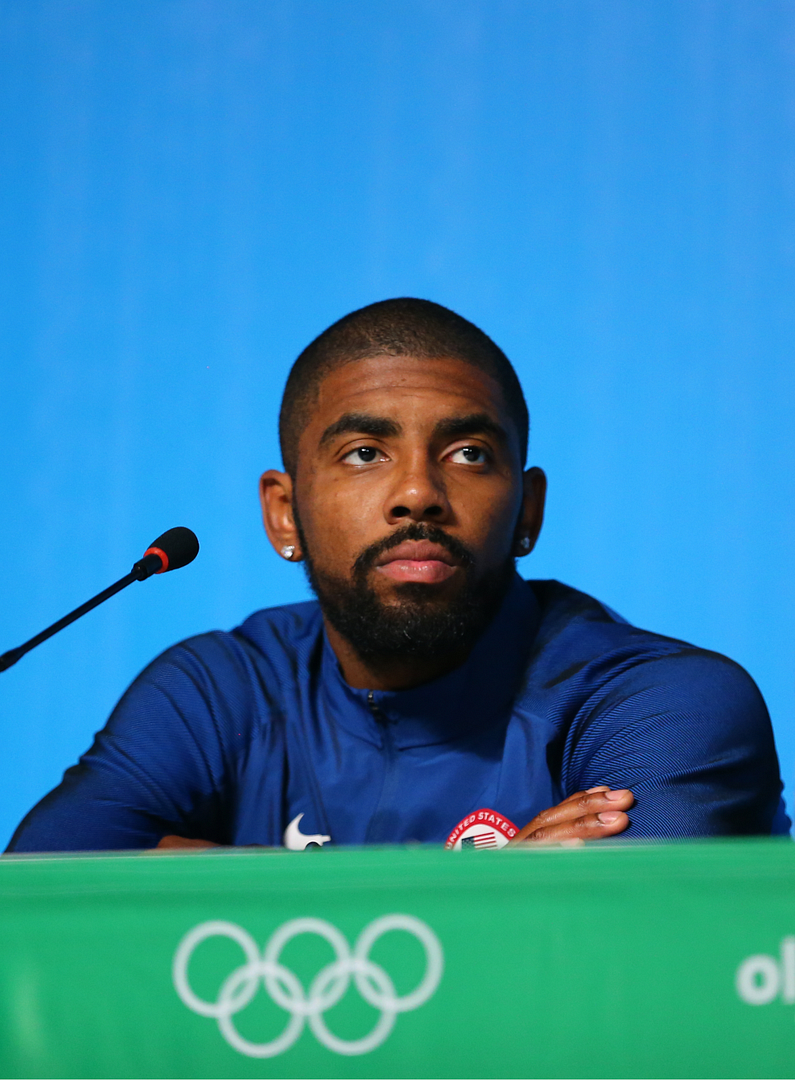 The NBA is having issues with a few players refusing to get the COVID-19 vaccine, which could cause them to be punished on the court. Deets inside...
Brooklyn Nets baller Kyrie Irving: not vaccinated.
Golden State Warriors small forward Andrew Wiggins: not vaccinated.
In fact, there are quite a few NBA players who aren't vaccinated and that's an issue for the league. It's reported 90% of the league is vaccinated and they're working to get the last 10% vaccinated. However, 10% of the players aren't willing to get the shot.
Kyrie gets the focus, but he's not the issue. If the NBA 90 pct player vaccination rate is to be believed, there's roughly 60 NBA players unvaccinated. If the NFL league avg. is 80 pct, then 400 NFL players are unvaccinated. Sports just cannot lead on this issue.

— Full Dissident (@hbryant42) September 27, 2021
Hall of Famer Kareem Abdul-Jabbar gave Rolling Stone his opinion on what the NBA should to do to unvaccinated players.
"The NBA should insist that all players and staff are vaccinated or remove them from the team," Abdul-Jabbar said, via Rolling Stone. "There is no room for players who are willing to risk the health and lives of their teammates, the staff and the fans simply because they are unable to grasp the seriousness of the situation or do the necessary research. What I find especially disingenuous about the vaccine deniers is their arrogance at disbelieving immunology and other medical experts. Yet, if their child was sick or they themselves needed emergency medical treatment, how quickly would they do exactly what those same experts told them to do?"
Brooklyn Nets point guard Kyrie Irving - who has spoken out about conspiracy theories before - has been active on social media, liking posts about "secret societies" that are "implanting vaccines in a plot to connect Black people to a master computer for 'a plan of Satan.'"
With Kyrie serving as the vice president on the executive committee of the NBA Player's Association, his stance on the vaccine defeinitely affects the league's goal of vaccinating all of its players.
Yesterday, Kyrie was not physically present for the Brooklyn Nets pre-season media day at Barclays Center. He conducted a brief press conference with the media where he declined to answer questions of whether he might skip home games to avoid public-health regulations.
"Living in this public sphere, there's a lot of questions about what's going on in the world of Kyrie," he said, "and I would love to just keep that private and handle that the right way with my team and go forward with a plan."
It's possible the Nets baller could miss out on playing home games due to New York City's vaccine mandate. New York City requires anyone above the age of 12 to show proof of receiving at least one dose of a COVID vaccine to participate in any indoor entertainment, including NBA games.
Yesterday, Kyrie showed up for the first day of training camp and was pictured alongside Kevin Durant:
Kevin Durant and Kyrie Irving back to playing 1s on day one of camp in San Diego.

(brooklynnets/IG) pic.twitter.com/1hBVJn8YtT

— Billy Reinhardt (@BillyReinhardt) September 28, 2021
Golden State Warriors player Andrew Wiggins said his decision NOT to get the vaccine isn't anyone else's business but his own. ESPN reports:
"It's my problem," Wiggins said of the possibility of lost earnings. "Not yours."
Wiggins' current stance on the COVID-19 vaccine was the main talking point throughout news conferences with players and coaches all day. While the organization continues to be outwardly optimistic regarding Wiggins' ability not to miss any regular season games this season, the stance becomes trickier given the restrictions about to be imposed within the city.

The San Francisco Department of Public Health said last week that there would be no exemption for anyone 12 and older at large indoor gatherings.

"Under the current order, if unvaccinated, they cannot enter indoor areas regardless of the reason they are unvaccinated and cannot test out of this requirement even if they have a medical or religious exemption," it said in a statement. Wiggins applied for a religious exemption to avoid taking the shot, but that request was denied by the NBA on Friday.
Wiggins' teammate Steph Curry shared his thoughts about his unvaccinated teammate:
"At the end of the day, it is up to him. It's no secret to that point. We obviously hope that he has all the right information, the access to the right resources to ask all the questions he has on making that decision," Curry said. "We hope he's available. We hope he moves in the right direction.

"My opinion is, obviously I got [vaccinated] and am ready to be available and following the mandates and what not. But that's kind of where it is, and in the next coming weeks and how it all plays out is gonna be entirely up to him. We obviously hope he's available and with us, and kind of go from there. It's difficult. Everybody's in a difficult position in that respect, and we've all made decisions you feel are right for you and your family and whatever the case is. This is no different, and whether you agree with him or not, you have to let it play out."
Other players had questions involving the vaccine and why other players are eager to get it:
"I would ask the question to those who are getting vaccinated, 'Why are you still getting COVID?," asked Washington Wizards shooting guard Bradley Beal. He already caught the virus and missed out on playing in the Olympics because of it.
Orlando Magic forward Jonathan Isaac is unvaccinated and isn't afraid to let folks know.
The Orlando Magic's 23-year-old starting forward is deeply religious — and proudly unvaccinated. When NBA players started lining up for shots in March, Isaac started studying Black history and watching Donald Trump's press conferences. He learned about antibody resistance and came to distrust Dr. Anthony Fauci. He looked out for people who might die from the vaccine, and he put faith in God. "At the end of the day, it's people," Isaac says of the scientists developing vaccines, "and you can't always put your trust completely in people."

"If you are vaccinated, in other places you still have to wear the mask regardless. It's like, 'OK, then what is the mask necessarily for?'" asked Isaac when he spoke to Rolling Stone.
Los Angeles Lakers baller LeBron James decided getting the vaccine was the best decision for himself and his family after doing his own research:
LeBron James told the media on Tuesday that he has received a COVID-19 vaccine, saying the decision was 'best suited for not only me, but for my family and my friends.' pic.twitter.com/DUhd98W339

— NowThis (@nowthisnews) September 28, 2021
On Sunday, Phoenix Suns shooting guard Devin Booker announced he tested positive for COVID-19 on his Twitch account. The 24-year-old declined to reveal if he was vaccinated or not.
At this point, what will the NBA do with its unvaccinated players? Hospitals in NYC have started requiring their workers to get vaccinated. Do you think that's the next step for the NBA?
Photos: Leonard Zhukovsky/Shutterstock
​ ​
​ ​ ​