R. Kelly Accuser Azriel Clary Says Singer 'Coached' Her 2019 Interview With Gayle, Reveals His Staff 'Tried To Warn Him' About Inappropriate Behavior
​
Sep 30 | by _YBF
​ ​ ​ ​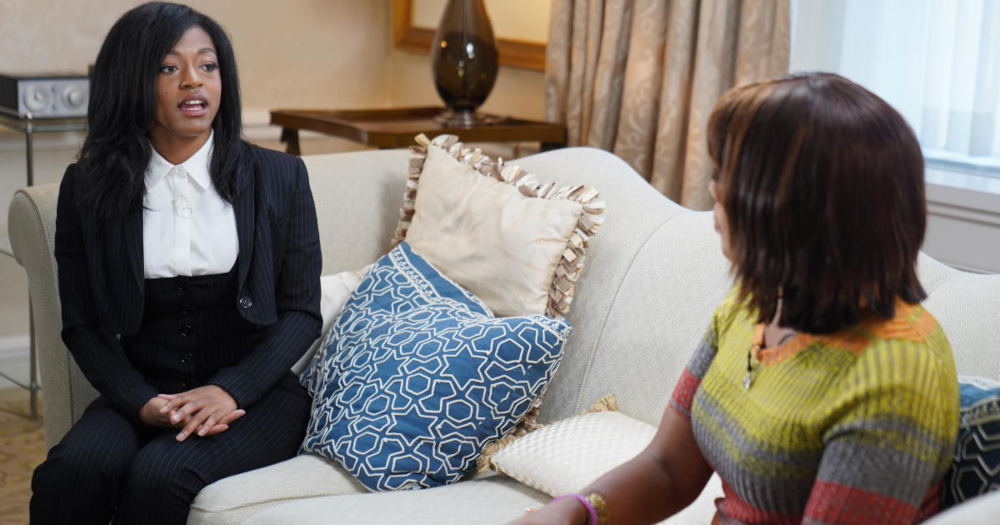 Azriel Clary is speaking out for the first time since embattled singer R. Kelly was found guilty of sex trafficking and racketeering earlier this week. The former girlfriend and victim defended Kelly in 2019.
Now, she says the singer "coached" her on what to say during her infamous 2019 interview with Gayle King and shared details about how people in the R&B singer's camp tried to warn him about inappropriate behavior. Highlights from her new interview inside...
Azriel Clary - a former girlfriend and victim of R. Kelly who testified against him in court - breaks her silence after the singer was convicted in court on Monday on federal sex trafficking and racketeering charges in Brooklyn. He could face life in prison.
A jury convicted Kelly of nine charges, five of those related to crimes committed against her, including transporting a minor across state lines to engage in sexual activity.
In 2019, Azriel - who was 21-years-old at the time - sat down "CBS Mornings" anchor Gayle King to defend the singer after he was brought up on sex abuse charges. At the time, she was still living with Kelly in his Chi-town Trump Tower apartment with another woman, Joycelyn Savage, who was also present for the interview. At that time, they both claimed to be his "girlfriends" and they made claims that Kelly was NOT abusive and that they were not being held against their will.
The public later learned Kelly was actually in the room during Azriel and Joycelyn's interview and made his presence known by coughing during the sitdown. The Chocolate Factory singer sat down with Gayle first before the ladies did their interview.
It has been two years since that interview and Azriel has seemingly come to her senses. In her new interview with Gayle, she said doing the 2019 interview is what triggered her "escape" from Kelly.
"For five years, since I was 17, I didn't have any relationships with any other women except for the women that he had been intimate with. And so when I did that interview with you, I instantly regretted immediately how I reacted," Azriel said.

"I don't know, something about just watching you be very casual and calm and collected and it just reminded me of me. I was, like, 'Wait a minute. I used to be that poised. I used to be that calm. You know, what happened to that girl? Where did she go?'"
Even the Grammy Award winning singer noticed something had "shifted" in her.
"It kind of made me kind of wake up in a sense, and realize, 'Why am I acting like this? Why am I putting myself through all of this misery? Why am I exploiting myself for a man who has me in this position in the first place, you know?' And I really had to come to terms and, you know, realize that it wasn't love," she said. "Love doesn't hurt, you know?"
Peep a clip of the interview below:
Before the explosive 2019 interview, the "I Believe I Can Fly" singer coached her and Joycelyn on what to say when asked certain questions. He even told them to "be angry" towards Gayle during the interview.
During Kelly's trial, Azriel shared with the court that she was not being honest in the interview with Gayle. She said everything she said during the 2019 sitdown was a lie and that Kelly would make them practice every single day how to answer questions. If he didn't like the answers, "he would tell us exactly what to say and how to say it."
After their interview with Gayle, Azriel said Kelly was "so happy" with the outcome and that he really thought the interview would help his image.
"Truthfully, I think he believed that he had done well. He felt like he had really made a great reflection of himself and where he was in life and how all these women were lying on him and how all these people were just, you know, out to get him. And, you know, that sympathy card that he just loves so much," Azriel said.
Being so young, she said there was "nothing" anyone could have said to her to make her leave the situation. She said Kelly had four other women who were older than her when she met him at the age of 17 and all of the women normalized his actions.
"I feel like that is something that I would've had to had woken up for myself, something that I would've had to realize on myself. And, you know, a lotta people don't realize, with victims, the more you try to help them, the more it upsets them sometimes."
A lot of Azriel's testimony during the trial was so graphic the judge opted some details not to be released to the public. Last year, Azriel shared snippets from an upcoming documentary that she's doing where she made shocking and horrifying claims. She said Kelly made her defecate in a cup and then made her EAT it, all while he recorded.
"It was very disturbing to have to relive those moments," Clary said about testifying. "A piece of me was happy because I felt like this person no longer has control over me, you know? You don't tell me what to do and what to wear and where to go and how long to be in a room anymore."
It was important for Azriel to do another interview.
"Even I have to take accountability for my actions," she said. "It's OK to reevaluate your life. It is OK to change your mind, you know? You are never too old to wake up and say, 'Hey, I thought this was good for me, but it's actually not.' And so I feel like that's why it was important for me to come back here and see you again, because it is OK to change your mind. It is OK to apologize and forgive yourself, more importantly. And that's really what I had to do."
Azriel shared Kelly's staff tried to warn him about inappropriate behavior, but he wasn't trying to hear it.
"I know that he knows he's guilty," she told Gayle. "People told him. People tried to warn him. People tried to help him," she added. "He didn't care [...] He was selfish. He was greedy. He was a pedophile [...] And he never, not once, wanted to get help,"
She said Kelly's assistants would tell him "these people are minors. You can't be flying these people in. I don't know what you're doing with them, but —"
The Pied Piper, she said, responded: "Mind your business. You're fined or you're fired."
"That's the only options that he would give people that worked for him," she said. "And I feel like it's very disturbing for him to sit and think that he is still innocent when he knows of all the trauma that he's put us through."
Seven months after the 2019 interview, Azriel left Kelly's Trump Tower condo in Chicago after brawling with his other live-in girlfriend, Joycelyn Savage.
We're glad she was able to recognize what was happening to her and that she was able to get out.
You can check out the rest of her interview below:
Now that she has taken her power back, she's working on her music and she's also working on building her own empire.
Photos: CBS/Azriel's IG
​ ​
​ ​ ​