HE WON: Kirk Franklin's #OmarionChallenge PRODUCTION Takes Over The Internet, Omarion Reacts
​
Oct 11 | by _YBF
​ ​ ​ ​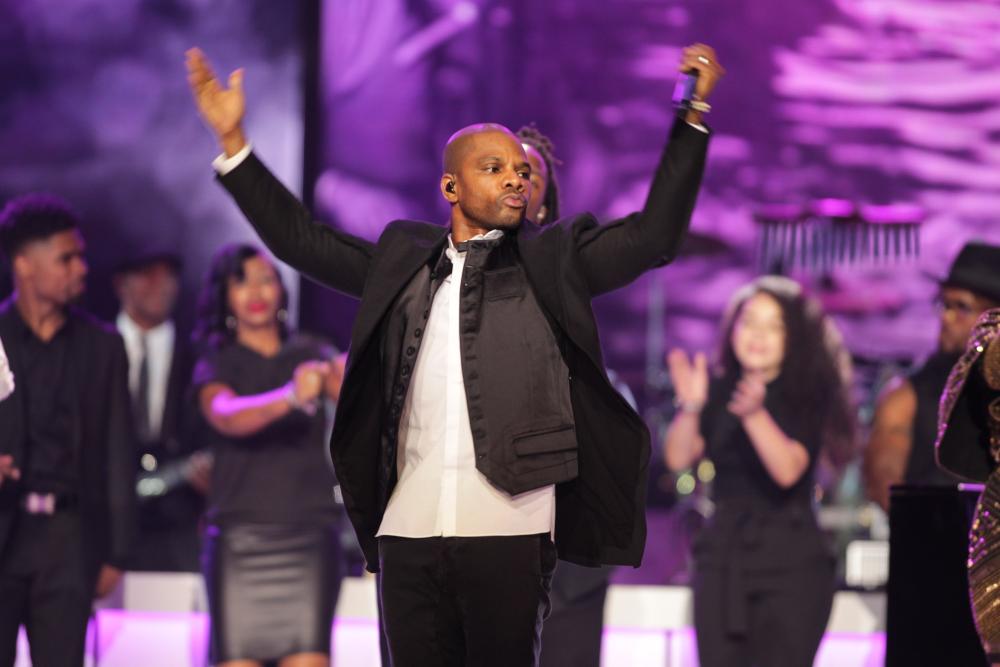 Kirk Franklin has gone viral after accepting the #OmarionChallenge and killing it! See Kirk's moves, cinematography and Omarion's reaction inside...
A 2015 clip of Omarion resurfaced recently, which launched a new viral craze online called the #OmarionChallenge.
The original clip is from O dancing it up at Verizon's "Now Playing" music tour. Now, it's a popular dance challenge on social platforms where people are recreating O's impromptu dance moves. Check it:
Growing up I really thought Omarion killed every dance especially in touch but he just be making shit up pic.twitter.com/I0QVE0GRvr

— Zan for President (@zannywrld) September 24, 2021
Now, gospel artist Kirk Franklin has entered the chat and took the Internet to CHURCH. Not only did he take everyone to church, he WON the entire challenge. Oh yes, Kirk went all out for his reenact it.
Kirk's version featured him in front of a church, busting his dance moves in front of a choir which featured vocals from Kenmin Lemons and Higher Calling.
The B2K singer caught wind of Kirk's rendition, shared the clip with the caption, "@kirkfranklin Love yah man! #omarionchallenge perfect Sunday moves!!!"
Check it out above. Kirk killed it.
The Grammy award winner wasn't the only celeb who hit the #OmarionChallenge. Chance The Rapper put his own spin on it:
Rapper Toosi also joined in:
omarion ain't got nothing on me #omarionchallenge pic.twitter.com/yOGbHsZj2G

— Toosii (@toosii2x) October 4, 2021
When the #OmarionChallenge started going viral, the B2K leader poked fun at the challenge with a new video of himself performing an updated version of the dance in preparation of The Millennium Tour.
"#Omarionchallenge Thank you to all of the funny people on the Internet for making this a thing… It was only right. #Jokesonyou @jdim123 @nienie1love @toyinsogunro @kailanirae @0ryan0ryan @__peterpinnock @sirtimbo #Squaaadddd #Millennium tour2."
Check out more #OmarionChallenge entries below:
This is the best one yet #Omarionchallenge pic.twitter.com/PeNFEy5HUD

— (@queenofsanity) October 9, 2021
Bruh somebody said O'Meyerion #Omarionchallenge pic.twitter.com/dgp1DJmwI8

— Scootaboot (51%) (@laeitdownscoot) October 5, 2021
Of course yung BBQ did the #Omarionchallenge and ate it up pic.twitter.com/mtWCZ2dzy9

— Darron Alaye (@DarronAMarble) October 8, 2021
Y'all say #Omarion can't dance ….. but then How come no one can do this challenge #Omarionchallenge - it was mad weird, but maybe we should just go ahead and give him his flowers. What say you?

She killed it this is the Best one … pic.twitter.com/hvgeHnbcFE

— Maurielle Lue (@MaurielleFOX2) October 4, 2021
this has to stop #Omarionchallenge pic.twitter.com/jdXcSmEo3l

— Scootaboot (51%) (@laeitdownscoot) October 4, 2021
Hilar.
Photo: Jamie Lamor Thompson/Shutterstock
​ ​
​ ​ ​