Justine Skye & Giveon Break Up? Fans Believe These Lyrics She Posted Are About Him Cheating On Her...
​
Oct 13 | by _YBF
​ ​ ​ ​
What in the cheat-tation?! R&B's newest couple is seemingly dunzo already - IF the rumors are true. Justine Skye shared some painful tweets on Twitter that has fans wondering if Giveon cheated and broke her heart. More inside...
Are they the new R&B power couple ? pic.twitter.com/93qEzh8pAA

— Dwa (@DwaVocalz) June 10, 2021
Breakup news about singers Justine Skye and Giveon may surprise you being that folks just recently found out they were an actual couple. They kept their romance lowkey, however, it seems the breakup is going viral.
Giveon is trending this morning after Justine Skye hopped on Twitter to air out her hurt feelings, which has fans speculating if she's referring to a breakup with the "For You" singer.
It started with a tweet and delete: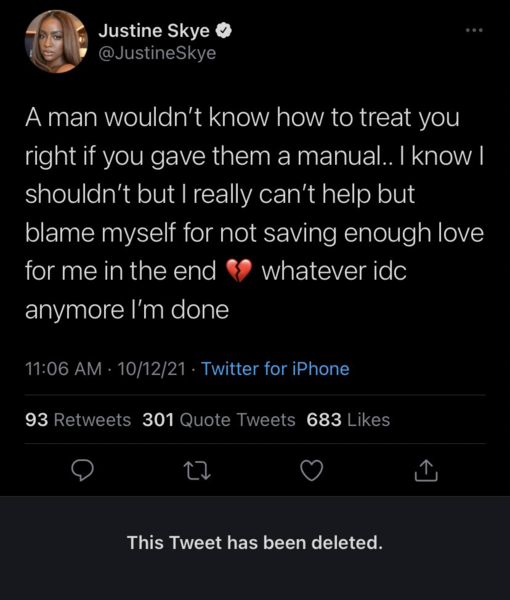 "A man wouldn't know how to treat you right if you gave them a manual," the 26-year-old singer tweeted. "I know I shouldn't but I really can't help but blame myself for not saving enough love for me in the end. Whatever idc anymore I'm done."
While she deleted that post, Justine put up more subliminal posts that allude to her having her heart broken. And fans believe its the "Heartbreak Anniversary" singer who caused it.
"People who I thought loved me the host I let break me the most. And those who actually do love me I pushed away," she continued. "I really hate the person I let myself become, but I know I want to be better and I cannot wait for that day."
"It's like I'm a vase, it keeps cracking and I keep trying [to] glue it back together to appear fine. Doesn't mean it's not still broken," she tweeted. "I really don't give a f*ck rn. I should've stopped a long time ago."

"People will break you down to the last bone and then ask why you can't stand on your own," she vented.
Then she put up a post about "cheating" and that's when fans started connecting the dots.
"Cheaters gonna cheat. Liars gonna lie. Users gonna use," she tweeted.
Peep the breakup reactions below:
giveon got a LOT of nerve, with his civil rights face to be cheating on justine skye. gotta stop giving these medium high ugly niggas so much play.

— catbug (@liloceanwater) October 13, 2021
"Oh my goodness How could Giveon do this" " I'm so surprised"

Do y'all listen to his music ?pic.twitter.com/ed1K7I5zW1

— Marquelle Jones (@topnotchjones) October 13, 2021
Giveon cheated on Justine Skye?! pic.twitter.com/pSdXYFDEf2

— MRS. OCEAN (@oceanswife) October 13, 2021
Giveon cheated on Justine Skye?? They were dating?! pic.twitter.com/6xPHXuNP4y

— Mia Anders (@Vision99Doll) October 13, 2021
IK GIVEON DID NOT?!?
OMGGG HOW CAN YOU CHEAT ON JUSTINE SKYE?!? ??? THE GODDESS https://t.co/vac9OYhzBQ

— shelby megan. (@shelbymeg_) October 13, 2021
me and my homegirls on our way to jump Giveon pic.twitter.com/WdcfjcVikX

— ny. (@misseverywhereg) October 13, 2021
Over the summer, Justine and Giveon seemingly confirmed their coupledom as they were spotted out in LA several times together, following rumors that they were an item after vacay photos popped up on social media. They both celebrated Christmas 2020 in Jamaica causing romance rumors to pop off even more:
Over the summer, the couple was spotted with Justine's friend Hailey Bieber in West Hollywood for lunch:
Hailey Bieber with Justine Skye and Giveon spotted out in West Hollywood, California. (June 9, 2021) pic.twitter.com/ueeIOXNPeX

— Hailey Baldwin Updates (@HailsBaldwinCR) June 10, 2021
Sighs.
Many fans feel bad for the Space & Time singer. You'll recall, in 2019 she made headlines after she publicly accused her ex, rapper Sheck Wes, of physically abusing her. You can read up on those deets HERE.
She also previously dated rapper GoldLink for a few months before they called it quits.
Stay strong, Justine!
Photo: Twitter
​ ​
​ ​ ​