Black Louisiana State Trooper Carl Cavalier Believes His Firing Is A Response To Saying Officers Killed (And Then Covered It Up) Ronald Greene
​
Oct 16 | by _YBF
​ ​ ​ ​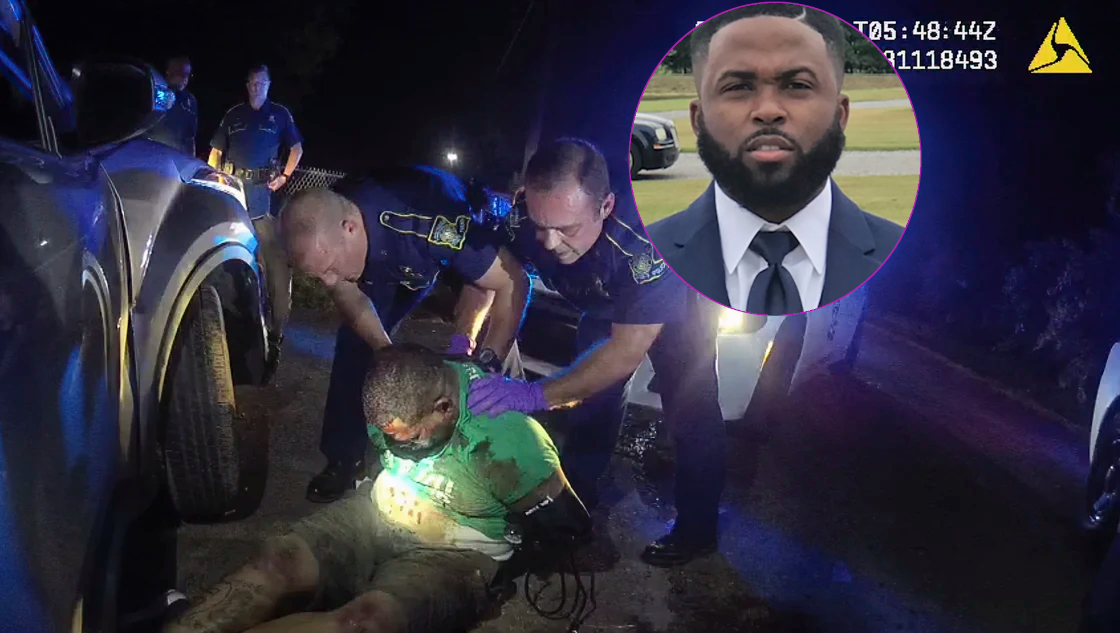 Carl Cavalier - a Black Louisiana State Trooper - is speaking out after he was informed he would be terminated. News of his termination comes after he publicly criticized his department's role in allegedly covering up the death of a black man during a traffic stop.
Details inside...
A Black Louisiana state trooper is speaking out, sounding the alarm on an alleged coverup that involves the 2019 death of a black man named Ronald Greene.
Trooper Carl Cavalier has publicly criticized his department's role in the death of Ronald Greene - a black man (above, on the ground in handcuffs) - who died during a violent 2019 traffic stop. Over the summer, Carl spoke to CNN affiliate WBRZ-TV in Baton Rouge where he described what he believes was an internal coverup to protect the troopers involved in Greene's death.
Now, he's facing termination and he believes speaking out against the department is what lef to his pending termination. He recently learned he will be fired after his five-week unpaid suspension ends. Meanwhile, the officers involved in the traffic stop with Ronald Greene are still on the force.
Below is footage of the arrest. WARNING! The footage is GRAPHIC:
In May 2019, Ronald Greene, 49, died after a police chase following a traffic stop near Monroe, Louisiana that made headlines over the past several months. According to reports, Greene's family was told he died in a car crash. However, police bodycam footage released to the public two years later paints a different picture.
He didn't die from the car crash. Looking at the body cam footage, the police kicked, tased, sat on and punched him before he died in custody.
CNN reports:
The videos show Greene was tased, kicked and punched by LSP officers before he died in their custody.

An autopsy report from the night Ronald Greene died in 2019 did not assign a manner of death and noted missing information from police. The report states in its opinion that lacerations on Greene's head were "inconsistent with motor vehicle collision injury. These injuries are most consistent with multiple impact sites from a blunt object."

The report notes that "no written incident report was provided despite requests," and that "no detailed information regarding the motor vehicle collision (air bag deployment, vehicle damage, seat belt usage, etc.) was provided." It also notes that "no emergency services medical records were provided" to the coroner's office.
Two troopers involved in the incident were reprimanded for their actions that night, including for not following procedures for body-worn cameras. A third was to be terminated for violations regarding body-worn camera and car camera systems, use of force, performance, lawful orders and for conduct unbecoming an officer. That trooper died in a car crash before he could be fired, according to LSP Superintendent Col. Lamar Davis.
The autopsy said Ronald Greene's cause of death was due to "cocaine induced agitated delirium complicated by motor vehicle collision, physical struggle, inflicted head injury, and restraint," according to the report, obtained from a source with knowledge of the investigation.
Once the footage was released, Carl Cavalier told everything about what went down behind-the-scenes, saying the troopers involved in the traffic stop were "unpunished" and are "still patrolling the streets." After speaking out, he was suspended. Now, he's facing termination.
"Trooper Cavalier received the decision of the appointing authority to move forward with termination based on an administrative investigation which revealed he violated several departmental policies," Louisiana State Police spokeswoman Melissa Matey said Thursday in an emailed statement to the Washington Post. "It should be noted that our disciplinary administrative process is not finalized and Cavalier remains an employee at this time."
He received the termination letter last week from State Police Superintendent Lamar Davis. The letter, which he shared with CNN, says an investigation found he violated department policies and procedures.
The letter claims Carl violated the department's policy on "Public Statement," "Lawful Orders," "Loyalty to the Department," "Dissemination of Information," "Seeking Publicity" and "Conduct Unbecoming an Officer."
WOW. Meanwhile, NOTHING has been done (as of yet) to the officers in question.
In September, Cavalier filed a lawsuit against the Louisiana State Police Department, alleging his complaints were ignored and that several of his superiors racially discriminated against him for years.
We hope he wins and brings home millions. Prayers to the family of Ronald Greene! We hope they receive the justice they deserve.
Photos: Carl Cavalier/Louisiana State Police via AP
​ ​
​ ​ ​