'QUEENS' Stars Brandy, Eve, Naturi & Nadine Hit Up 'The View' + 3LW Tea, Brandy's Reaction To Gen Z Not Knowing Ray J Is Her Brother & More
​
Oct 21 | by _YBF
​ ​ ​ ​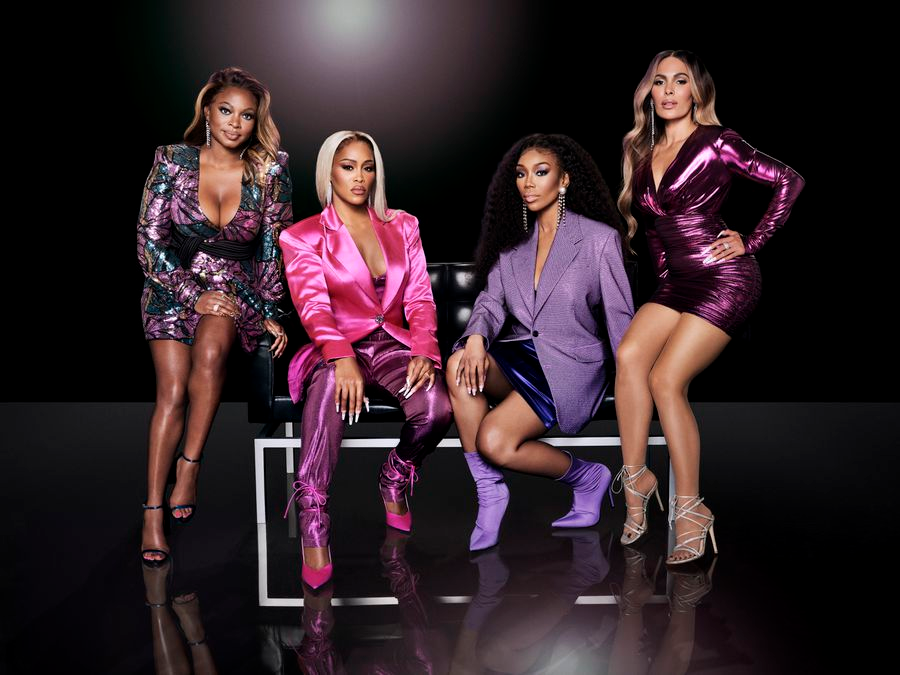 The QUEENS are on the promo trial! Brandy, Eve, Naturi Naughton, and Nadine Velazquez made a stop by "The View" to chat about their new drama series.
Plus, the ladies made a stop by Power 105's "The Breakfast Club" where Naturi spills 3LW tea, Brandy reacts to the youngins discovering Ray J is her brother and more. Get it all inside...
The QUEENS are here!
Eve, Brandy, Naturi Naughton, and Nadine Velazquez are the leading ladies of ABC's newest drama "Queens," which premiered this week.
The real-life queens star in a new series about a group of four women in their 40s who reunite for another chance to recapture fame after finding success in Hip Hop in the 90s.
Today, the Hip Hop queens sat down to chop it up with the ladies on "The View." New mom-to-be Eve and Brandy shared how they've always known of each other, but never really got to know one another. Now, they're super excited they got the chance to work together.
3LW singer Naturi Naughton dished on being on the "TRL" tour with Eve back in the day and how her mom whipped out her photo album to share the throwback photos on the set. She called the experience surreal and that her dreams have come true as a queen.
Never have rapped, sung, or danced, Nadine talked about how big of a challenge it was for her, but shared how the ladies helped her get comfortable with her role. And they gave her their stamp of approval: She nailed it.
The ladies also talked about their new music video for "Nasty Girl" and how they collaborated for a soundtrack for the series.
Watch their daytime interview below:
Speaking of their new music...
Check out the Queens stars' "Nasty Girl" video above, along with the audio of two tracks, Brandy's "Hear Me," and their collaboration track "The Introduction":
Also on the promo trail...
The ladies stopped by Power 105's "The Breakfast Club" to dish more about Hip Hop show.
As you know, Naturi was once 1/3 of hit girls group 3LW and she shared how the show mirrored a lot of what she went through as being a teen in a hit girl group. The music industry can be smoke and mirrors and the "Power" actress confirmed that to be true.
In the early 2000s, Naturi and her 3LW bandmates appeared on "MTV Cribs," however, she said she didn't even have a home. Not only that, she didn't have a car either! Sheesh. There's a scene in "Queens" that brought back memories of how she had to fake it back in the day as part of 3LW.
Last week, Brandy and Ray J started trending on Twitter after Generation Z discovered they were siblings. They didn't have a clue.
"That was so interesting because people didn't put two and two together," she said. "I guess because of the generation...it's just different. We came out in the 90s, so a lot of the new generation didn't know we were brother and sister," she said.
As for her brother's health, she said he's doing good now after he was hospitalized for pneumonia.
Eve revealed the real reason she left "The Talk" was the COVID pandemic. She said it was a stressful three and a half years as a host because she would have to travel from LA to London every two weeks. Over the years, Eve has been vocal about her infertility. She believes being home and doing research on her uterine health helped her get pregnant. After getting a new doctor, she found out she had 14 fibroids and underwent a procedure called a myomectomy to get rid of them. She credited her doctor for helping her to finally get pregnant.
"Uterine health looks like going to the right doctors that listen to your concerns," the 42-year-old entertainer said.
The Ruff Ryderz First Lady also shared she decided to do the VERZUZ Battle with Trina via video conference from London (where she lives with her husband) because she was pregnant. Before finding out, she made plans to fly to Miami. Once it was confirmed she was pregnant, she decided to stay in London. She said her homie Swizz Beatz was the only person who knew she was pregnant at the time.
Eve broke down in tears discussing DMX's passing, she talked about how she, Trina and Missy Elliott used to hang out all the time back in the day and more.
Watch the full interview above.
Did you watch the first episode of "Queens?" Tell us your thoughts! A new episode premieres next Tuesday at 10/9c on ABC.
Photo: Gavin Bond/ABC
​ ​
​ ​ ​