MeMe Shows Off What Appears To Be A Baby Bump, Now Folks Believe DaBaby Is Having Another Baby
​
Oct 28 | by _YBF
​ ​ ​ ​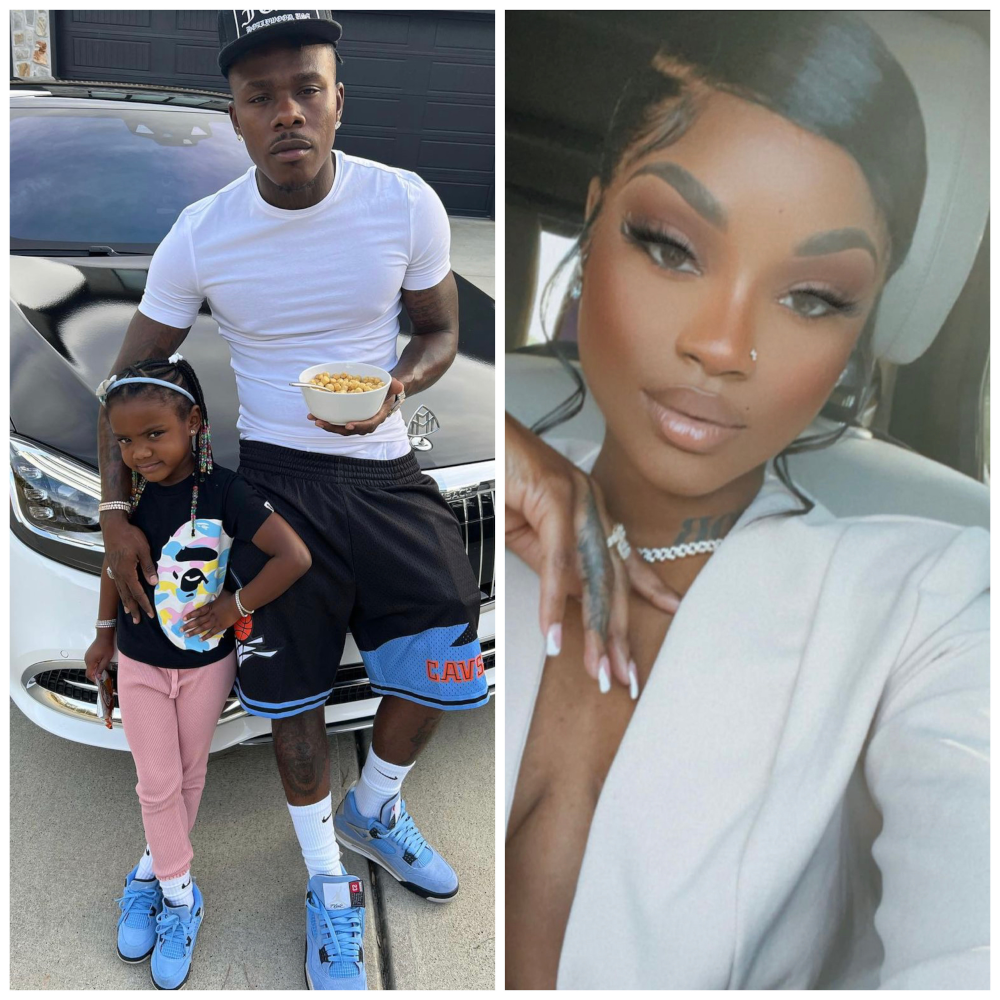 Is DaBaby having ANOTHER baby?! Fans think so after his first daughter's mother MeMe uploaded a video on her Instagram that appears to show a growing baby bump.
The rapper posted a cryptic caption and at least one of his other baby's mothers is chiming in. Connect the dots inside...
DaBaby's baby mama saga continues. And it's giving Peter-Tara-Amina from "Love & Hip Hop" vibes.
It appears the mother of his first child, MeMe, is possibly pregnant again and fans believe the North Carolina rapper is the daddy!
Yesterday, DaBaby took to Instagram to share a few photos of his family, specifically his 4-year-old daughter Princess Renny and his nephews. The timing is interesting. In the caption, he confirmed he's the father of three daughters, leaving fans to believe he's (finally) confirming he's the father of singer and ex DaniLeigh's daughter.
"3 pretty daughters, nieces & nephews to feed I ain't goin out like no idiot ima OG," he captioned a collage of pictures of himself with the little ones.
DaBaby has two biological children, and he is also a father figure to a young boy. He shares a 4-year-old daughter, Princess (pictured above), with his ex-Meme and he also considers Meme's son from a previous relationship his child.
In February 2020, the "ROCKSTAR" rapper confirmed he had ANOTHER daughter on the way and was adamant he didn't cheat on MeMe. DaBaby's second daughter is named Nova, whom he shares with a woman named Quita:
In August 2021, singer DaniLeigh had a baby girl that fans believe DaBaby fathered. She shared the first flick of her baby earlier this month:
#DaniLeigh takes her daughter to a drive thru zoo to feed the animals. #DaBaby https://t.co/Yr9cOU3sx9 pic.twitter.com/GBREVoX809

— YBF CHIC (@TheYBF) October 3, 2021
While neither DaBaby nor DaniLeigh have confirmed the rapper is her daughter's father, right before she gave birth, she shared a photo of her baby bump and wrote "da biggest" in the caption, hinting her ex-boyfriend was the father.
Now, fast forward to last night...
MeMe shared a video on IG Stories of her daughter seemingly rubbing her stomach with the caption, "It's the love fa me." On her IG timeline, she also shared a video of herself showing off her new hair 'do with the same nails that's shown in the IG Stories. Some say MeMe doesn't look pregnant in the timeline video (swipe above to see).
Turns out, MeMe has been hinting at possibly being pregnant or trying to get pregnant since March 2021. Earlier this year, she posted pics from a photoshoot along with a photo of "The Empress" tarot card. In the tarot world, The Empress card can represent a want to have a baby or a pregnancy.
Just a few days ago, MeMe hopped on IG Live while she was cooking where you could see her midsection. She also was seen holding a cup with a drink in it, although it's unclear what she was drinking. Check it out below:
There's a screenshot from MeMe's old IG account that alleges she's having a baby boy:
a blog had already posted dm's last month where meme let it be known that dani's baby would be a big sister to the baby boy that she's (meme) pregnant with and yesterday she posted on her story her baby bump. https://t.co/jce5EaaPCo pic.twitter.com/VavOv6cO2A

— dee (@theswishgawd) October 28, 2021
Hmm...either MeMe is really pregnant or she's trolling. Time will certainly tell...
Photos: Instagram
​ ​
​ ​ ​