[UPDATE] Fetty Wap ARRESTED During Rolling Loud Music Festival On Federal Drug Charges, Faces Life In Prison
​
Oct 29 | by _YBF
​ ​ ​ ​
Rapper Fetty Wap was picked up on federal drug charges during the Rolling Loud Festival in NYC yesterday. Details inside...
[UPDATE]: More details about Fetty Wap's federal drug charge arrest have come in. The rapper and his co-defendants have been accused of distributing more than 100 kilograms of cocaine, heroin, fentanyl and crack cocaine across Long Island and New Jersey.
TMZ reports:
According to legal docs, obtained by TMZ, Fetty and others distributed more than 100 kilograms of cocaine, heroin, fentanyl and crack cocaine across Long Island and New Jersey. The feds claim the drugs were first obtained on the West Coast and used USPS vehicles with secret compartments to smuggle them East.

The docs say during their investigation, they obtained $1.5 million in cash, 16 kilograms of cocaine, 2 kilograms of heroin, fentanyl pills, pistols, handguns and a rifle.

If convicted, the defendants could face life in prison.

Fetty's attorney, Navarro Gray, tells us, "We pray that this is all a big misunderstanding. He sees the judge today. Hoping he gets released so we can clear things up expeditiously." A rep for Rolling Loud tells us they had no prior knowledge of Fetty's legal issues.
It's not looking good.
-----------------------------------------------------------
While you may not have known Fetty Wap was set to hit the stage during the Rolling Loud Festival last night, the police sure did.
The feds pulled up on Fetty Wap to arrest him at Citi Field in NYC and he was hit with several federal drug charges.
According to law enforcement, the 30-year-old father-of-seven (whose real name is William Junior Maxwell II) was one of six members involved in a drug distribution. Each member was charged with dealing heroin and fentanyl during the Rolling Loud music festival. FBI agents arrested the rapper last night and he'll be arraigned later this morning.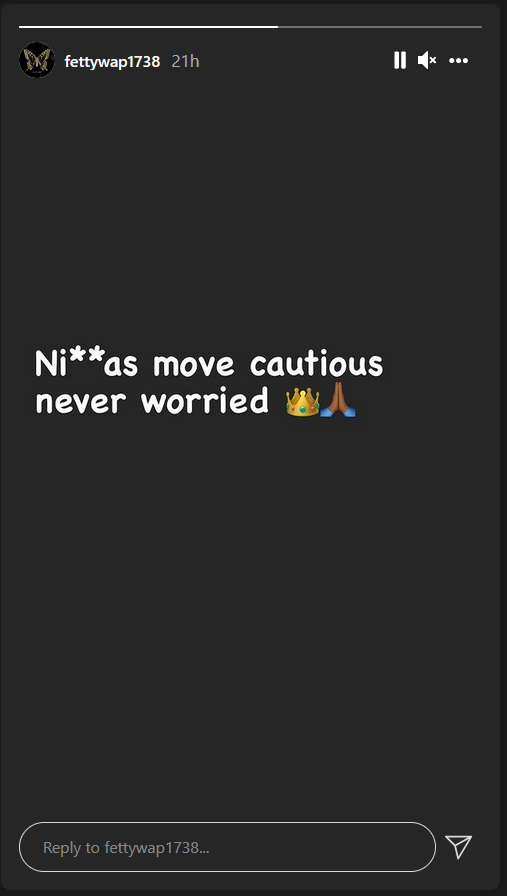 Before his arrest, he shared a quote on his IG Stories that said, "Ni**as move cautious never worried." Yikes.
As of now, the indictment against him is still sealed, but it will reportedly be unsealed later today. Sighs.
The Paterson, NJ native is no stranger to getting in trouble with the law. A few years ago, he faced three counts of battery after allegedly assaulting three employees at a hotel. In November 2017, he was charged with a DUI after police accused him of drag racing with another car on a New York City highway.
With seven kids to feed & clothe, he better straighten up! Hopefully (for the kids' sake), it's not too late.
Photo: DFree/Shutterstock
​ ​
​ ​ ​