Summer Walker BLASTS Ex-London, His Mama & His Other BMs On 'Still Over It' Album, IG Comments In Shambles
​
Nov 05 | by _YBF
​ ​ ​ ​
Summer Walker just dropped her sophomore album and she's Still Over It. On the 20-track LP the R&B singer goes in on her ex/daughter's father, London On Da Track, his mother and his other kids' mothers. Sis got it all off her chest. More inside...
Summer Walker wants ALL the smoke!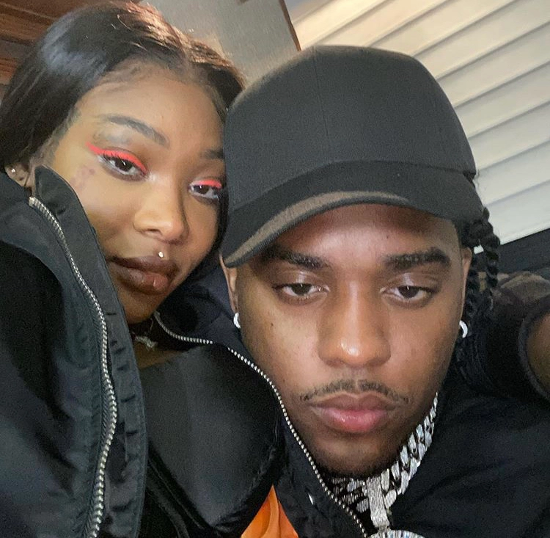 Summer Walker and London On Da Track started dating in 2019 and have had their fair share of public ups and downs before they called it quits in summer 2020. Their union produced an adorable baby girl, who they welcomed March 2021.
Fans of the two have watched the drama unfold between Summer, London and his other kids' mothers as they often feuded on social media. The sultry songstress took all of her hurt and pain and put it into her sophomore album, Still Over It.
My new album "Still Over It" out now on all platforms! Now go find that wall and slide down it! (Link in bio) pic.twitter.com/Mfl7QmiZ6R

— SUMMER WALKER (@IAMSUMMERWALKER) November 5, 2021
Before the album dropped, Summer had already put London on blast on her single "Ex For A Reason," featuring JT. Now, everyone is catching smoke, despite the fact London produced more than half the tracks.
The very first track is dedicated to the baby mama drama. It's titled "Bitter" and she sings about dealing with London's "bitter" baby mamas and she even called his name out on the song:
"Don't gеt it twisted, nothin' like none of thеse b*tches/But sometimes I get in my feelings/Sometimes I know I be trippin' (Trippin')/But why these h*es all in our business?/How he don't care 'bout his children? (How he don't care?)/How he's supposed to be there? Y'all won't let him get 'em/How you posted like that on the 'Gram for a thousand?/I bet you can't post a picture (Bet you can't, bet you can't)/Wonderin' if you even know this b*tch, for real/London, did you screw this b*tch for real?/They be on that groupie sh*t, for real (Ah)/And I know she thought she struck when she let a n*gga f*ck/Man that b*tch is lookin' stuck (Stuck, stuck)/And I bet when you came that she thought she came up"
At the end of the song, rapper Cardi B gives Summer some words of encouragement in response to the drama that was stirred up about her pregnancy. The rap mom told Summer to put "put that drama in your music because if b*tches want to get clout off you, you gone get clout off them and you gone put that sh*t in your music. Say some shit like I got my own f*ckin' money. Make them b*tches feel hurt. F*ck these h*es."
So, that's what she did.
On her track "4th Baby Mama," the Georgia native goes IN on her daughter's father AND his mama!
She sings:
I wanna start with yo mama, she should've whooped yo ass

Know you ain't shit, but she don't care 'cause you lit

Paying for trips cars, bags and bought the crib

But she ain't never call you out, 'cause she like the way that she live

But that some foul shit, she wasn't even around when, you ain't have no money (Money)

That's why I find it funny (Funny)

I guess that guilt hit hard, being gonе for so long

That's why she makes excusеs for all your wrongs

Now what's the point in keep on having kids?

If she just gone be raising them, that's just pure laziness

Ion get it is you tryna keep up with Thug? Is you racing him?

Crazy how you really think that shit's cute, be embracing it, oh

It really don't get no worse than you, 'cause you ain't even got the nerve, to stand up on yo word
Damn. She also dissed him on "You Don't Know Me" and "Toxic."
Fans are flooding London's IG comments with reactions to her new LP:
Shambles.
No word from London (yet) but his baby mama Eboni took to social media to react to Summer's new album:
She said she likes the song "Bitter" and encouraged folks to steam it. She also seemed to agree with Summer's lyrics about London's mother. However, she wasn't here for Cardi B's message: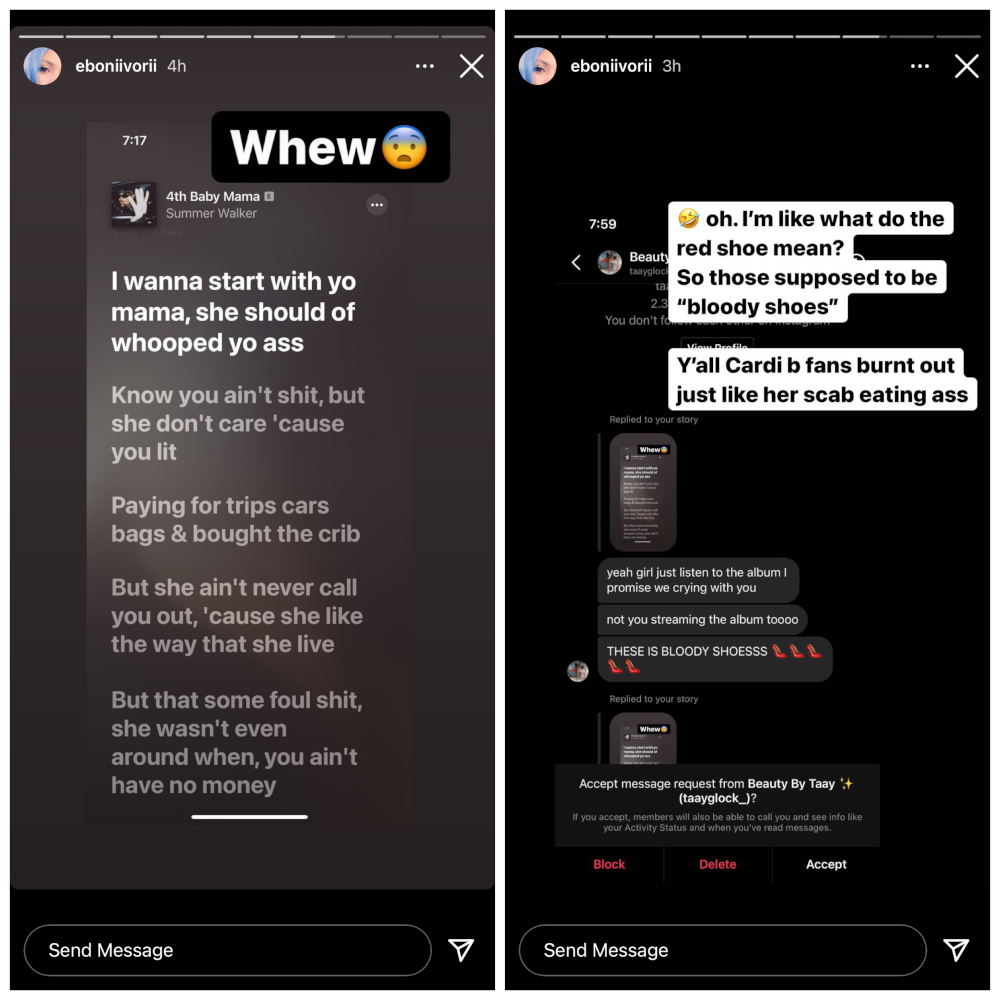 Lordt.
Meanwhile...
just finished summer walker's album and.. pic.twitter.com/phcjecXOaU

— Fi Wa Kemi (@kemi_fi) November 5, 2021
Summer Walker fans are busy crying and sliding down walls as they listen to the new album.
Summer Walker got me blocking numbers i don't even have saved.

— Trick Owens (@FUCCl) November 5, 2021
Whole summer walker sounds like she was dating an Aries nigga lol pic.twitter.com/UXc5IoQNcl

— Ayoka (@MysticxLipstick) November 5, 2021
I'm glad Summer Walker brought up his momma. If you've ever dated a man enabled by his mom you know it's the worst. Hardly any accountability, they're babied, you're in competition with the mom. And you looking at her like woman-to-woman, you forreal?

— Get her, Jade! (@keatingssixth) November 5, 2021
Nobody:

Women listening to summer Walker album: pic.twitter.com/Sa9dVtxm0K

— restaurant shutter downer (@Tha_MikeB_Show) November 5, 2021
Summer Walker opened the album defending her man, then started going in on him and the mama, left his ass and wrapped it up with a prayer. Summer alright with me

— Lana Donna (@MamiLana_) November 5, 2021
Oh, and that Summer Walker x Ari Lennox track "Unloyal" - FIRE!
Still Over It is already taking over the music charts:
Summer Walker now holds the entire top 5 on US Apple Music (@IAMSUMMERWALKER):
#1 Bitter with @iamcardib
#2 No Love with @sza
#3 Throw It Away
#4 Reciprocate
#5 Ex For A Reason with @ThegirlJT

— chart data (@chartdata) November 5, 2021
Take a listen below:
Have you streamed Still Over It yet?
Photo: Summer's IG
​ ​
​ ​ ​