NFLer Damon Arnette CUT By The Raiders After He Threatened To Kill Someone While Brandishing A Gun In Online Video
​
Nov 09 | by _YBF
​ ​ ​ ​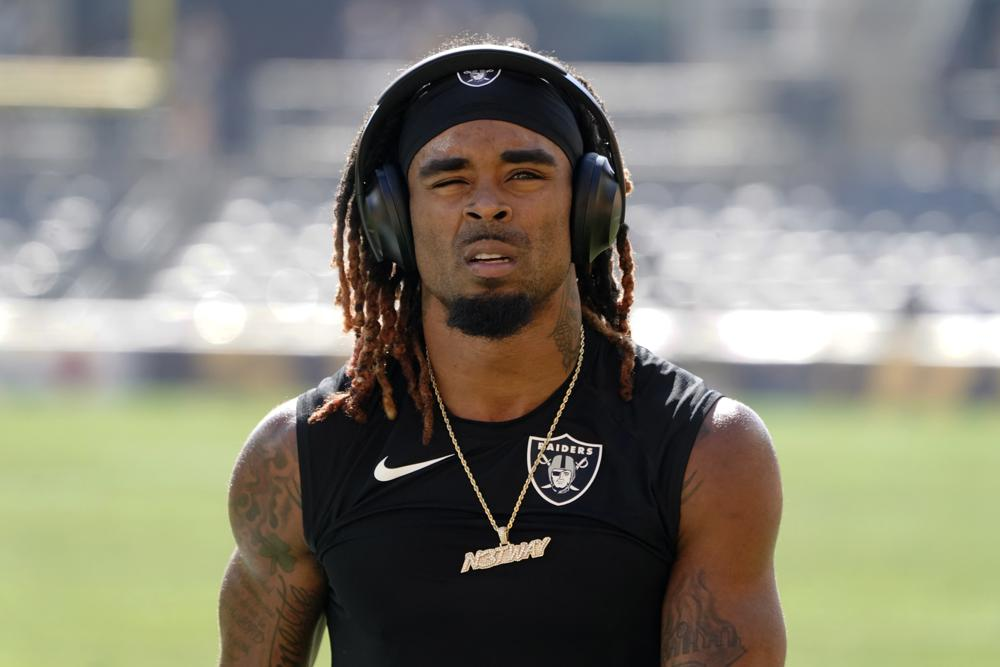 Another Raiders first round draft pick has been released from the team. Cornerback Damon Arnette was dropped from the organization after a video surfaced of him where he's threatening to kill someone while brandishing firearms. Lordt.
More inside...
Chile, what in the world is going on in Las Vegas?
The Las Vegas Raiders have waived cornerback Damon Arnette, a first-round draft pick in 2020, after he was seen on video making death threats while wielding firearms. Sighs...
The video of the 25-year-old Dallas native was posted last week, but it went viral over the weekend, costing the young athlete his job.
"[I'm] five minutes away," he said in the video while holding up a firearm. "Pull up lame-ass n*gga, I swear to god I will kill you, n*gga. On everything I love, I will kill you, n*gga. You talking crazy."
It's unclear what prompted the video, but he was clearly agitated about something or someone.
Peep the viral video below:
Dawg wtf is going on in Las Vegas? Look at Raiders CB Damon Arnette flexing a gun saying he gon kill somebody smh pic.twitter.com/PiJKT5Cyq7

— Robert (5-4) (@RobertRaymond46) November 6, 2021
Not the smartest thing to do online at his big age. Raiders general manager Mike Mayock released a statement about waiving Damon, sharing this online video was the last straw of bad decisions that they were willing to deal with.
"There have been a series of bad decisions over the last year or so, but we can't stand for the video of Damon with a gun threatening to take a life," Mayock said. "The content was unacceptable, contrary to our values and our owner Mark Davis has been very clear and very consistent that this is not how we will conduct ourselves in this community. The bottom line, the Raiders will not tolerate this type of behavior."
At least Damon Arnette has a promising rap career to fall back on pic.twitter.com/QKyac8xw0v

— RaidersBackend (@CertifiedRaider) November 8, 2021
The NFL cornerback, who went 19th overall in the 2020 NFL draft and played 13 games for the Raiders, has been making some questionable decisions lately and the Raiders were TIREDT.
In October 2020, Damon Arnette was sued for an alleged hit-and-run incident. He was accused of hitting another vehicle and injuring a woman. It's reported he left the scene to make it to a team meeting on time.
In June 2021, he was hit with another lawsuit involving a valet at Aria Resort & Casino. The ex-Raider was accused of spitting on the valet and he allegedly poked him in the chest repeatedly after the valet refused to retrieve Damon's car without a valet ticket. Yesterday, Damon's attorney, Richard Schonfeld, filed a counter lawsuit. Damon's lawyer called the original lawsuit "frivolous" and said it's nothing more that a money grab.
Apparently, Damon received a letter from the valet's lawyers demanding $500,000. The letter reportedly threatened to contact the media, get police involved and the NFL if the payment wasn't made.
And there's more...
There were troubling off-the-field signs everywhere for #Raiders first-rounder Damon Arnette. For instance: In his first year in the NFL, Arnette crashed four rental cars within roughly a month, sources said. Now, after a tumultuous weekend including online threats, he's out.

— Ian Rapoport (@RapSheet) November 8, 2021
According to sources, he also allegedly wrecked FOUR rental cars within a month. Sheesh.
The decision to cut Damon comes less than a week after the Raiders cut another first round draft pick. The team released No. 12 overall draft pick Henry Ruggs III following a fatal DUI crash. He's currently facing multiple felonies and if he's convicted he could be facing up to 46 years in prison.
Last month, Jon Gruden resigned as head coach of the Raiders after reports emerged of him using homophobic, racist and misogynistic language in emails while he worked as an ESPN analyst.
A LOT is going on in Vegas.
Photo: AP Photo/Keith Srakocic
​ ​
​ ​ ​