NFLer Dalvin Cook Files Suit After Ex-Girlfriend Filed Domestic Violence Suit + Rumors Circulate She Stabbed Ex-Husband
​
Nov 10 | by _YBF
​ ​ ​ ​
Minnesota Vikings running back Dalvin Cook and his former girlfriend, U.S. Army Sgt. 1st Class Gracelyn Trimble, have filed dueling lawsuits against each other over a bloody altercation that went down inside Dalvin's home in November 2020.
As more details about the incident come out, the head-spinning twists and turns get crazier. Everything we know up to this point (plus pictures of her injuries) inside...
WARNING! This article could be triggering for domestic violence survivors.
Another day, another NFLer involved in some mess!
Minnesota Vikings running back Dalvin Cook has been accused by his ex-girlfriend, U.S. Army Sgt. 1st Class Gracelyn Trimble, of domestic violence. On the flip side, he claims HE's the victim of domestic abuse and extortion! Now, they've filed dueling lawsuits against one another over an altercation that went down at his home in November 2020.
As details about their situation trickles in, the story just keeps getting crazier. So, here's what we know so far about their relationship and what led up to them filing lawsuits against one another...
The NFL star and the U.S. Army vet were involved in a seemingly toxic relationship that lasted throughout the last 3 years. After meeting on a beach in Florida in 2018, the twosome started dating and everything was seemingly good up until March 2020.
According to Gracelyn, Dalvin got her pregnant, but she suffered a miscarriage, according to her lawsuit. While she was in the hospital, she alleged Dalvin was busy cheating on her with other women. When she confronted him about it, it led to a "physically violent argument" between the them, which reportedly resulted in Dalvin "pushing" Gracelyn. After that, they called it quits...but not for long.
Three months later, they get back together and end up moving in with each other in Florida. They also shared a space in Minnesota where Dalvin lived during the Vikings' regular season.
Fast forward a few months and the couple allegedly got into an argument at the Mall of America in November 2020. When they got home, she claims he punched her and threw her to the ground. Due to the alleged physical assaults, she said she put mace in his garage just in case she ever needed it.
Things went from bad to worse on November 19, 2020. Here's what she said happened:
"Trimble claims in the filing that Cook got angry when she asked for his help in gathering her things. Cook 'grabbed her arm, and slung her whole body over the couch, slamming her face into the coffee table and causing her lower forehead and the bridge of her nose to bust open.'

"She attempted to spray the mace at Cook, but he overpowered her and the mace went into her eyes, the lawsuit said. She went to shower when she was allegedly assaulted again.

"Then Trimble went into the bedroom, grabbed Cook's gun and called her friend, according to the lawsuit. Cook overheard her and threatened her, and beat her with a broomstick, the suit claims."
It's alleged he pinned her down to the ground and told her she was "going to die." She said Dalvin punched and choked her and then grabbed a gun and pointed it at her head "all while yelling death threats."
TMZ reports:
Trimble claims despite begging Cook to call police or an ambulance, he held her against her will for hours -- before eventually taking her to the airport.

After returning to Florida, Trimble says she didn't initially go to the hospital because she wanted to protect Cook ... but on Nov. 25, she claims she realized her injuries were severe, so she went to the emergency room.

While there, she says she told doctors she was in an ATV accident ... and they diagnosed her with a concussion and "several deep cuts and bruising."
Pictures of her injuries were also included in the lawsuit:
Horrific.
After the alleged beating, she claims Dalvin sent her a message, apologizing for what happened and said if she went to the police he would understand.
"I know what I did can't be rewind but I just want you to know I'm sorry. I love you so much despite you thinking I don't or never did but I do! Whatever you need I'm here for you! And if you wanna go to the police I'll respect that I'll take my punishment for what I did!," Dalvin wrote to Gracelyn.
In her response, she told Dalvin that he really messed up her face and then sent him images of her injuries.
"And I'm sorry for that!," he wrote. "But the situation just got out of hand from the jump. Can you come back to me?," he asked.
See the messages below: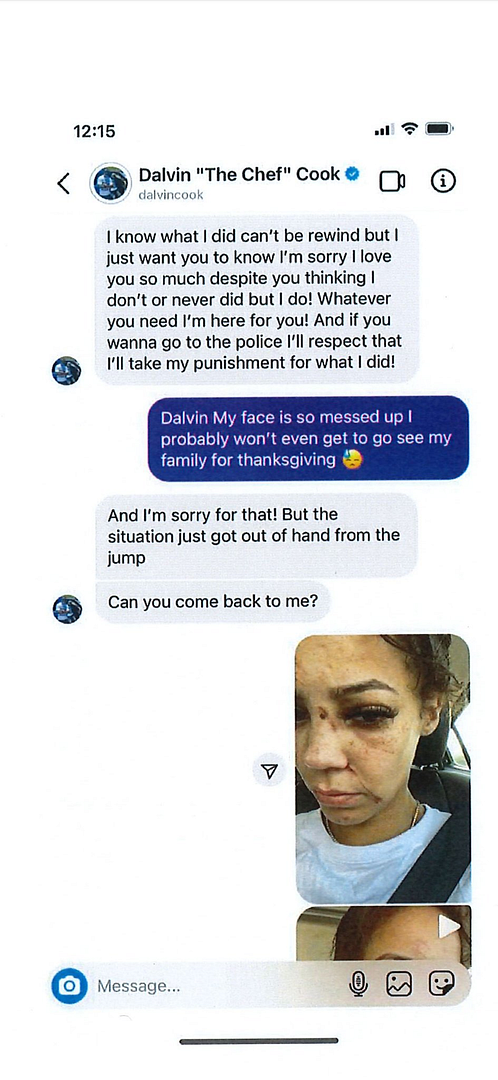 The former couple didn't see each other for about a month after the altercation until a death in Dalvin's family brought them back together. However, their relationship didn't last and they called it quits in May 2021.
Dalvin Cook has his own account of what happened and it's drastically different that Gracelyn's. David Valentini - Dalvin's attorney - claims Dalvin is the victim of domestic abuse and extortion. He claims his client's home was entered illegally and that Dalvin and a "houseguest" were threatened at gunpoint. It's alleged she held Dalvin and his houseguests hostage for hours. When she allegedly tried to assault one of his female guests, Dalvin tried to stop her, which caused her to injure herself.
Read his response about the November 2020 altercation below:
Dalvin's agent, Zac Hiller, also spoke out about the incident saying, "[Trimble] showed up at [Dalvin's] house, illegally entered, punched him in the face, maced him, armed herself with a gun, and held him and his 2 house guests hostage."
There's a video that allegedly shows a snippet of Dalvin and Gracelyn aruging during the Nov. 2020 incident:
Video of Sergeant Gracelyn Trimble Threatening to Pull Her Gun Out and Shoot Dalvin Cook pic.twitter.com/zGzn5j50ag

— Luke Owen (@LukeOwenNFL) November 10, 2021
Before Gracelyn filed her lawsuit, her lawyer, Daniel Cragg, spoke with Dalvin and his attorney, David Valentini, about a potential settlement before the lawsuit was filed. Both sides couldn't come to an agreement, so the lawsuits were filed.
The Vikings released a statement saying they are in the process of gathering information about the incident:
Vikings' statement on Dalvin Cook contending that he was attacked: pic.twitter.com/4R3q94mIFI

— Adam Schefter (@AdamSchefter) November 10, 2021
The NFL also released a statement, saying, "The Vikings notified the league of the matter. We will decline further comment at this time."
Then, there's this....
Apparently, Gracelyn was still legally married when she met and started dating Dalvin in 2018. She was married to a man named Irvin Nesbitt, who filed for divorce from her in August 2019.
Sources told Black Sports Online the supposed reason Irvin decided to go through with the divorce is that Gracelyn allegedly stabbed him. It's unclear if he knew Gracelyn was supposedly cheating on him because it's unclear when Gracelyn and Irvin officially called it quits. You'll notice, he filed for divorce a year after they started hooking up.
Whew, this is #TeamTooMuch!
Photos: Instagram
​ ​
​ ​ ​