OBJ & Girlfriend LoLo Celebrate Rams Signing, Expected To Make Debut Against 49ers + Why Cam Newton Went 'Home' To Panthers For Millions
​
Nov 14 | by _YBF
​ ​ ​ ​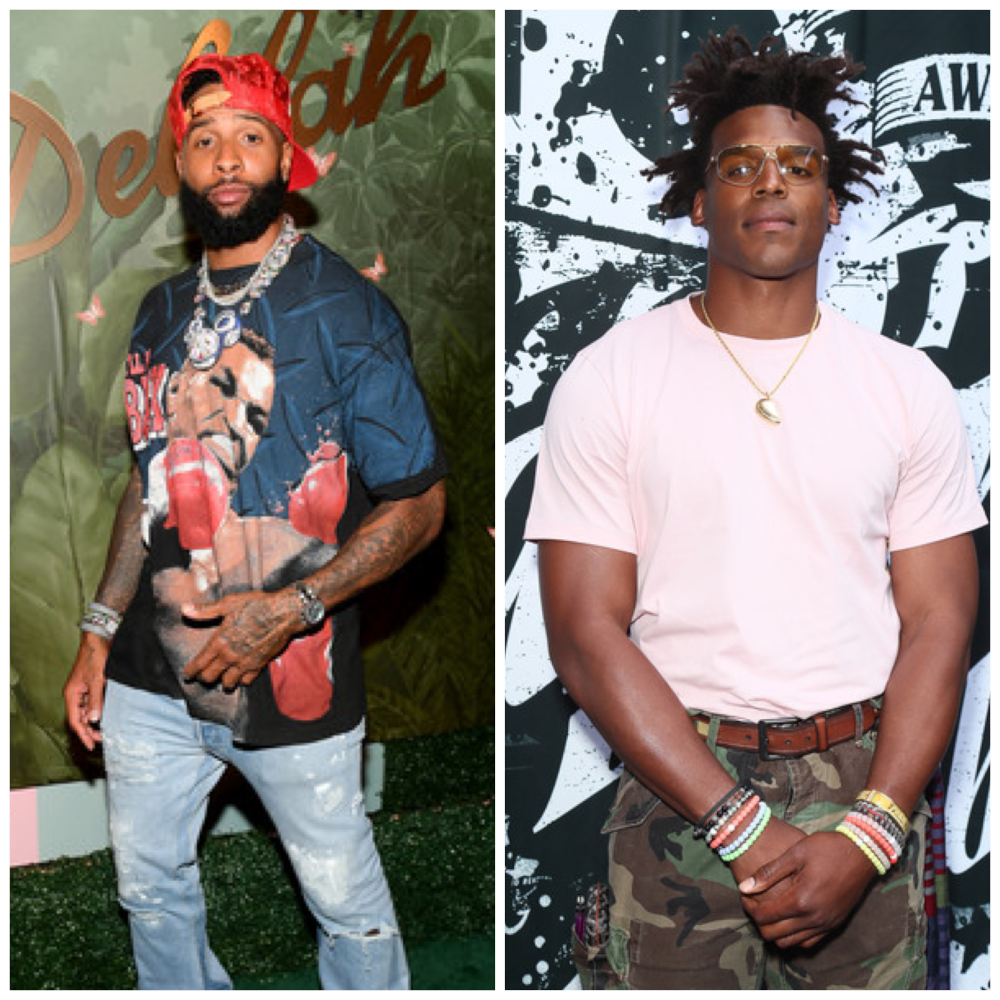 Odell Beckham Jr. has left Cleveland and just touched down in L.A. after signing a one-year contract with the Rams. He's happy AF and so is his girlfriend, LoLo Wood. Sources say he's expected to hit the field tomorrow against the 49ers.
Also, Cam Newton has returned "home" to the Carolina Panthers where he will receive a hefty payout for his one-year contract. And it's in the MILLIONS. He takes us inside his first days as a Panther again...
Odell Beckham Jr. wasn't happy in Cleveland. The former Browns wide receiver wanted out! So much so, he left $30 million of money on the table for 2022 and 2023 when he left the team along with an additional $3 million dollars in 2021 to sign with the Los Angeles Rams.
This week, OBJ signed a one-year deal worth up to $4.25 million with the Rams. According to NFL Network's Ian Rapoport, the contract includes a $500,000 signing bonus, $750,000 for the rest of the season and another $3 million in incentives based on how the Rams finish the regular season and postseason.
OBJ - who celebrated his 29th birthday on Nov. 5th - nabbed the deal three days after the Browns placed him on waivers. It was previously reported the wide receiver was weighing his options and chose the Chiefs, Packers, Seahawks, Patriots or Saints as his top choices. However, OBJ seems fine with coming to L.A.
On Friday, OBJ touched down in the City of Angels to take his physical, watched practice and did a walk-through of the Rams facility.
"I feel like the story was already written coming back to L.A. It's like a second home to me," he said.
Peep the clip below:
The first 24 hours in LA with @obj. pic.twitter.com/eVx69tmx0C

— Los Angeles Rams (@RamsNFL) November 14, 2021
NFL sources say he could make his Rams debut tomorrow (Nov. 15th) against the San Francisco 49ers, sources say. Since arriving in L.A., OBJ has been working with offensive coordinator Kevin O'Connell to learn a few plays from the Rams' playbook in order to hit the field on Monday.
On Saturday, OBJ posted a hand-written letter, thanking the Browns, fans, and teammates:
— Odell Beckham Jr (@obj) November 14, 2021
Last October, OBJ got injured where he tore his ACL during a Browns game against the Cincinnati Bengals and missed the rest of the 2020-2021 season.
During his downtime, the Baton Rouge native worked hard to get back in shape, so he can hit the field again.
Now, he's ready to make a comeback.
After making it official with the Rams...
OBJ's girlfriend Lauren "LoLo" Wood - who is rumored to be pregnant - shared a flick of herself and her man all boo'd in a pool. Then, OBJ hopped on a Facetime call with his new teammate Von Miller, who was traded to the Rams from the Broncos a week prior:
Congrats and good luck, guys.
As for another new NFL move...
Cam Newton is back home in the place where he soent 9 seasons of his career, won an MVP and made a visit to the Super Bowl!
After being released in March 2020, quarterback Cam Newton has reunited with the Carolina Panthers on a one-year deal. And he'll receive one hell of a bag for his return.
According to NFL Network's Ian Rapoport, Cam signed a one-year deal, worth up to $10 million for the remainder of the 2021 season. SHEESH! The deal includes $4.5 million in fully guaranteed money with a $1.5 million roster bonus. For comparison, Cam signed a one-year deal with the Patriots worth up to $7.5 million, but no guranteed money.
As for why Cam headed back to a team that seemingly released him pretty willy nilly, The Panthers needed Cam to solve their QB issues. The team's current starting QB Sam Darnold will be out for four to six weeks with a shoulder injury, so Cam's return could offer him a chance to win the 2022 starting job.
Plus, he has umpteen mouths to feed these days.
On Friday, the 32-year-old QB touched down in Charlotte. He posted a video on his YouTube channel once he made it back to the city.
"My emotions are running over right now," he wrote in the YouTube caption. "I can't explain to you all how this makes me feel. One thing for certain two things for sure. Im Blessed, always gonna be blessed. Im Fresh, and always gonna be fresh."
Watch below:
And he was spotted making his way to practice:
@CameronNewton @Panthers CAM IS BACK!! Been waiting to see Cam in person for almost 15 years and it finally happened today I still can't believe it pic.twitter.com/EpeJxhKl9h

— MickWillDoIt (@MickWillDoIt) November 12, 2021
Los Angeles Laker baller LeBron James is ecstatic Cam is back with the Panthers:
EXTREMELY HAPPY for Cam!! Back where it all started! Shine brother shine!!

— LeBron James (@KingJames) November 11, 2021
"EXTREMELY HAPPY for Cam!! Back where it all started! Shine brother shine!!," LeBron tweeted.
Congrats, Cam!
Photos: Getty
​ ​
​ ​ ​