Ashanti Reveals What Her Ex-Nelly Whispered In Her Ear During VERZUZ Battle, Says Run-In Was A 'Little Awkward'
​
Nov 16 | by _YBF
​ ​ ​ ​
We all saw that random moment when Nelly jetted across the stage to hug his ex-Ashanti and whisper in her ear during the Ja Rule vs. Fat Joe VERZUZ Battle.
Now, Ashanti is sharing what he said during the "little awkward" moment…
Ashanti and Nelly were one of Hip Hop's most-loved couples during the early 2000s. They first met in 2003 at a Grammy Awards press conference. Then, dating rumors began shortly after. There was even marriage talk at one point during their decade long relationship, however, they never made it down the aisle. They called it quits in 2013.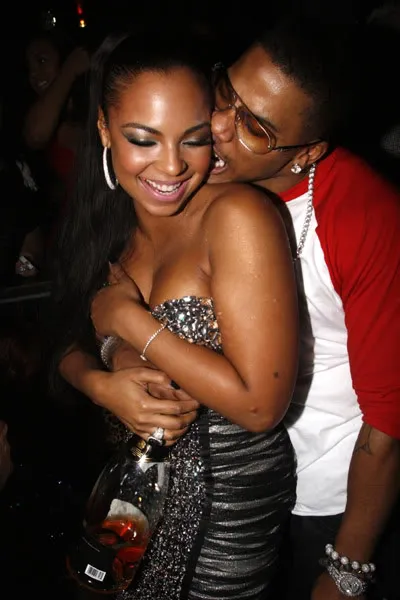 Since then, they've gone their separate ways.
Ashanti has been living her very best life over the years. She's glowing these days with tons of amazing things coming down the pipeline. Sis has been out in these streets, touring with Omarion and Bow Wow on the Millennium Tour, jetting off to the islands, slaying birthday parties and more.
The Grammy Award winning singer was front and center to support her Murda Inc. homie Ja Rule during his VERZUZ Battle with Fat Joe. The R&B singer was minding her business on stage before her ex-Nelly made a viral moment.
The Country Grammar" rapper saw Ashanti looking good across the stage and made a beeline to her with his arms extended as if he wanted a hug. He leaned in for a hug and whispered something in her ear. Check it:
Nelly really walked through these people's concert to give Ashanti a hug #VERZUZ pic.twitter.com/J02cjG7XxD

— Kathleen Francois, LCSW, LCADC (@katfrancoislcsw) September 15, 2021
Did Nelly walk over and try to ask for a hug from Ashanti? #VERZUZ pic.twitter.com/ATd4adeIY4

— Mr B. (@HoeAssMrB) September 15, 2021
The former Murda Inc. First Lady sat down to chop it up with Power 105's Angie Martinez and the radio host didn't waste any time to ask her about the viral moment with her ex.
"It was very unexpected," she said. "I hadn't seen him in, like, six years. Spoken or seen. It was a little awkward!"
So, what did Nelly whisper in her ear?
"You know what the crazy part is, he didn't say anything," she explained. "He didn't say anything. First of all, I didn't know he was going to be there. I told Joe, like, 'Joe, why didn't you tell me he was gonna be here?' He was like, 'Sis, I know, it's terrible! I couldn't risk you not coming if you knew he was gonna be there," she said impersonating Joe perfectly.
Ashanti went on to reveal she's currently in a relationship with someone, but she's keeping it "low and private." She said "some of us" might know her boyfriend, but she's not revealing who he is.
After several failed relationships, Ashanti said she hopes she gets it right this time around, but admitted it's a lot balancing her career, personal and love life.
As for her career, she's currently on your, she has book coming out, she's gearing up to executive produce another film and she'll be receiving a star on the Hollywood Walk of Fame.
Not only that, she plans on re-recording her self-titled debut album. The reason? She said she wants to show the business side of ownership and how important it is to "own." With her first album contract, she's allowed to re-record it and everything purchased from that moment on, she owns.
There may be some new direction on the album, but she confirmed she's not taking Ja off any records. If anything, she said she'll "add some sauce" to records for the re-record. While she said Ja pretty much supports her new endeavors, she hinted "the other guy" (*coughs* Irv Gotti *coughs*) likely isn't happy about it.
Irv Gotti - who produced most of her early records - chimed in with his issue with her re-recording her album, saying she's trying to "f over his masters he owns". It sounds like he'd rather flex owning something of hers than her wanting to own something of hers as well.
Also, the singer talked about praying with late rapper DMX, catching COVID-19 (she caught it from a family member) traveling the world, how she decides if she'll clear a sample, and more. Ashanti was joined by her sister, Shia, where she talked about what it was like growing us as Ashanti's little sister. She also reflected on a brutal domestic violence attack where her jaw was broken.
Peep the interview below:
Photo: Ashanti's IG/Simmons
​ ​
​ ​ ​