New NFL Team & A Baby On The Way With GF Lolo Wood - Life Is Good For Odell Beckham Jr.
​
Nov 23 | by _YBF
​ ​ ​ ​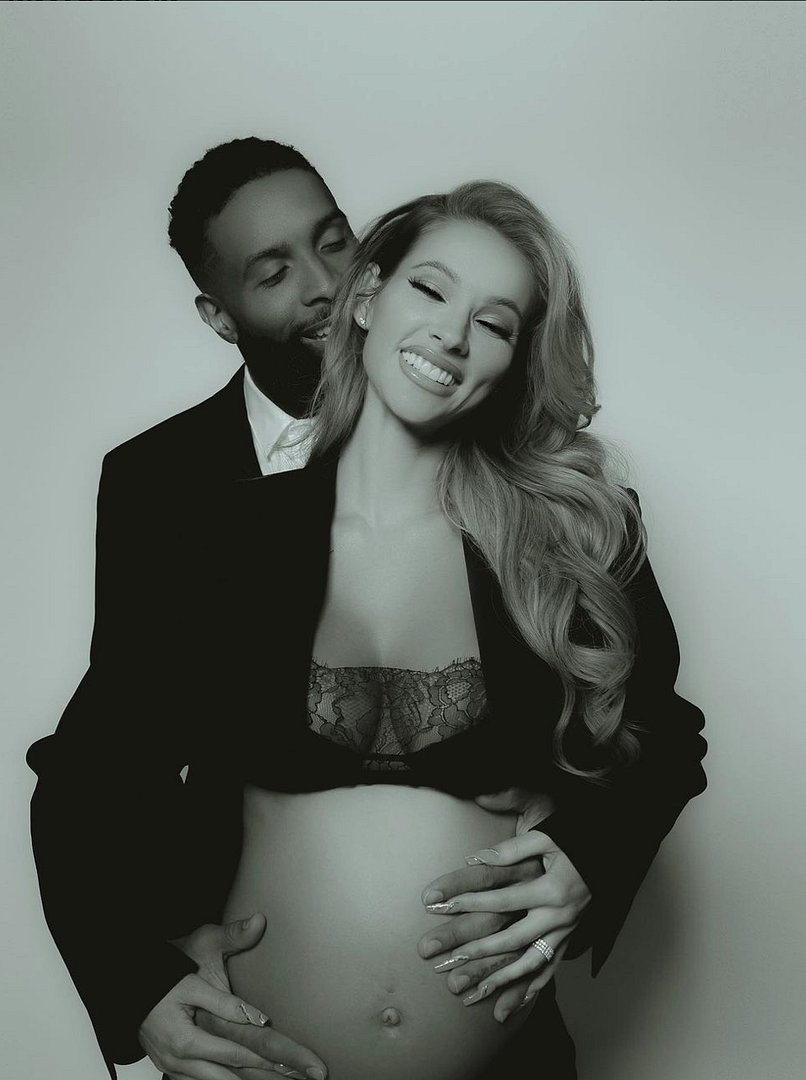 The rumors were true! Odell Beckham Jr. and his model girlfriend, Lauren "Lolo" Wood, are pregnant! More inside…
Yep, it's official now.
These past few weeks have been life changing for NFL player Odell Beckham Jr. Earlier this month, the star wide receiver was released from the Cleveland Browns and picked up by the Los Angeles Rams. To say he's excited about playing for the west coast team and possibly having a chance at winning a Super Bowl ring would be an understatement.
Now, he's embarking on a new chapter in his personal life: fatherhood.
The star wide receiver and his model girlfriend, Lauren "Lolo" Wood are expecting their first child together after dating for about two years.
"Ilyilyily," the 28-year-old former "Wild 'N Out" model captioned a collage of maternity shoot pics on Sunday. In the comments, OBJ responded, "Can't wait baby!"
Today, the 29-year-old NFLer (who celebrated his birthday earlier this month) reposted the flicks on his IG Stories:
Before the official announcement, we told you about the pregnancy rumors that were circulating. Apparently, a fan snapped a picture of Lolo's growing baby bump while she was working out at the gym.
An IG blog posted flicks of Lauren's baby bump, so she hopped in the DMs, requesting the photo be taken down.
In the direct message conversation, Lauren seemingly confirmed it was her in the pictures and basically said the photo was a "bad angle" of herself. The person she DM'd said they wouldn't post anything about her pregnancy if she wanted them to keep it private.
"Lol girl I appreciate you sending this to me before it was spread. I had it taken down, Pls keep this between us," Lauren allegedly wrote.
The person agreed to do so and Lauren responded, "Thank u for respecting our privacy."
It's unclear how long OBJ and Lolo have been coupled up, but they put their relationship on front street in November 2019, on the wide receiver's 27th birthday. Since then, they both have shared lovey dovey flicks of themselves for their combined millions of followers.
As for football, OBJ signed a one-year deal worth up to $4.25 million with the Rams last week. According to NFL Network's Ian Rapoport, the contract includes a $500,000 signing bonus, $750,000 for the rest of the season and another $3 million in incentives based on how the Rams finish the regular season and postseason. OBJ made his debut with the Rams against the San Francisco 49ers, but they were deafeated, 31-10.
Last October, OBJ got injured where he tore his ACL during a Browns game against the Cincinnati Bengals and missed the rest of the 2020-2021 season.
During his downtime, the Baton Rouge native worked hard to get back in shape, so he could hit the field again. He created a documentary surrounding his return to the field, which he recently released. Peep the trailer below:
Life is good.
Photo: Lolo's IG via @goergejefff
​ ​
​ ​ ​