Jussie Smollett Testifies In His Trial, Says Attack Wasn't A Hoax, Reveals He Did Drugs & Sex Acts With Alleged Attacker + Defense Rests
​
Dec 07 | by _YBF
​ ​ ​ ​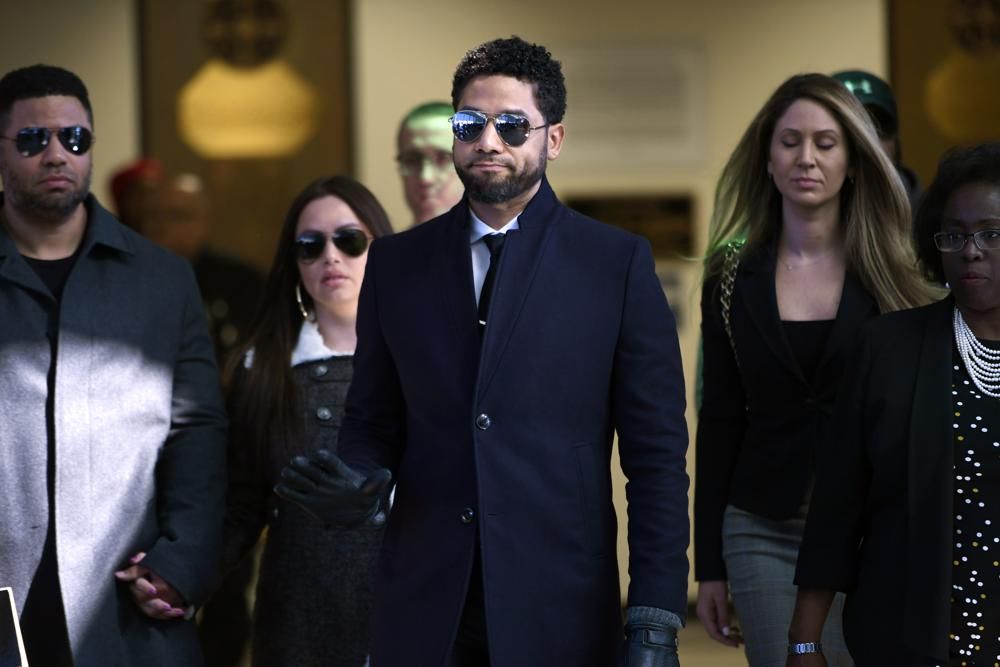 The defense rested today after "Empire" star Jussie Smollett gave testimony in his ongoing criminal trial where he faces charges that he staged a hate crime and lied to Chicago police. During his testimony, the actor was adamant the attack wasn't a "hoax" and he also revealed details about doing drugs and engaging in a sexual relationship with his alleged attacker.
Details inside….
Jussie Smollett arrives for the start of his trial. He's facing felony disorderly conduct charges. Accused of staging his own attack in 2019. Jury selection begins today. @cbschicago #smollett #Smolletttrial pic.twitter.com/MBqzEoqSZc

— Charlie De Mar (@CharlieDeMar) November 29, 2021
Last week, former "Empire" actor Jussie Smollett made his way to the courthouse for the start of his trial. He's facing six counts of felony disorderly conduct charges after making claims that he was a victim of an anti-gay, racist hate crime in his downtown Chicago neighborhood on January 29, 2019. He has pleaded not guilty.
The 39-year-old actor took the stand to say under oath what he has been saying since he was allegedly attacked: "There was no hoax."
Jussie's testimony comes on the heels of damaging testimony from the two brothers, Abimbola and Olabinjo Osundairo, who have been accused of attacking Jussie and making anti-gay and racist comments - poured bleach on the actor and put a noose around his neck.
The Osundairo brothers took the stand and testified that the actor orchestrated the hoax to get publicity. They alleged he gave them money for supplies and a $3,500 check to orchestrate the attack, where they were instructed how to put the noose around Jussie's neck and they made claims that Jussie instructed them to yell out homophobic slurs.
This week, Jussie took the stand and offered testimony over more than two hours that suggested the brothers set him up and may have had other motivations at play. He believes the brothers tried to execute a $2 million shakwdown.
During his testimony, Jussie revealed he and Abimbola Osundairo did drugs together and masturbated together at one point.
CNN reports:
He said Abimbola Osundairo, who he called "Bon," helped him get drugs, including cocaine. He also said a sexual relationship began to forge between the two at a particular Chicago bath house. One night the two were out, and Smollett testified they got a private room and "did more drugs and like, made out."

On a separate occasion, Smollett told jurors he and Abimbola Osundairo snuck away from his brother after the three were at a female strip club together. Smollett testified they again got a private room and "made out a little bit, masturbated together."

In testimony last week, Abimbola Osundairo denied they had a sexual relationship and said he "didn't know" there was even any sexual tension.

Smollett testified further Monday he wasn't friendly at all with Olabinjo Osundairo.

"He kind of creeped me out," Smollett told jurors. "Every time we were around him, he didn't speak to me. Every time we needed to leave, he made it seem like we needed to sneak off."

"Did you talk to him about some hoax?" defense attorney Nenye Uche asked.

"No," Smollett shot back.

"Did you give him the check as payment for some silly hoax?" Uche then asked.

"Never," Smollett said.
The "Empire" actor interrupted prosecutor Dan Webb, who's white, during his line of questioning during cross-examination to ask him NOT to use the n-word while quoting messages Jussie had sent to Abimbola Osundairo on the day of the alleged attack. He said he found it offensive.
Webb starts to read one of the Instagram messages and it contains racial slur.

Smollett stops Webb and asks him to say "N-word" and not say full word out of respect for all African-Americans in the court room.

Webb apologizes and has Smollett read the message.

— Charlie De Mar (@CharlieDeMar) December 7, 2021
As Jussie continued his testimony, he admitted he drove past the alleged attack site with the Osundairos brother two days earlier. He denied the trip was a "dry run" of the attack.
CNN reports:
Special prosecutor Dan Webb said the point of today's questioning would be to parse out what Smollett admits happened versus what he denies. Webb took Smollett and jurors back to days before the alleged attack, when the Osundairo brothers previously testified he first recruited them for a staged attack. "I fully deny that. That never happened," Smollett stated emphatically, after saying the only reason he let Ola Osundairo into the car was because he was "the brother of my friend." Smollett denied he ever told them to buy a red hat to look like Trump supporters or any items in particular. He also said that he never told them to do any sort of rehearsal of the alleged fake attack.

Two days later, on Jan. 27, 2019, was when Smollett allegedly picked up the Osundairo brothers for a "dry run" of the purported scheme. Smollett told jurors he had reached out to Bola Osundairo for a workout. Despite Ola Osundairo not being scheduled to workout with them, he got in as well.

Smollett said he picked the brothers up at their north Chicago residence because "Ubers were getting crazy" and drove them back to his apartment building downtown with the purpose of going up to his to gym and working out.

But jurors saw footage of the vehicle riding around Smollett's neighborhood and no one ever got out.
After the jury heard from 14 witnesses, testimony concluded after the defense rested and prosecutors declined to call any rebuttal witnesses.
CNN reports:
Judge James Linn told the court closing statements are scheduled to begin tomorrow morning.

The judge told jurors "the matter will be in your hands tomorrow" but not to make any assumptions about how long things would take from there.

"Maybe something short, something long, something in between," Judge Linn said. "We're almost there."
Jussie Smollett faces six federal counts of disorderly conduct for allegedly making false reports to police that he was a victim of a hate crime in early 2019. He has pleaded NOT guilty. Court resumes Wednesday morning (Dec. 8th) at 10:15AM EST where closing arguments are expected to go down.
Such foolishness.
Photo: AP Photo/Paul Beaty
​ ​
​ ​ ​