Jussie Smollett Plans To Appeal After Jury Finds Him GUILTY On 5 Counts Of Lying To Police + Don Lemon's Shady Reaction
​
Dec 10 | by _YBF
​ ​ ​ ​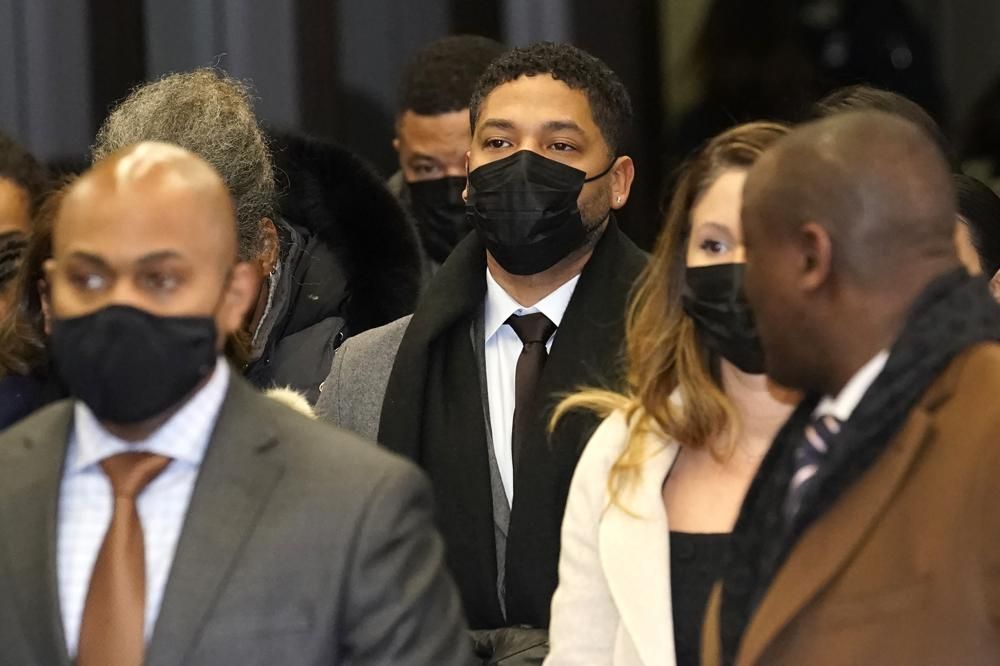 Jussie Smollett's lawyer says they "100%" plan to appeal after the former "Empire" star was found guilty on five of the six felony charges he racked up for lying to police about the racist, homophobic attack against him in Chicago in 2019.
Deets inside….
Well, the verdict was dropped and we still have so many questions.
After nine hours of deliberations following a nearly two week trial, a jury found actor Jussie Smollett guilty on five of six felony counts of disorderly conduct for making a false report to Chicago police that he was a victim of a hate crime in January 2019. The jury acquitted Jussie on the sixth charge of lying to a detective in the weeks after the actor said he was attacked.
Prosecutors accused him of orchestrating the attack, which made headlines.
Dressed in a gray suit and dark tie, the former "Empire" actor appeared rigid after the verdict was read.
A disorderly conduct for a false crime report is a Class 4 felony. It's punishable by up to three years in prison and a $25,000 fine. Cook County Judge James Linn will have discretion in imposing a concurrent or consecutive sentence for each count at a later date.
After the guilty verdict was read, Jussie's attorney, Nenye Uche, said he was "disappointed" in the verdict and that the actor is "100% innocent." He said Jussie is "holding up very strong" and is "committed to clearing his name." He expressed confidence the actor would be cleared by an appellate court and that Jussie's "going to be cleared of all, all accusations on all charges."
"Unfortunately we were facing an uphill battle where Jussie was already tried and convicted in the media and then we had to somehow get the jury to forget or unsee all the news stories that they had been hearing that were negative for the last three years," Uche told reporters after the verdict.
Watch his press conference below:
Judge James Linn set a post-trial hearing for January 27th. Jussie's sentencing will be scheduled at a later date.
While the disorderly conduct charges could carry prison sentences, experts have said if convicted, Jussie would likely be placed on probation and ordered to perform community service.
Over the nearly two week trial, jurors heard testimony from Jussie and two brothers - Abimbola and Olabinjo Osundairo. Jussie was adamant that the alleged attack was "no hoax," however the brothers said otherwise.
The Osundairo brothers - who was accused of attacking Jussie while making anti-gay and racist comments - testified that the actor orchestrated the hoax to get publicity. They alleged he gave them money for supplies and a $3,500 check to orchestrate the attack, where they were instructed how to put the noose around Jussie's neck and they made claims that Jussie instructed them to yell out homophobic slurs.
Jussie took the stand and offered testimony over more than two hours that suggested the brothers set him up and may have had other motivations at play. He believes the brothers tried to execute a $2 million shakedown. During Jussie's testimony, he revealed he and Abimbola Osundairo did drugs together and masturbated together at one point.
CNN's Don Lemon was seemingly good friends with Jussie before the "hoax" attack. While on the stand Jussie revealed Don texted him, Don texted, warning him Chicago police did not believe him. After the guilty verdict was read, Don called Jussie a "liar" and that he was someone who made it far harder for real victims of hate crimes to come forward. Peep the clip above.
There are so many unanswered questions with this case with the main question being: WHAT WAS THE REASON?! Now, Jussie has essentially damaged his acting career because, let's be real, who is going to hire him after this? Well, at least not in the immediate future.
We hope Jussie (and others) have learned a valuable lesson from all of this with the main thing being: Clout chasing is dangerous and it's never worth it!
Photos: AP Photo/Nam Y. Huh
​ ​
​ ​ ​