Nicki Minaj Call's Husband's Rape Accuser A Liar In Harassment Suit + Rumors Swirl Nicki Isn't Legally Married To Kenneth Petty After Court Hearing On Her B'Day
​
Dec 10 | by _YBF
​ ​ ​ ​
-
Nicki Minaj has some words for her husband's rape accuser - who is currently suing her. The NYC raptures claims the rape accuser - Jennifer Hough - is all CAP. The legal documents were filed after Nicki appeared in a Zoom hearing (on her 39th birthday) for the intimidation lawsuit where it was alleged it was revealed she's not legally married to Kenneth Petty. Oh? More inside…
Nicki Minaj's celebrated her 39th birthday this week and it was many things.
If you haven't heard, Nicki and her husband, Kenneth Petty, are being sued by Jennifer Hough (Kenneth's rape accuser) with claims of witness intimidation, emotional distress, harassment, assault and battery.
The QUEEN raptress is calling CAP on Jennifer's claims that she and her legal team harassed her to recant attempted rape claim in new legal documents. In her response, Nicki claims Jennifer's lawsuit is nothing more than a money grab.
TMZ reports:
The crux of their argument lies in a couple different inconsistencies they say lie within Hough's account of things -- namely, her claiming she had to change her phone number due to the alleged harassment she was receiving from Nicki, plus the claim Nicki's team had reached out to her brother with a $500k offer if she recanted in a written statement.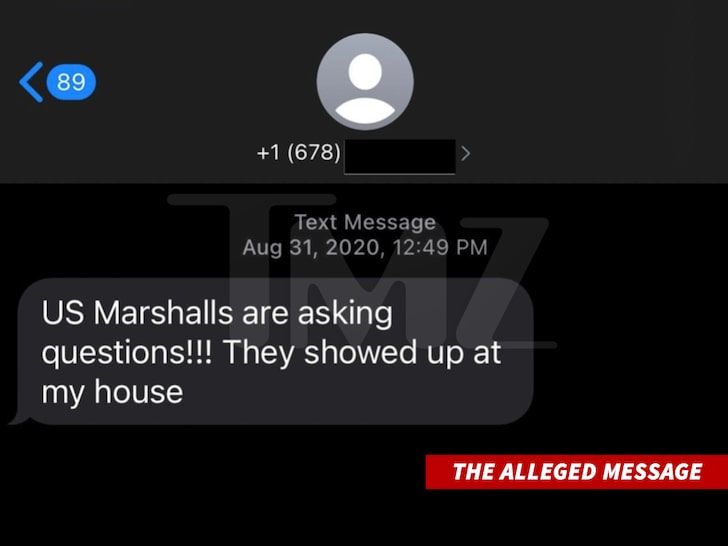 On the phone issue ..,. Nicki's attorney says Hough actually texted Nicki after claiming she needed to change her number and move back in June 2020 to block Nicki and her people from contacting her. Nicki says the text read "US Marshalls are asking questions!!!" The lawyer draws a conclusion from this -- Hough wasn't actually trying to hide her number from Nicki at all (contrary to what she alleges). Nicki's team thinks it makes it clear she wasn't scared and is just looking for a payday.

There's also the issue of an interview Hough gave earlier this year, which the attorney says differs from what she alleged in court docs. In the interview, NM's lawyer says Hough noted her brother told her somebody had reached out with a $500k offer if she talked to a lawyer repping Petty. NM's lawyer said the allegation in the lawsuit that Nicki was behind the offer is merely speculation that gave her a reason to try to sue Nicki.

Bottom line ... Nicki's lawyer says this woman was looking to score a quick buck from Minaj, and is now twisting the tale to do so.
Chile….
On December 8th …
…the Pink Friday raptress celebrated her 39th birthday. While it was a joyous occasion, sis had to handle some legal business on her special day.
All these white men are scaring me on the call…I think I should leave before they come get me pic.twitter.com/N69Uq6YtQd

— ReturnEraPt2 (@Ohhnobackagain) December 8, 2021
According to court documents, the "Chun-Li" raptress attended a Zoom call for a virtual hearing in Jennifer's pending case…on her birthday.
The Barbz and Nicki haters were tweeting during the hearing. Apparently, some Barbz were playing music loudly during the hearing and the courts ended up muting them.
Barbz being ignorant per usual playing Nicki Minaj songs on the court hearing…

— ReturnEraPt2 (@Ohhnobackagain) December 8, 2021
not the Barbz playing Nicki Minaj music on the zoom hearing conference line

— .jae (@BLOWthisJAE_) December 8, 2021
This is NOT the final hearing for Nicki Minaj and Kenneth Petty vs Jennifer Hough. This hearing is because both defendants ignored the subpoena passed the date they were suppose to answer like they're above the law.

If granted, it's over today if she doesn't the trial CONTINUES. pic.twitter.com/xkNNuGlI0i

— CARDI DROP THE ALBUM (@ToriLoves2SeeIt) December 8, 2021
Some fans even recorded the call, but took the recordings down in fear of being prosecuted.
During the hearing, it's alleged Nicki Minaj is not even legally married to her son's father, Kenneth Petty. Not only that, it was allegedly revealed Nicki's husband has FIVE children with five other women and that she's baby mama #6. Allegedly.
In July 2019, TMZ reported Nicki & Kenneth got a marriage license, however, their information came from "sources with knowledge." As of now, a marriage license hasn't been found.
It's also alleged Nicki attended a second hearing involving her father's hit-and run case. On Valentine's Day Weekend, Nicki's 64-year-old father, Robert Maraj, was fatally struck in a hit-and-run accident in New York.
Despite the drama, the Head Barb took to Instagram to share gifts she received on her birthday, including a gift that's seemingly from Barack & Michelle Obama's daughter, Malia Obama. She shared a quick video of a wrapped gift and the tag, which said "Malia."
Peep all Nicki's gifts below:
It appears Beyonce also gave Nicki some Ivy Park for her birthday:
In the meantime, Nicki and her son Papa Bear are spending all the time they can with Kenneth during the holidays before he goes before a judge again.
Kenneth "Zoo" Petty pleaded guilty during a virtual court hearing on a charge of failing to register as a sex offender in California in September. You'll recall, the 43-year-old, struck a plea deal with the feds last month. However, he could still end up behind bars.
Mr. Petty agreed to plead guilty to one count of failing to register as a sex offender in California. In return, the feds will reportedly seek a sentence towards the low end of the guidelines. The maximum sentence allowed for the crime is 10 years in prison and a lifetime of supervised release.
His sentencing is scheduled for January 24, 2022.
Happy Birthday, Nicki.
Photo: Nicki's IG
​ ​
​ ​ ​