There's DRAMA Surrounding No. 1 Prospect Travis Hunter's Surprising Flipped Decision To Play At Jackson State With Deion Sanders
​
Dec 16 | by _YBF
​ ​ ​ ​
Travis Hunter - the No. 1 player in the 2022 college football recruiting class - surprised everyone when he decided to flip his commitment from Florida State to HBCU Jackson State to play for former NFL star Deion Sanders.
Now, there's drama. Find out why inside…
It was a signing day SHOCKER!
Travis Hunter - the No. 1 overall player in the 2022 college football recruiting class - shook up the sports world when he flipped his commitment from Florida State to Jackson State, an HBCU where former NFL legend Deion Sanders is head coach. Oh yes, Deion and JSU pulled off a signing day shocker that no one saw coming.
The No.1 football recruit in the nation switched from Florida State (Deion's alma mater) to Jackson State. Let that sink in.
It's OFFICIAL #jsu #gotigers @jacksonstatefb pic.twitter.com/UTyzMPgVH6

— Travis Hunter (@TravisHunterJr) December 15, 2021
At his signing ceremony, Travis - a cornerback from Suwanee, Georgia - made the unprecedented announcement at Collins Hill High School. As he made his announcement, Travis tossed aside Florida State, Georgia and Auburn hats before putting on a Jackson State hat. He also unzipped his jacket to reveal a Jackson State T-shirt.
Watch below:
In March 2020, Travis committed to Florida State, but clearly he has had a change of heart.
"Time to make history," Travis tweeted. And that's exactly what he did.
Time To Make History #GodBlessing

— Travis Hunter (@TravisHunterJr) December 15, 2021
This is a college football game changer. "They" are likely SHOOK to see top black talent choosing an HBCU over a PWI, but they'll just have to deal.
Deion recruiting Travis Hunter is beyond huge & bigger than Jackson State. He is threatening the existing model of a multi-billion dollar NCAA empire that in 2021 excludes HBCUs. Deion should expect big resistance to stop such a trend. https://t.co/df8rsJY9RY

— ChuckModi (@ChuckModi1) December 15, 2021
This isn't the first time Deion was able to lure players to JSU. Yahoo Sports reports:
Last year, De'Jahn Warren, a top junior college cornerback, signed with Jackson State after previously committing to Georgia. Jackson State also signed four-star tackle Javonte Gardner, four-star defensive tackle Katron Evans, four-star receiver Trevonte Rucker, three-star defensive tackle Braezhon Ross and three-star linebacker Baron Hopson in its 2021 recruiting class. All of those players had offers from Power Five programs, but chose Jackson State.
Deion Sanders became Jackson State's head coach in September 2020. Two months later, his son, four-star quarterback Shedder Sanders, committed to Jackson State University. During the Hall of Famer's head coach debut, he posted a 4-3 record before leading the Tigers to an 11-1 mark, a SWAC title and a berth in the Celebration Bowl.
Since Travis' announcement, folks have been reacting to the news. And, there's drama.
Some college football fans aren't too happy about Travis' decision, including sports analyst Doug Gottlieb. He called his decision a "mistake."
Twitter celebrating a kid making an obvious mistake is hilarious
— Doug Gottlieb (@GottliebShow) December 15, 2021
"Twitter celebrating a kid making an obvious mistake is hilarious," he tweeted.
Doug elaborated more on FOX Sports Radio, saying:
"If anyone really thinks you're better off going to Jackson State to play football as a cornerback than going to play at Georgia, Florida State, or Texas A&M, you're certifiably insane or you're just not worthy of any realistic discussion because you can't take emotion out of it. Those schools have way more resources, far larger alumni bases, play at a much higher level of competition, and have much greater support in terms of academics, athletics, training, support, etc. You wanna say it's about HBCUs, if Deion leaves tomorrow is Travis Hunter staying? Of course not. It's nothing other than Deion and a gob of money… Is it 'racist' because I don't think it's in the kid's best interests for his long-term future, and I have 30-40 years of data to prove that I'm right?"
You can listen here.
News journalist Roland Martin, sports analyst Jemele Hill, actress Holly Robinson Pete and more weighed in on Doug's commentary about Travis' "bad decision" on social media: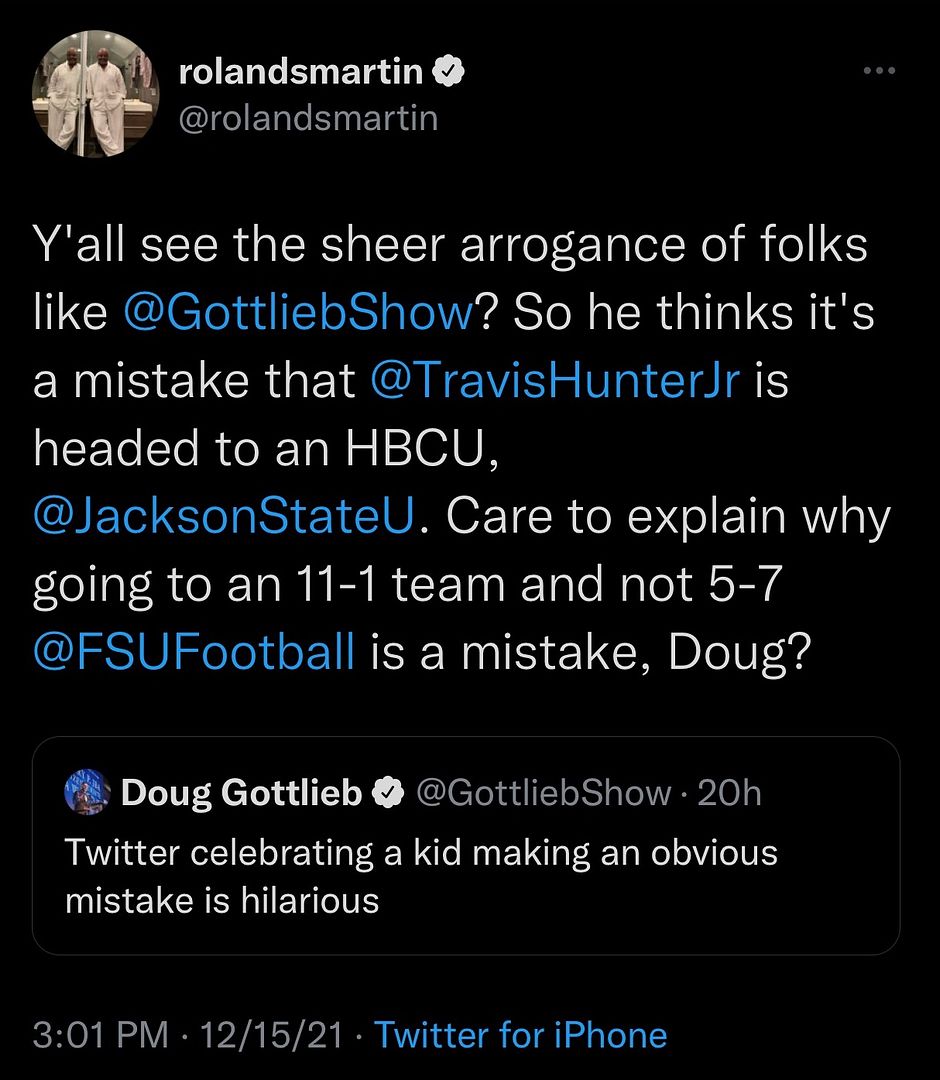 There are some college football fans and media people really telling on themselves with how they're reacting to the news Travis Hunter is going to Jackson State.

— Jemele Hill (@jemelehill) December 15, 2021
Reacting to the rumors, Deion DENIED Travis is getting a $1.5 million name, image and likeness contract to go to Jackson State on ESPN's KJM. He also made it clear that he's not look to leave Jackson State anytime soon. Peep his interview below:
Thoughts?
Photos: Jason Getz/Atlanta Journal-Constitution via AP/Matthew Hinton/AP Photo
​ ​
​ ​ ​