Ari Fletcher Says She 'Doesn't Care' Domestic Violence Survivors Have An Issue With Her 'Joking' That She Likes Her Man To Pull A Gun Out On Her
​
Dec 28 | by _YBF
​ ​ ​ ​
IG influencer Ari Fletcher is trending on social media after she jokingly said in an interview that she likes for her man to pull a gun out on her to "tame her" when she's upset. Domestic Violence survivors took an issue with her interview, so she responded.
And she does not care. More inside…
Domestic Violence is never funny. No matter how you try to spin it - it's just not funny and should be taken seriously being that women are dying at an alarming rate by men who love/loved them.
IG influencer Ari Fletcher - the girlfriend of rapper MoneyBagg Yo & mother of rapper G Herbo's eldest son - did an interview on "Don't Call Me A White Girl" podcast where she talked about how she and the "Waukesha" rapper are still learning how to communicate with one another….especially during heated moments.
When Ari is upset, she likes to leave. And while she's "leaving," she wants her man to prove he really doesn't want her to leave. Even if it means pulling a gun out to stop her. Her words, not ours.
"Like, pull your gun out and show me like, 'B*tch leave. I wish you would walk out the door," she jokingly said. "I'm going to just sit down because I got a son, and I'm not trying to die – I got a son. So I'm only staying because I got a son, and I don't want you to shoot me," she continued.
Check it:
Twitter quickly gathered her for her dangerous comments:
Ari Fletcher been a clown so idk why it's such an uproar that she promotes toxic relationships. This is the type "relationship goals" that y'all idolize in these rappers and their girlfriends/baby mamas until there's domestic violence involved pic.twitter.com/0BSeX0Upfx

— (@LadiiJ88) December 27, 2021
Shit Ari said is dangerous because it's a whole bunch of ignorant, impoverished, little boys from the hood who now believe that women enjoy dangerous behavior like that.

— Rob Sonder (@Thatbull_Rob) December 27, 2021
"I agrEe WItH ARi… wHiP yOuR GUn ouT anD tEll mE im NoT GOiNg ANywHErE"…

… y'all are almost 30. pic.twitter.com/BXriBr0MHx

— kamri (@divionnn) December 28, 2021
Ari caught wind of the backlash and tweeted a few responses: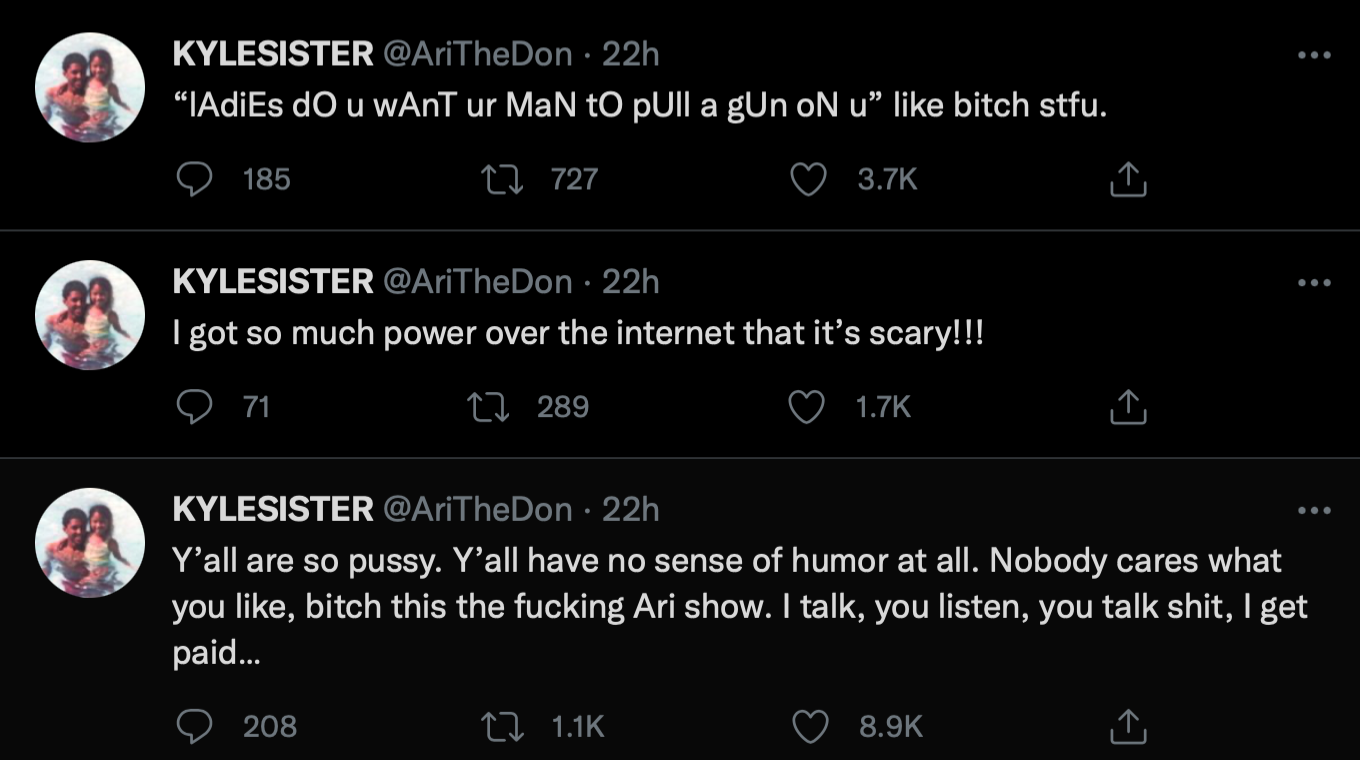 "Y'all are so p*ssy," she tweeted. "Y'all have no sense of humor at all. Nobody cares what you like, b*tch this the fucking Ari show. I talk, you listen, you talk shit, I get paid…I got so much power over the internet that it's scary!!!"
"lAdiEs dO u wAnT ur MaN tO pUll a gUn oN u" like b*tch stfu," she continued.
Following her tweets, Ari hopped on Instagram Live to double down on her comments. She told domestic violence survivors nobody cares someone tried to kill them.
"Nobody cares. We don't care. We do not care at all. We don't care. One time my boyfriend - SO WHAT. You want to be a victim so bad. Why you want to be a victim so bad? I swear I promise to Jesus we do not care," she said. Peep the clip above.
Downplaying domestic violence is cringey and majorly weird. This is bird behavior and very dangerous. Sis needs some elders in her life to sit her down and give her the REAL.
You can watch Ari's full interview - if you care to see it - here.
If you didn't know Ari is an ambassador for Rihanna's Savage x Fenty brand. You'll recall, former "Basketball Wives" star Draya Michele lost her endorsement deal with the lingerie company after she made jokes about Tory Lanez allegedly shooting Megan Thee Stallion (who is also a Savage x Fenty ambassador).
After Ari's comments, Draya posted she is wishing she could get her endorsement deal back, which seems like a dig at Ari's domestic violence drama:
Thoughts?
Photo: Ari's Twitter
​ ​
​ ​ ​