Sources Say Kanye West Is Not Dating IG Model Yasmine Lopez After Their Houston Link Up
​
Dec 30 | by _YBF
​ ​ ​ ​
Welcome to the single life! Kanye West was seen all smiles with Instagram model Yasmine Lopez, which instantly sparked dating rumors. However, it seems the two were just at the same place at the same time, at least, that's what Ye's camp is claiming. More inside…
Kanye West popped up in Houston this week to party it up.
On Tuesday night, Ye and social media personality Justin LaBoy pulled up to James Harden's Thirteen restaurant where folks were gathered to celebrate entrepreneur Jaleska "J. Mulan" Holman's birthday.
Videos of the Jesus Is King rapper at the bash started popping up on social media:
Kanye and Justin LaBoy pulled up to James Harden's Thirteen restaurant in Houston for J Mulan's birthday tonight. pic.twitter.com/S8jCGpgEZZ

— Jenn (@_xmarissabee) December 29, 2021
IG model Yasmine Lopez was in the mix and shared clips of herself at the soiree…with Ye in the background:
Kanye with Instagram model Yasmine Lopez at a birthday party tonight in Houston. pic.twitter.com/6qJoyss5qg

— Jenn (@_xmarissabee) December 29, 2021
The Hip Hop artist and IG model were seen all smiles while chopping it up during the party, instantly sparking dating rumors. Turns out, they just happened to be at the same place at the same time…supposedly.
Folks in Ye's camp reached out to TMZ to confirm Ye is NOT "dating" Yasmine. "They were there separately and interacted, but they're not involved," the source said.
Today, Yasmine hopped on IG Stories to call "cap" on the dating rumors. She also popped off on someone who she believes started the rumors: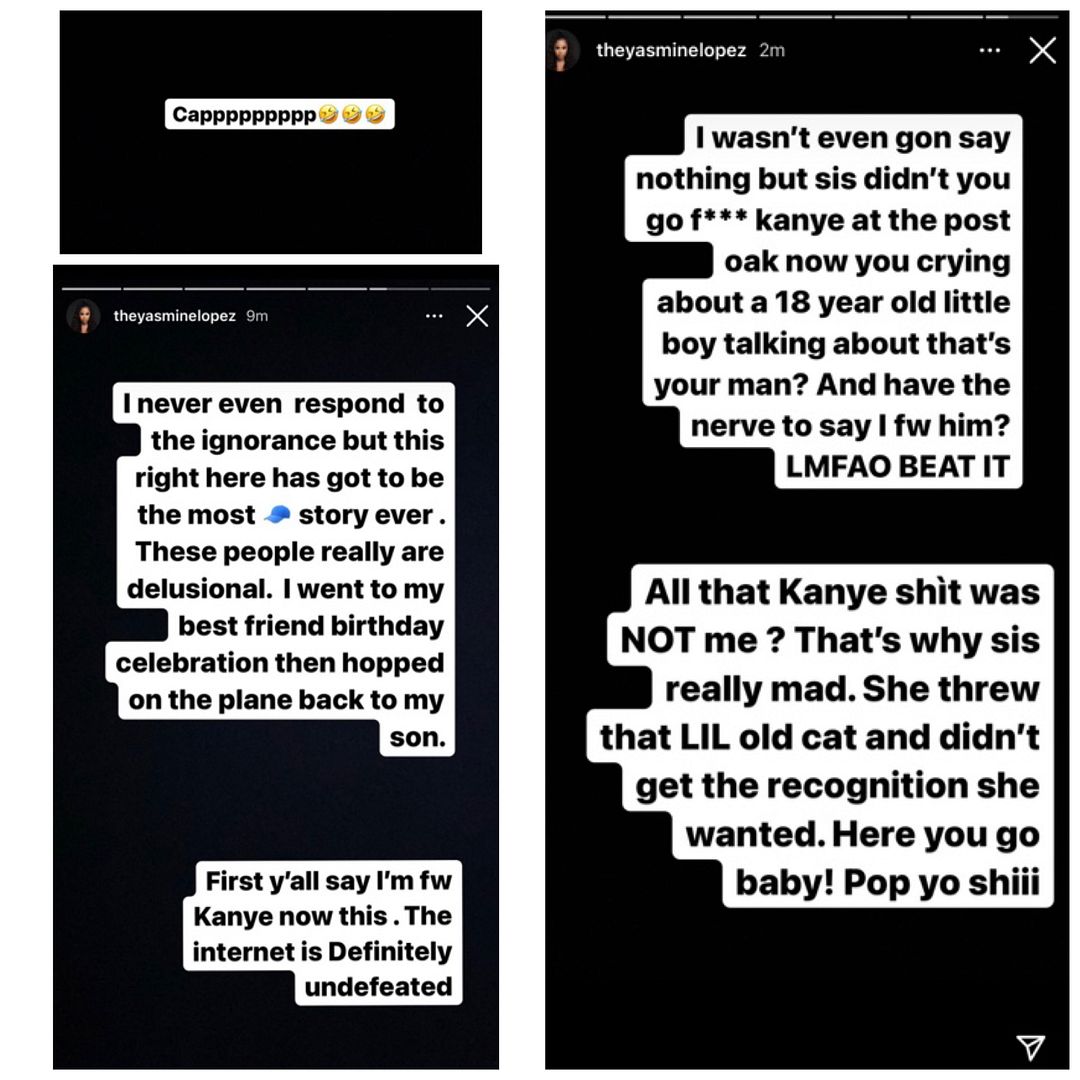 "I never even respond to the ignorance but this right here has got to be the most [hat emoji] story ever. These people really are delusional. I went to my best friend birthday celebration then hopped on the plane back to my son," she wrote. "First y'all say I'm fw Kanye now this. The Internet is Definitely undefeated."
In another post, she continued, "I wasn't even gone say nothing but sis didn't you go f*** Kanye at the post oak now you crying about a 18 year old little boy talk about that's your man? And have the nerve to say I fw him? LMFAO BEAT IT," she wrote. "All that Kanye sh*t was NOT me? That's why sis really mad. She threw that Lil old cat and didn't get the recognition she wanted. Here you go baby! Pop yo sh*t!"
So, who is she talking to? We're not exactly sure, but it's possible she could be going off on former "Love & Hip Hop: Miami" star Chinese Kitty. Back in August, Chinese Kitty accused Yasmine of getting pregnant by her NFL ex, Trevon Diggs and they haven't seen eye-to-eye since.
News of a possible new relationship comes on the heels of reports that Ye is single after breaking up with 22-year-old Russian model, Vinetria. It's alleged they broke up after Ye's umpteenth public plea for his estranged wife, Kim Kardashian, to "run right back to" him. Apparently Vinetria was living in his Malibu home as well.
After the birthday bash in Houston, Ye and music exec J. Prince hopped on a flight to Belize where they linked up with Shyne - former Bad Boy artist-turned-diplomat:
Rapper Kanye West is visiting Belize. He is the guest of J Prince, music executive, and promoter who owns Rosewood Caye AKA Prince Island, near Ambergris Caye. pic.twitter.com/3zGSGsK6cR

— Belize.com (@Belizean) December 30, 2021
Music icon Kanye West is in Belize. West, who legally changed his first name to "Ye" earlier this year, is in the country along with J Prince a music executive and promoter. https://t.co/IGWIOkW2u9

— Breaking Belize News (@belizemedia) December 30, 2021
TMZ reports:
Remember, it was J Prince who played a pivotal part in bringing Kanye and Drake together for the Free Larry Hoover show in Los Angeles earlier this month. The show was a huge success, bringing over 70,000 people to the L.A. Coliseum and bringing the rappers together as friends again.

No word on if Drake has any plans to hit Belize, but obviously another reunion is no longer out of the question.
Previously, Kanye West reportedly purchased a $4.5 million home directly across the street from Kim and their kids. He copped the home so he could be closer to their four children, North, Saint, Chicago and Psalm.
The Adventures of Kanye West continue!
Photos: Mega/Yazmine's IG
​ ​
​ ​ ​