I'M SORRY - NOT! Here's The Latest On Single-Again Kanye West's Harassing Social Media Posts Aimed At Kim K
​
Feb 16 | by _YBF
​ ​ ​ ​
From leaked text messages of personal conversations, to apologizing for harassing estranged wife Kim Kardashian, and then posting up more harassing Instagram posts - Kanye West has been ON one. Here's the latest…
Before we get into the drama, remember this! Kanye "Ye" West has an album coming out next week. And history has taught us that this man will do anything to get in the headlines if it means getting more attention.
When Kanye "Ye" West isn't verbally threatening his estranged wife's boyfriend, Pete Davidson, he's busy harassing Kim Kardashian on social media. One minute, he's typing up "prayers" to God to help bring his family back together and the next he's bashing her.
Over the weekend, Ye - who called it quits with his "girlfriend" Julia Fox before Valentine's Day - went on a social media rampage, dissing "SNL" star Pete Davidson, who is currently dating his ex, Kim K, in a series of posts. Ye deleted all of the posts aimed at Pete (who he dubbed "Skete"), but the Internet screenshot a few of his annoying posts:
Kanye's Instagram is starting to look like a Pete Davidson stan account. pic.twitter.com/a2WrUN50QL

— eachy (@Real_JustPeachy) February 13, 2022
Kanye calling Pete Davidson "Skete" is killing me pic.twitter.com/DTgh5TnpjV

— Published Author (@Ter0me) February 13, 2022
BREAKING

Kanye West exposes Pete "Skete" Davidson as Hillary Clinton's ex-boyfriend! pic.twitter.com/6Kq3eukl3V

— ye4us (@ye4us) February 13, 2022
In one post, he encouraged his fans to scream "KIMYE" at Pete Davidson if/when they see him out and about. Under a photo of Pete and Machine Gun Kelly in their underwear, Ye wrote, "NO YOU WILL NEVER MEET MY CHILDREN." And he also accused Pete of dating former First Lady Hillary Clinton.
Folks began to believe Ye may have been hacked, but he debunked those theories.
The Chi-town rapper posted a picture of himself holding up a notepad that said his account wasn't hacked along with the date 2.13.2022:
He took a mini break to watch Super Bowl LVI with his kids - North & Saint - and Antonio Brown. Then, he got back to trolling.
Like a true narcissist, the DONDA rapper had a truck load of red roses delivered to Kim K's home on Valentine's Day: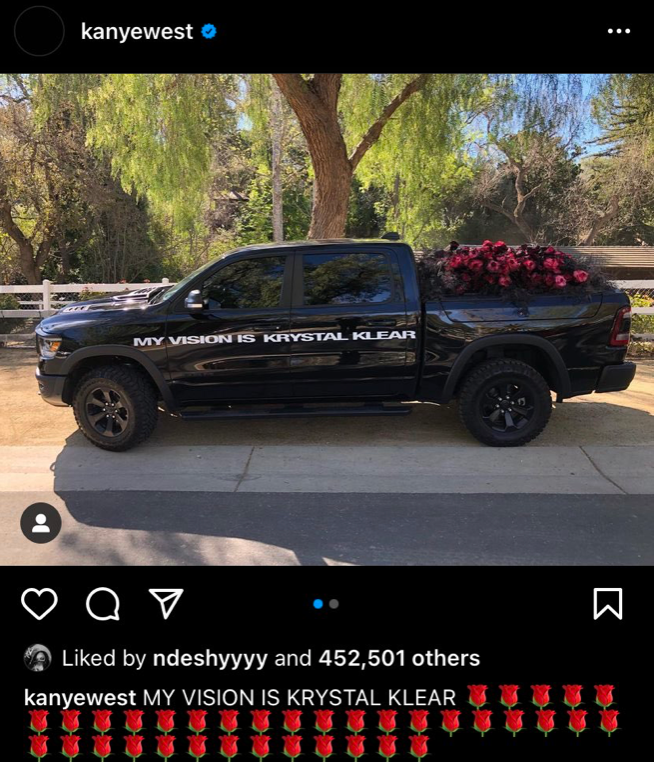 In the caption, he wrote, "MY VISION IS KRYSTAL KLEAR."
The "Keeping Up With The Kardashian" star had enough and texted Ye to STOP what he's doing because he creating a dangerous environment for her, Pete and the kids. Ye took a screenshot of the text and posted it on his Instagram page, along with a photo of a scene from the hit movie, Baby Boy:
Kanye West shares text message from Kim Kardashian, where she asks him to stop creating a dangerous environment for Pete Davidson.

"UPON MY WIFE'S REQUEST PLEASE NOBODY DO ANYTHING PHYSICAL TO SKETE IM GOING TO HANDLE THE SITUATION MYSELF" pic.twitter.com/fyFHAICAiP

— Pop Base (@PopBase) February 14, 2022
"UPON MY WIFE'S REQUEST PLEASE NOBODY DO ANYTHING PHYSICAL TO SKETE IM GOING TO HANDLE THE SITUATION MYSELF," he wrote in the caption.
UPDATE: Kanye West says he will always protect his family and make sure nothing physical will happen to Pete Davidson pic.twitter.com/ulEWbvUzNE

— RapTV (@raptvcom) February 14, 2022
— RapTV (@raptvcom) February 15, 2022
After leaking the texts, the 44-year-old Grammy winner took to IG to reflect on his recent public statements and said he was taking "accountability" for his actions.
"I've learned that using all caps makes people feel like I'm screaming at them," Ye wrote alongside a photo of himself on stage. "I'm working on my communication. I can benefit from a team of creative professionals, organizers, mobilizers and community leaders. Thank everybody for supporting me."
He continued, "I know sharing screen shots was jarring and came off as harassing Kim. I take accountability. I'm still learning in real time. I don't have all the answers. To be good leader is to be a good listener."
This post is still up on his social media account at the time of this post:
Literally hours after this post, he shared another post harassing Kim K…again!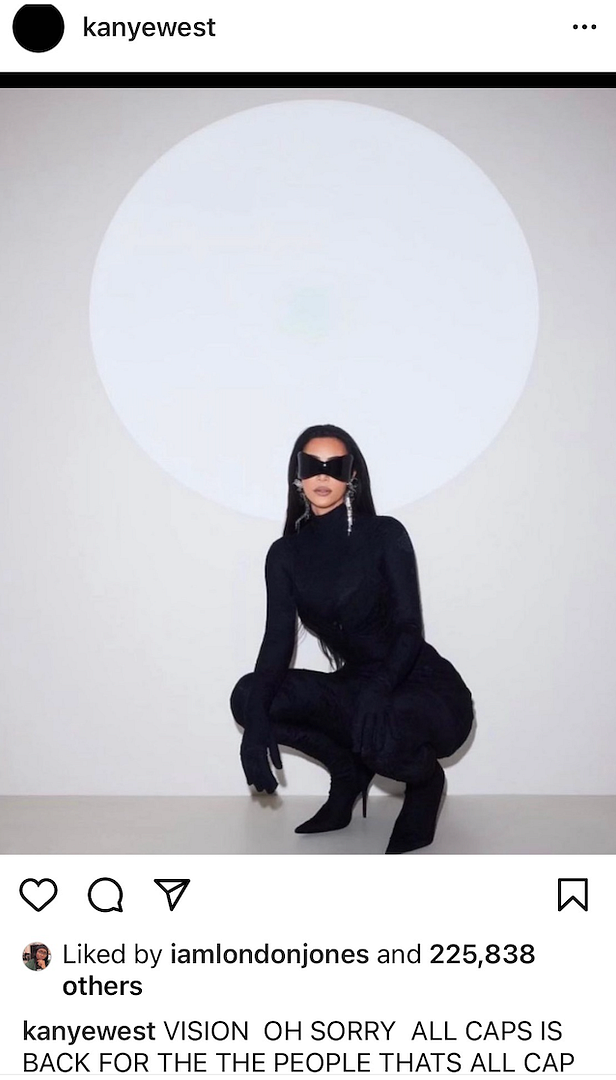 He shared a photo of the reality star with the caption, "VISON OH SORRY ALL CAPS IS BACK FOR THE PEOPLE THATS ALL CAP"
Then, he deleted it.
while Kanye having a mental breakdown for everyone to witness, Pete&Kim happy in NYC last night… #KanyeWest pic.twitter.com/MeIANcSq1p

— buster23 (@etsteam) February 13, 2022
"Kim is trying to ignore Kanye's social media posts and pleas to get back together," a source close to Kim told E! News, later adding, "She will always be cordial and communicate with Kanye when it's about the kids...Kim is hopeful Kanye will be able to move on in the future and accept they aren't getting back together. She wants him to be happy."
As for Pete - who doesn't have social media, the source said, "He supports Kim with whatever she needs."
At this point, she should file a restraining order or something because this man seems unhinged. And no, you don't need to harrass and abuse someone for the sake of wanting your kids back, eso. when it doesn't seem they were ever taken from them after he decided to move back from Wyoming. He has every resource in the world to go about this legally.
Photo: Getty
​ ​
​ ​ ​