Kanye Follows Pete On IG, Gets 'Payback,' Kim K Unfollows Ye + Kid Cudi Receives Supportive Message From Ye Amid Their Drama
​
Feb 17 | by _YBF
​ ​ ​ ​
The Kanye West social media sh*t show continues after the premiere of his Netflix series "jeen-yuhs."
Today, Ye began following Pete Davidson's new verified Instagram account before he posted up "payback" over an "SNL" skit Pete did about Ye's mental health. That was enough for Ye's estranged wife, Kim Kardashian, to unfollow the Chi-town rapper. Also, Ye offered up a supportive message to Kid Cudi after unnecessarily dragging him in the drama….
Kanye West continues his attention seeking antics as we get closer to the release of his upcoming album, DONDA 2, next week.
After "apologizing" and saying he's taking accountability for his actions over his online rampages and on-wax threats, Ye is back to harassing his estranged wife's boyfriend on social media.
As we previously told you, "SNL's" Pete Davidson did not have an Instagram account. Well, that has seemingly changed. A verified account (@pmd) believed to be Pete's popped up on IG with several celebs following, including Pete's girlfriend Kim Kardashian and Ye's fake ex-girlfriend Julia Fox. The account follows two people: Kim K and actor Sebastian Stan.
According to reports, it has been three years since Pete has been on social media, so the timing of his return only adds fuel to the ongoing drama. And y'all know Ye isn't going to let anyone "one up" him, so he started following the IG account.
The Jesus Is King rapper announced he was following Pete's new account:
Over the weekend, Ye went on social media war path, harassing both Pete and Kim in a series of now-deleted posts where he even leaked private text messages Kim sent him. You can catch up HERE.
Today, the DONDA rapper decided he would address a 2018 "SNL" skit Pete performed where he cracked jokes at Ye's mental health.
In the "Weekend Update" skit, Pete joked about Ye taking his medicine after he appeared on "SNL" talking about Trump and wearing a MAGA hat.
"Kanye, I know you're like, 'Yo, this is the real me, I'm off the meds.' Take 'em! There's no shame in the medicine game, I'm on 'em! It's great! Take them, there's nothing wrong with taking them," Pete said in the skit.
FYI - The "SNL" star, 28, previously confirmed he has been diagnosed with borderline personality disorder. After his announcement, he revealed he was leaving social media because he felt it was an "evil place," but he did say there was a possibility he would return one day.
Now, he's back and Ye is already with the sh*ts.
In response to the 3+ old clip, Ye posted a picture of Pete wearing a MAGA-style hat that read, "MAKE KANYE 2006 AGAIN," and blasted him for cracking jokes about his mental health.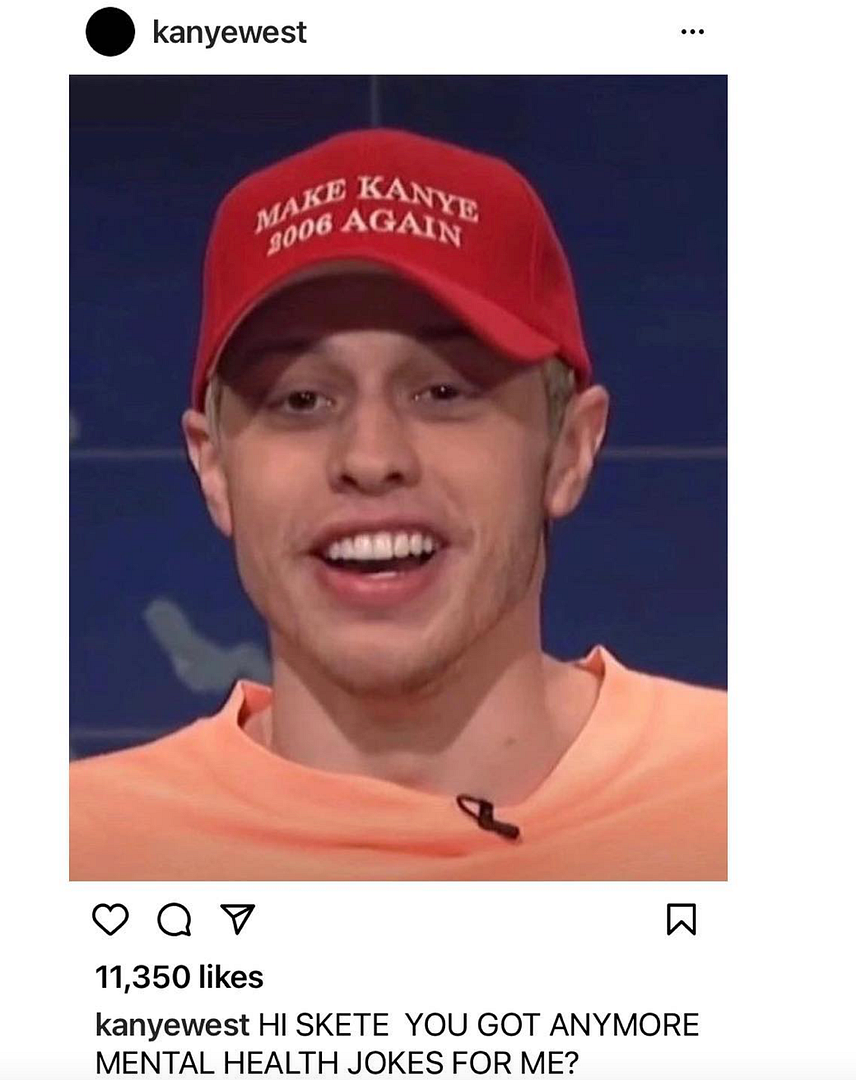 "HI SKETE YOU GOT ANYMORE MENTAL HEALTH JOKES FOR ME?," the 44-year-old rapper captioned the pic.
Ye also shared a clip from the skit and called his harassing posts "payback."
"This boy thought he could get away with performing this sketch for the team that wrote this for him This is not harassment This is payback," Kanye captioned the clip.
Of course, the posts aren't on his timeline because he deleted them - like he has been doing the entire time he has been harassing Kim & Pete.
You can watch the full "SNL" skit that had Ye in an uproar below:
Needless to say, Kim K is fed up with her baby daddy and decided to axe Ye out of her life digitally. The 41-year-old mom-of-four unfollowed him on IG:
Not surprised.
Despite the concocted drama Kanye made up between himself and his homie Kid Cudi, the rapper/producer seemingly still has love for Cudi.
Earlier this week, Kid Cudi hopped on Instagram, asking fans to send up prayers amid his feud with Ye. The Chi-town rapper called Kid Cudi out on his Instagram because he was upset that the rapper is still friends with Pete amid his baby mama drama.
Kid Cudi responds to Kanye West saying he won't be on 'Donda 2' because he's friends with Pete Davidson.

"We talked weeks ago about this. You're whack for flipping the script and posting this lie just for a look on the internet. You ain't no friend. BYE" pic.twitter.com/tih8M50xoJ

— Pop Base (@PopBase) February 12, 2022
"Just so everyone knows Cudi will not be on Donda because he's friends with you know who," Ye wrote on IG.
"Too bad I dont wanna be on ur album u fuckin dinosaur hahaha," Cudi responded in Ye's IG comments. "Everyone knows I've been the best thing about ur [albums] since I met u. Ima pray for u brother."
Then Cudi tweeted, "We talked weeks ago about this. You're whack for flipping the script and posting this lie just for a look on the internet. You ain't no friend. BYE."
While leaving Super Bowl LVI, a photog asked Kid Cudi about Kanye, which pissed him off. He lunged at the photographer before his security snatched him up. Peep the clip above.
After the video went viral, Cudi shared this:
"God…please watch over me and keep my mind sane," Cudi wrote, turning the comments off. "I could use it right now. To anyone who feels alone, I'm with you and I love you."
The "Day 'N' Nite" rapper has been vocal about his past struggles with mental health.
Kanye says "Love you family" to Kid Cudi pic.twitter.com/ctKCRoosev

— Watching the Throne (@KanyePodcast) February 16, 2022
In response, Ye took a screenshot of the post and wrote in the caption, "Love you family."
Intersting, since it seems Cudi's issue stems from Kanye not showing love.
By the way, Part 1 of the Netflix documentary "jeen-yuhs" premiered and folks are sharing their thoughts about it. Kanye tried to stop the documentary from seeing the light of day since wasn't able to make the final cut approval, but he wasn't successful.
Did you watch? If so, what did you learn about Ye?
Photos: Featureflash Photo Agency/Shutterstock.com
​ ​
​ ​ ​