WEEKEND FOOLERY: Ye Blasts Kim K Over North Again & Pete Davidson Savagely CLAPS BACK + Kanye Threatens D.L. Hughley & He Responds, Ye To Appear On 'The Kardashians'
​
Mar 14 | by _YBF
​ ​ ​ ​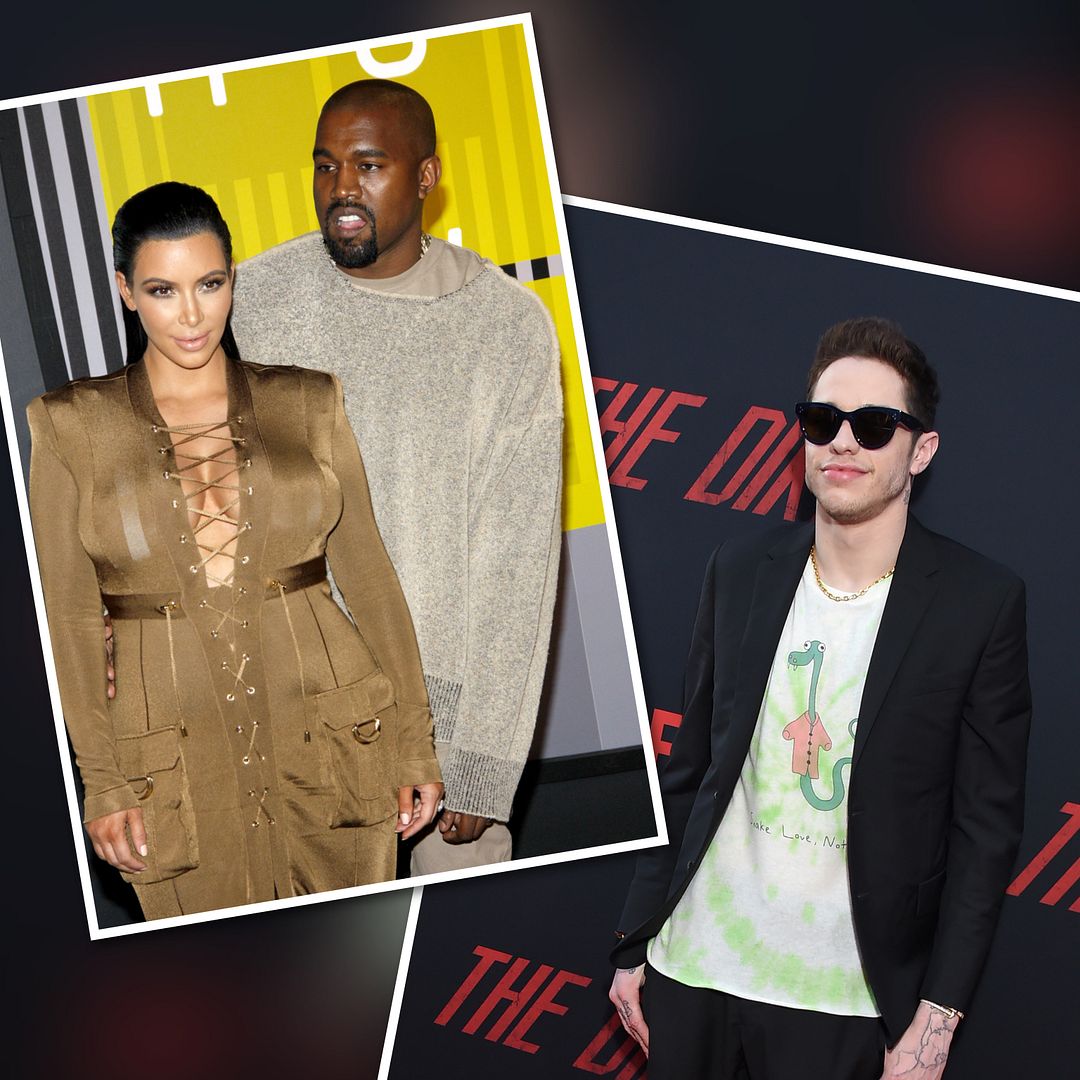 We knew it was coming. Right after Kim Kardashian and Pete Davidson made their relationship IG official, Kanye West started up with the online dramatics that lasted throughout the weekend. He even threatened comedian D.L. Hughley, and that didn't end well.
Pete Davidson also broke his silence in defense of Kim, and Ye just popped up in "The Kardashians" Hulu show.
Before the weekend kicked off, Kanye West's ex-wife Kim Kardashian and her new boyfriend Pete Davidson made their relationship Instagram official nine days after a judge ruled in her favor. Folks knew it was just a matter of time before Ye responded. And they were right. Like clockwork, he hopped on social media to show out.
The weekend foolery started Friday night…
not kanye west having a breakdown over this innocent cute tiktok of kim and north west singing emo girl pic.twitter.com/iAOuhvaRAP

— dyslexic heaux (@dxhoex) March 13, 2022
Apparently, Kim K posted a new TikTok video with herself, North West, and her niece Penelope Disick lip syncing "Emo Girl" by Machine Gun Kelly. Daddy Ye wasn't feeling it.
The Grammy winning artist hopped on Instagram to beg his ex-wife to stop "antagonizing" him by allowing their 8-year-old daughter, North, to post TikTok videos. He took a screenshot of the video and wrote in the caption, "I told y'all before about this tik tok stuff. Now my 8 year old on here singing she fell in love with an emo girl Leftist don't want fathers to have no say in our childrens [sic] lives."
At the end of the caption, he called out comedian D.L. Hughley for sharing his opinion about his most recents actions. Not only that, Ye issued a threat towards the veteran comedian.
"And DL Hughley is a pawn Yeah I know a king not supposed to address a pawn but I address everything and find addresses DL So don't speak on me or my children I can afford yo hurt u," he wrote.
By the way, the rapper and his new "girlfriend" Chaney Jones sat courtside in Miami to watch the Heat take on the Timberwolves.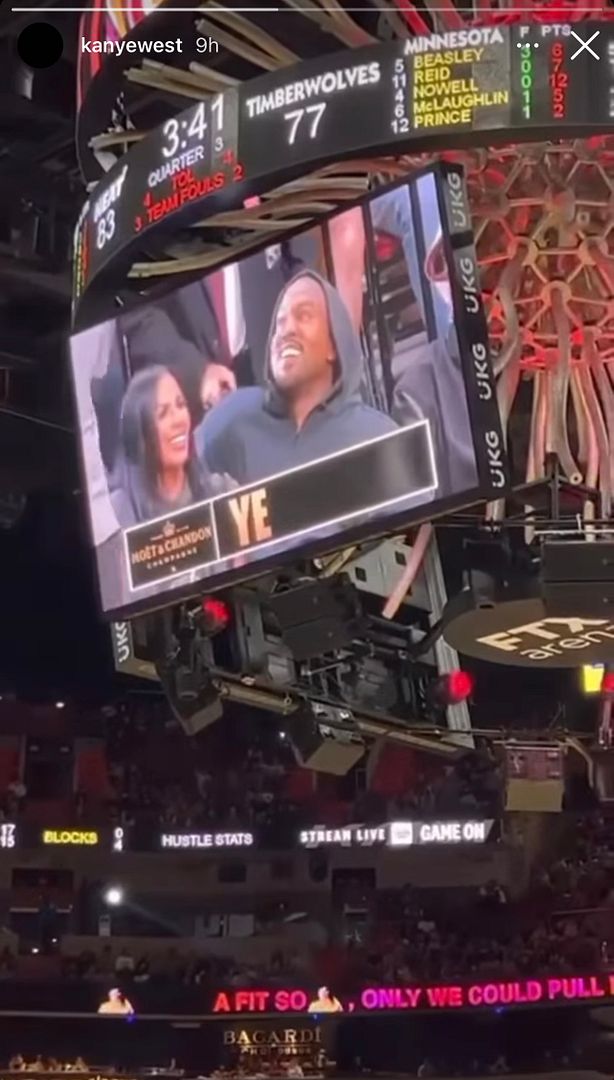 In another post the 44-year-old rapper then uploaded a video ranting about fathers not having any say so in their children's lives.
"Hey everybody, I just got off the phone with Kim. I told her to stop antagonizing me with this TikTok thing. I said never again," he said in the beginning. "I am her father and I know y'all don't respect fathers and the idea of family [but] I said I'm not allowing my daughter to be used by TikTok, to be used by Disney. I have a say so."
The College Dropout rapper said he and the other black men who (willingly) joined "that community" (of the Kardashian Jenners) have no say in where their kids go to school and that "there's no such thing as 50/50 custody in society today. It always leans towards the mom."
He accused Kim of not allowing him to spend time with his kids.
"I got a flight for all my kids to come from Calabasas. When the plane took off, I got a text from Kim that said, 'North won't be on the plane.' You see this is the kind of stuff like the Chicago birthday party," he continued, referencing Chi's 4th birthday party he wasn't invited to…allegedly.
Check it:
Ye also kept going in on DL: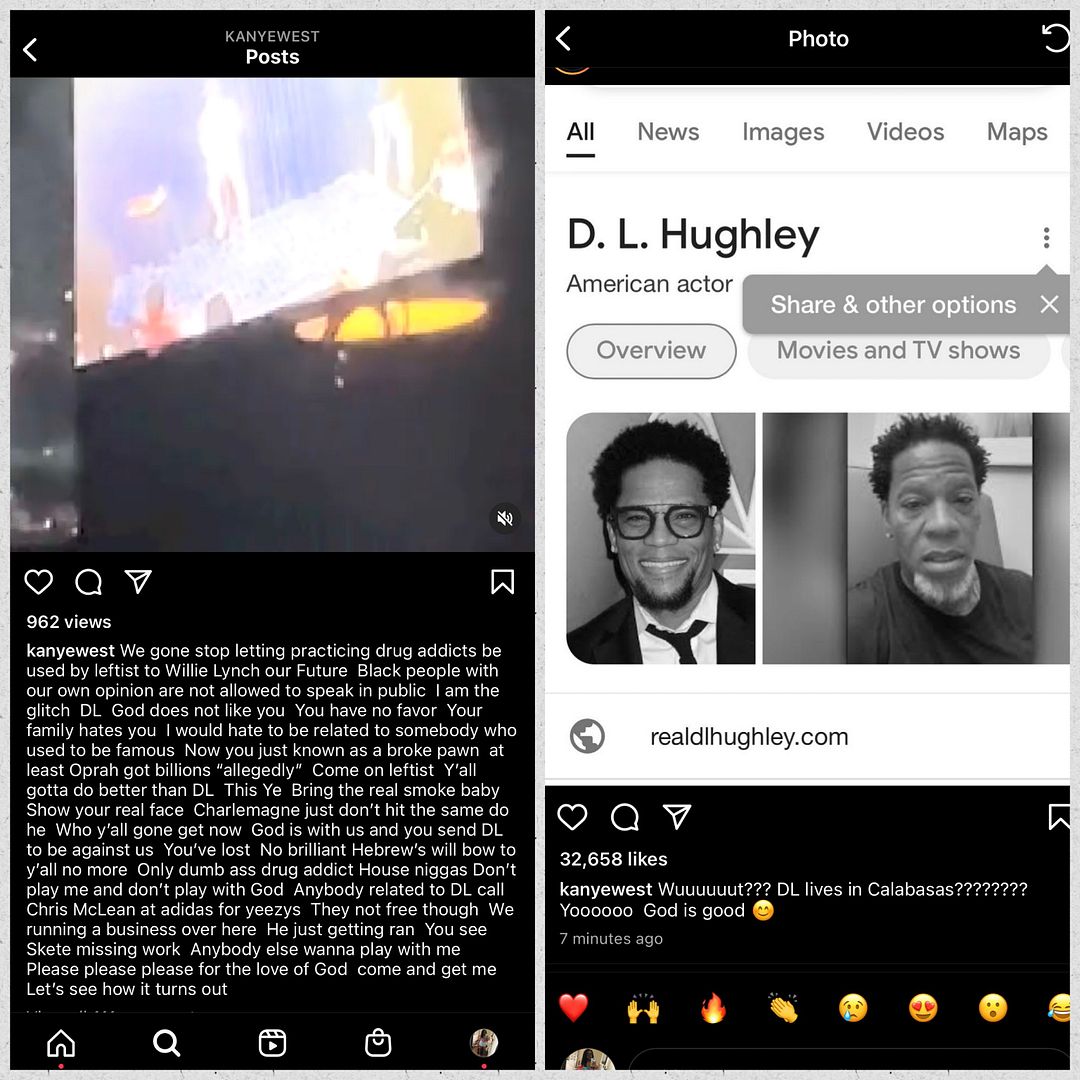 Once those threats made it back to D.L. Hughley, he hopped on social media to respond:
"Hmmm! Ain't it weird that #Kanye supposedly has all these goons who will kill for him, but not one of them will get his prescriptions filled? Here's a thought while you're on your way to kill me in Calabasas, how about somebody drop by CVS and pick up his Xanax! Lol #TeamDl," D.L. tweeted.
In other tweets, he wrote, "#Kanye!! It's just too bad that you acting like a nut won't stop #Pete from bustin one!! #TeamDl"
"Ain't no way in hell I'd ever be scared of a dude who wears #IKnowWhatDidLastSummerBoots!!! #TeamDl," he said.
The comedian wasn't the only person clapping back over the weekend….
Pete Davidson's "SNL" writing partner, Dave Sirus, shared screenshots of alleged text messages between Pete and Ye that seemingly happened Saturday morning. PageSix reported the text messages are real.
"Yo it's Skete. Can you please take a second and calm down. It's 8am and it don't gotta be like this," the "SNL" comedian wrote to Ye. "Kim is literally the best mother I've ever met. What she does for those kids is amazing and you are so f–king lucky that she's your kids mom," he continued. "I've decided im not gonna let you treat us this way anymore and I'm done being quiet. Grow the f**k up."
"Oh you using profanity. Where are you right now?," Ye asked.
"In bed with your wife," Pete responded before sending a picture of himself - shirtless - in the bed.
Oop!
He continued "I'm in LA for the day if you wanna stop being a little internet b*tch boy and talk. You don't scare me bro. Your actions are so p—y and embarrassing. It's so sad to watch you ruin ur legacy on the daily."
It'll be interesting to see what happens when the "Eazy" rapper appears in the Kardahian-Jenners new Hulu reality show. "It is really hard with Kanye," Kim says in the trailer. "He told me my career is over."
Peep the trailer below:
It's going to be a mess!
Today...
The Chi-town rapper is still going off about North. Sighs...
EXTRAS:
1. Pete Davidson is headed to space! STORY
Photo: PopularImages/Depositphotos/DFree/Shutterstock
​ ​
​ ​ ​