CONFIRMATION HEARING: Supreme Court Nominee Ketanji Brown Jackson Promises To Decide Cases 'Without Fear Or Favor'
​
Mar 21 | by _YBF
​ ​ ​ ​
Supreme Court nominee Ketanji Brown Jackson put her best foot forward for her first day of confirmation hearings, assuring the Senate she's the right woman for the job. More inside…
President Biden nominated Judge Ketanji Brown Jackson to become the 116th associate justice of the United States Supreme Court. The 51-year-old U.S. appeals court judge was nominated to succeed Justice Stephen Breyer, for whom she clerked. The 83-year-old judge - who is considered to be the most senior jurist in the court's three-member liberal wing - announced in January he has plans to retire this Summer.
If Judge Jackson is selected, she will make history as the first Black woman on the nation's highest court. And trust, she didn't get the nomination simply because she's a Black woman. The American Bar Association, which evaluates judicial nominees, gave Judge Jackson its highest rating, "well qualified." And multiple elite organizations as well as hundreds of black deans of law schools, judges and lawyers, have signed letters to Congress confirming her pristine qualifications and urging Senate to confirm her expeditiously.
Today, she went before the Senate Judiciary Committee for her first day of confirmation hearings, which lasted four hours. It consisted mostly of opening statements from the panel's 22 members.
With her family sitting behind her, Judge Jackson - who currently serves on the U.S. Court of Appeals for the D.C. Circuit - shared how throughout her nine years as a judge, she has always been transparent and followed the laws of the land when making rulings during her opening statement.
"I have dedicated my career to ensuring that the words engraved on the front of the Supreme Court building — equal justice under law — are a reality and not just an ideal," she said.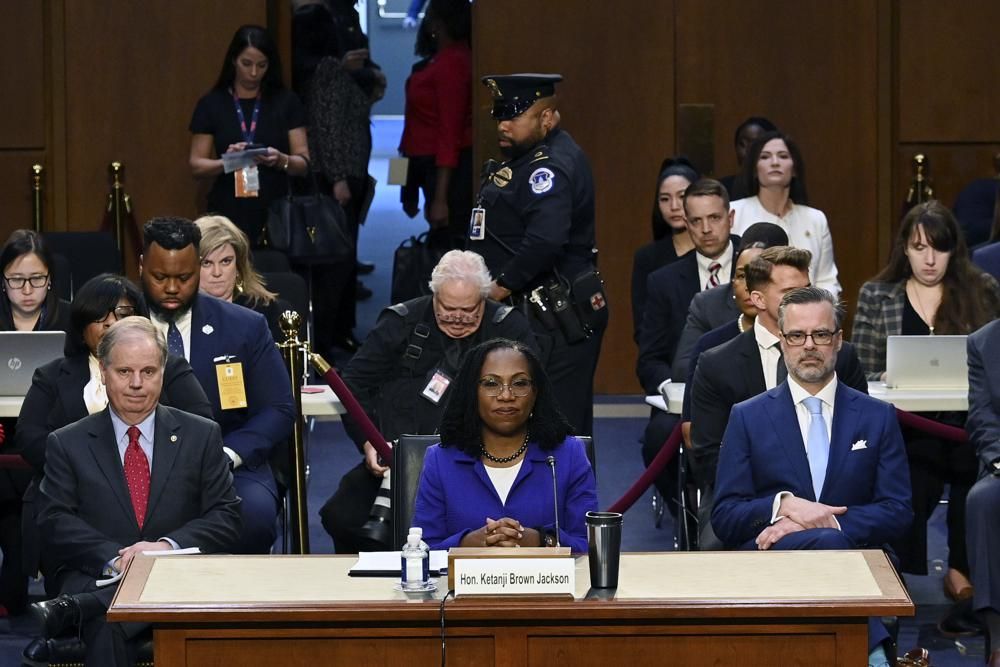 "I decide cases from a neutral posture," she continued. "I evaluate the facts and I interpret and apply the law to the facts of the case before me without fear or favor, consistent with my judicial oath. I know that my role as a judge is a limited one, that the Constitution empowers me only to decide cases and controversies that are properly presented, and I know that my judicial role is further constrained by careful adherence to precedent."
If she's selected, she'll be the first justice in decades with any significant experience representing criminal defendants. The last justice with any real experience as a defense lawyer in criminal cases was Justice Thurgood Marshall.
During her opening statement, she showed love to Supreme Court Justice Stephen Breyer, whom she once clerked for.
"It is extremely humbling to be considered for Justice Breyer's seat, and I know that I could never fill his shoes, but if confirmed, I would hope to carry on his spirit," she said.
She expressed her gratitude for the "historic" opportunity to join the court and "inspire future generations." And we stan.
Representation matters! And before the naysayers walk in acting like "black woman" equates "lesser than" (even though we ALL know it actually means we're probably overqualified), she's certainly qualified to hold down the position.
Photo: AP Photo/Andrew Harnik/Mandel Ngan, Pool via AP/AP Photo/Andrew Harnik
​ ​
​ ​ ​