DRAMA! Ari Fletcher Plays Audio Of Her & G Herbo's Son Saying He Doesn't Like Taina, Wants To Call The Police On Her + Taina Reacts
​
Mar 31 | by _YBF
​ ​ ​ ​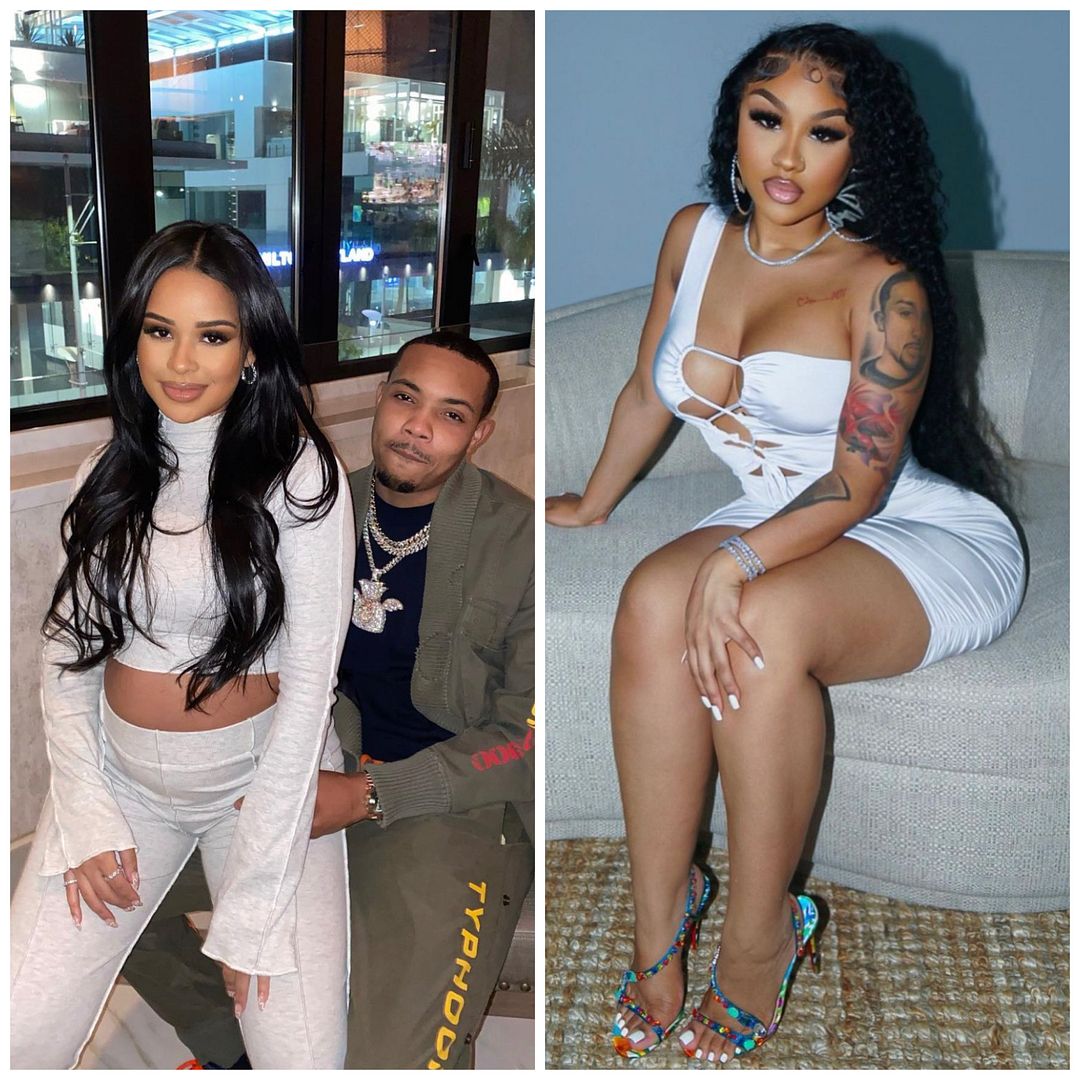 Another round of baby mama drama for G Herbo! Ari Fletcher and Taina Williams are feuding on social media over "false narratives" that involve Ari & Herbo's 3-year-old son, Yosohn. Ari claims Taina allowed something to happen to Yosohn, in which Taina responded. Then, Ari shared audio recordings of the child saying he didn't like Taina and why.
Deets on the family matter that has surfaced online inside…
Rapper G Herbo has found himself in the middle of baby drama…again!
Since the beginning of his relationship with his fiancé Taina Williams - daughter of Emily B & rapper Fabulous - drama between him, Taina and his son's mother, Ari Fletcher, always ended up spilling over on social media. The social media feuds seemed to have calmed down after Taina and Herbo got pregnant and then welcomed their first child together, Essex (in May 2021). Ari even invited Taina to Yosohn's birthday bash last year where the ladies snapped blended family photos and more.
Now, things are rocky again.
The new round of drama seemingly started after Ari shared a video of Yosohn, the 3-year-old son she shares with the Chi-town rapper, hysterically crying and upset after someone joked that his mother was pregnant with another baby.
"Aniyah was joking and told papa I was having another baby and this is how it went this made me so sad," Ari captioned the video. "He is so hurt. I never seen him this mad. Lol"
Fans quickly concluded G Herbo has been neglecting Yosohn since becoming a father again. The PTSD rapper has a son, Essex, with Taina and she's currently pregnant with their daughter. Throughout both pregnancies, Taina has shared videos of G Herbo talking to her belly and also clips of him in daddy-mode with their son Essex.
The backlash from folks saying he's neglecting his son caused the "Cold World" rapper - who's currently fighting a federal fraud case - to respond.
"What the fu*k type of sick individual, human being, do you have to be to want a 3-year-old to despise or not like his own siblings?," he questioned in a video posted to his IG Stores. "I don't get it. A mother's relationship with a child and a father's relationship with a child are two totally different relationships."
After the rapper posted his video on his IG Stories, Ari clapped back with a lengthy response where she accused Taina of letting something happen to Yosohn, which resulted in him getting hurt.
"How about to tell the truth for ONCE. Tell them how my son came home with a scar on him and saying what Taina did to him while you wasn't home and even tho he told you out his own mouth what she did and he was crying and she didn't help him and she's mean to him and he don't like her and shit happened while you wasn't home," she wrote.
"I gave you a whole week to handle it as a father, you or her never called me about the situation," Ari continued. "I called back to talk to her and tell her she can't be around my baby and I was very respectful and you sat up and said in front of her that my baby was lying."
"You said how you gone see your son if he can't be around her…LOL WHAT?!??! That's why you haven't seen your son foreal and that's why he probably doesn't want me to have no other kids because the way your other babymama treats him. When you finally came to where we live you got him for one day, posted on Instagram and left. Let's tell it all…"
Check out Herbo's video, plus Ari's response below:
Tired of staying quiet, Taina - who is 8-months pregnant with her & G Herbo's daughter - decided to respond to Ari, sharing videos of herself and Yosohn as a baby, writing she would never harm a child, let along a child she loves. Check it:
"I've allowed you to create false narratives about me in the past but I will not let you create this narrative when it comes to a child that I have so much love for. Anybody that knows me knows I would never lay a finger on him or any child," Taina wrote in the caption of videos of herself and Herbo's son.
"One thing you will not do is attack my character when it comes to being a parent & accuse me of child abuse. You have continuously attacked me. As I sit here 8 months pregnant, emotionally drained…it sickens me that you have this much hatred for me that you would portray me in this light. Regardless of how you may feel about me…I love Yosohn. I pray that you find whatever healing you need," she wrote.
Estimating the age of Yosohn in the videos, some fans now believe Ari when she said G Herbo was cheating on her with Taina when they first started dating. Sheesh.
After Taina put up her post, Ari hopped on IG Live to share audio recordings of Yosohn explaining why he doesn't like Taina. In the audio clips, the child is heard calling Taina "mean" and "bad." He said he doesn't like her and that he's going to call the police on her. Not only that, he shockingly said he wanted to "shoot" her because she threw a pillow at him, which made him fall, hurt himself, and she didn't help him up. It's a lot.
Ari said there's no need for her to be "bitter" and said she's tired of Taina playing this "good girl role." She demanded Taina delete the post she put up of Yosohon on her page.
Ari also alluded that G Herbo and Taina broke up and she's simply the "babysitter." Rumors were swirling last summer that Herbo and Taina had broken up after they stopped following one another on social media.
Peep the video below:
Wow.
I hope you get the healing you need. Lol these hoes crazy.

— KYLESISTER (@AriTheDon) March 31, 2022
Ari also tweeted, "I hope you get the healing you need. Lol these h*es crazy."
After hopping off of Live, Ari demanded Taina delete Yosohn off of her Instagram page before she "exposed" her:
To end the drama, Taina deleted the videos of Yosohn.
Messy!
Photos: Taina's IG/Ari's IG
​ ​
​ ​ ​