10 Murdered, 3 Injured During Racially Motivated Mass Shooting - That Was Streamed Online - At Buffalo Supermarket, Suspect Pleads Not Guilty
​
May 15 | by _YBF
​ ​ ​ ​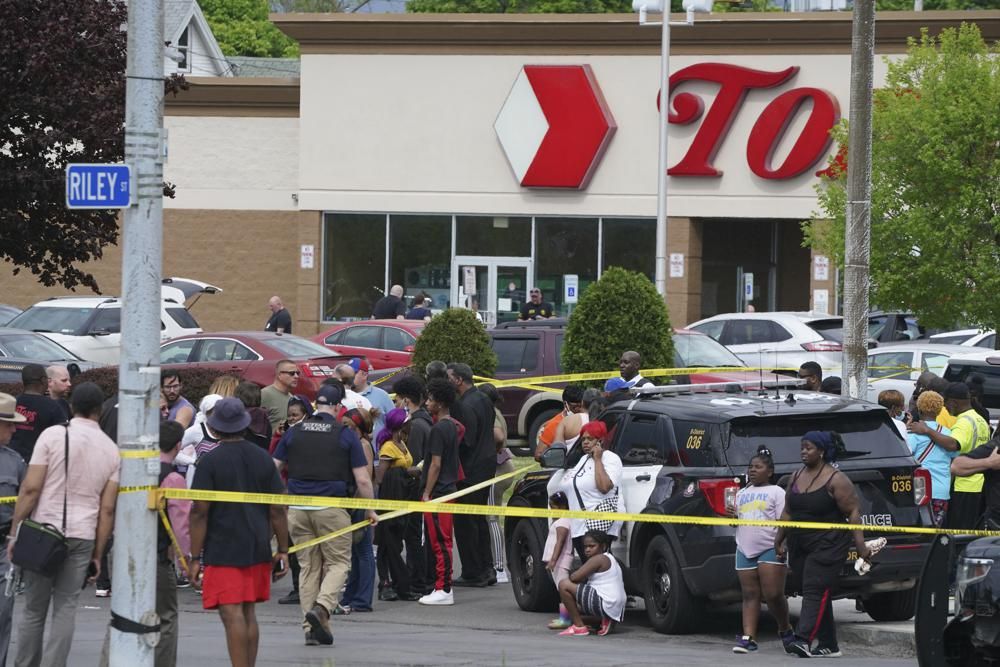 10 people have been murdered and 3 injured after a white 18-year-old male wearing military gear reportedly opened fire at a supermarket in Buffalo, NY during a racially motivated attack that he live-streamed online using a helmet camera. The disturbing details inside…
People in Buffalo, New York are in total shock and disbelief after learning a mass shooting took the lives of 10 innocent people and injured 3 others.
A white 18-year-old male wearing military gear carried out a racially motivated mass shooting at a grocery store in a predominately black neighborhood in Buffalo, New York, killing 10 people and wounding 3 people. And he live-streamed the domestic terrorist attack in real time on streaming platform Twitch.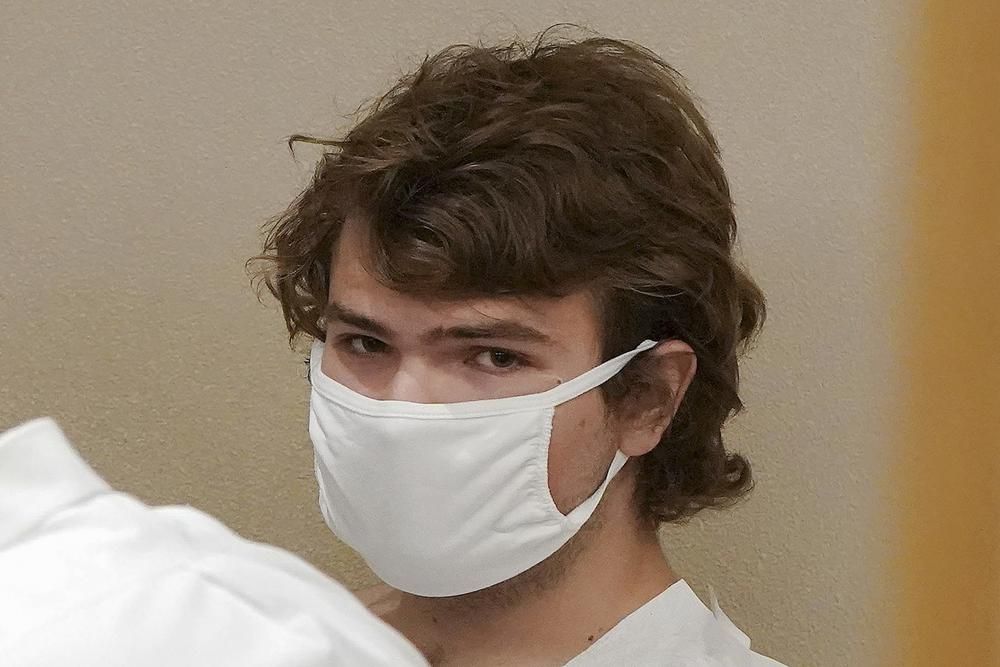 According to police, the suspect, named Payton Gendron of Conklin, New York, shot 11 black people and 2 white people before surrounding to authorities. Police said the white terrorist drove three-and-half hours from Conklin to the Tops Friendly Markets near the areas of Masten Park and Kingsley, which are predominantly Black neighborhoods, to carry out the attack.
Below is a picture of police arresting the suspect after the shooing:
So you can mass shoot inside of a grocery store and this is the outcome pic.twitter.com/a9Kiy6uyus

— #WashedChronicles (@_jmoye) May 14, 2022
According to a statement from Erie County District Attorney John J. Flynn, the terrorist was decked out in tactical gear and was armed with an assault weapon. He allegedly shot and killed 3 people in the parking lot and wounded a fourth. He then entered the supermarket where he exchanged gunfire with an armed security guard, who was a retired Buffalo police officer. The bullets from the security guard's gun didn't have any effect due to the heavy tactical gear the suspect wore.
"This was pure evil. It was a straight-up racially motivated hate crime from somebody outside of our community, outside of the City of Good neighbors … coming into our community and trying to inflict that evil upon us," Erie County Sheriff John Garcia said at a press conference.
"He was very heavily armed," said Buffalo Police Commissioner Joseph Gramaglia. "He had tactical gear, he had a tactical helmet on, he had a camera that he was livestreaming what he was doing."
Peep the press conference below:
LISTEN: Police commissioner explains what happened today in Buffalo.

Sheriff followed up calling this shooting that killed 10 people, including a retired Buffalo police officer, a racially-motivated hate crime. @news4buffalo pic.twitter.com/qTWJ3YRUyC

— Austin Kellerman (@AustinKellerman) May 14, 2022
The weapon used was an AR-15 and it was legally purchased in New York State, according to New York Gov. Kathy Hochul. It's believed that the high-capacity magazine used was purchased outside of New York.
Buffalo Mayor Byron Brown identified the security guard/retired police officer as Aaron Salter. Another victim identified is Ruth Whitfield, who is the mother of retired Buffalo Fire Commissioner Garnell Whitfield. She went to visit her husband in a nursing home and stopped to pick up a few items at the supermarket when she was shot and killed. Tragic!
"Thirteen people shot in the supermarket, shopping, working, 10 dead and a shooter with body armor who didn't live in this community who traveled from three hours away with the express purpose to kill people that he did not know in our community, it's just unimaginable," Mayor Brown said.
There was a mass shooting today at a supermarket in Buffalo NY, he used twitch to live stream it, posted his manifesto on discord, and was captured alive, fucking sickos out there pic.twitter.com/ES5oYDCbOV

— TheNamelessArtist: ULTRA MAGA! (@TNamelessArtist) May 15, 2022
A 180-page manifesto surfaced online shortly after the attack, which the U.S. Justice Department believe Payton wrote. The validity of the document hasn't been confirmed yet, however, the details provided in the letter leaves little doubt about its authenticity. The document is allegedly written by a person claiming to be Payton Gendron confessing to the attack.
A white man commited mass murder on black ppl in a twitch live stream. The shooting was racially motivated, that nasty man had a plan, he targeted black people, and his gun said the n-word. It's crazy how we can really d!e at any moment for just being black. This is terrible pic.twitter.com/yXLH3FWOi1

— kimi (@YOURGIRlkimi) May 15, 2022
The author of the manifesto attributes the internet for most of his beliefs and describes himself as a fascist, a White supremacist and an anti-Semite.
"There are certain pieces of evidence that we have ascertained in the course of this investigation that indicate some racial animosity," Erie County District Attorney John Flynn said. "I'm not going specifically talk about or elaborate on what exactly they are right now."
On Saturday, Twitch confirmed the terrorist used its platform to stream a live broadcast during the attack. Below is a clip of the live stream before the shooting began. The clip below does NOT show anyone being shot:
A clip from the live stream on Twitch that is claiming to have been a live stream video of the mass shooting at the Tops Market in #Buffalo, #NewYork. The video is NOT graphic, it shows the moments before the shooting begins. pic.twitter.com/KrlgYgdaFY

— Ice Analytics (@ice_analytics) May 14, 2022
Survivors share the sheer horror they experienced as the gunman sprayed the grocery store with bullets. One man, named Lamont Thomas, shared how he and his 8-year-old daughter hid when the shots rang out:
Lamont Thomas and his 8yo daughter, Londin, survived the Buffalo Tops Supermarket shooting. Hear the terrifying details of how they escaped….@news10nbc pic.twitter.com/lPfhPtPQiA

— Stephanie Duprey (@WHEC_SDuprey) May 15, 2022
Hours after the mass shooting, the white supremacist thug - wearing a white paper gown and white mask - went before a judge where his court-appointed lawyer pleaded not guilty to first-degree murder charges on his behalf.
The FBI is investigating the mass shooting as both "a hate crime and a case of racially-motivated violent extremism."
The white thug is being held without bail and will return to court for a felony hearing Thursday, May 19th at 9:30AM.
This is deeply disturbing and only solidifies why we have to continue fighting against extremist groups who spew lies online because there are people like this white thug who believes these things and carry out violent acts.
The Tops remains a crime scene and sadly vehicles parked from Saturday's shooting remain. @WKBW pic.twitter.com/l9vofsqjIC

— Eileen Buckley (@eileenwkbw) May 15, 2022
We send our condolences and prayers out to the families of those affected by this senseless act of violence.
Photos: Derek Gee/Mark Mulville/The Buffalo News via AP
​ ​
​ ​ ​