Steph Curry Reacts To All Of The Love Shown During Solo Graduation Ceremony, Gets Jersey Retired & Inducted Into Davidson College's Hall Of Fame
​
Sep 02 | by _YBF
​ ​ ​ ​
Curry for THREE! Steph Curry was (literally) the man of the hour during his one-man graduation ceremony where he was surrounded by family, friends, peers, professors and coaches to celebrate three MAJOR achievements. The Warriors baller received his bachelor's degree in Sociology, had his No. 30 jersey retired, and he was inducted into Davidson College's Hall of Fame. Celebrate with the 3-Point King inside…
It was a ceremony fit for the ultimate college grad!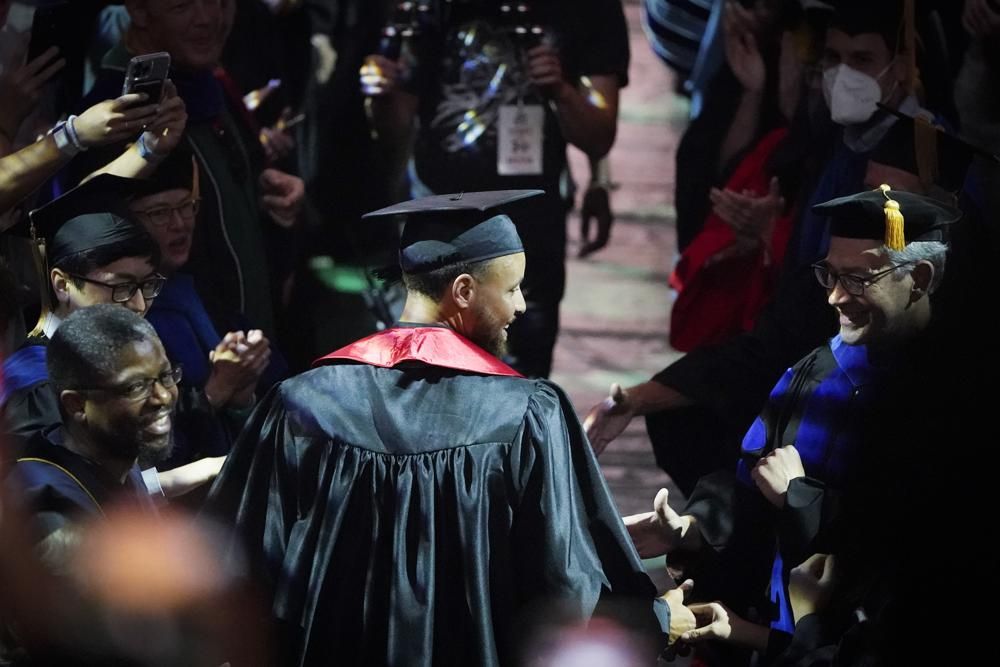 Thirteen years in the making - Steph Curry just accomplished THREE big feats!
The Golden State Warrior point guard can now call himself a college graduate after receiving his Bachelor of Science degree in Sociology from Davidson College. Not only that, he's also the newest member inducted into the school's Hall of Fame AND he had his No. 30 jersey retired into the rafters. Woot!
The 34-year-old father-of-three needed to complete one semester of work to cop his degree, which he completed back in May. However, he was unable to attend the graduating class' commencement ceremony.
Ladies and gentlemen:

Steph Curry, the college graduate.@StephenCurry30 @DavidsonMBB @WCCBCharlotte pic.twitter.com/N5u5nXCgd0

— Jon Tritsch (@hometownJT) August 31, 2022
THE GRADUATE IS HERE @StephenCurry30 pic.twitter.com/5lG2F1tbKQ

— Overtime (@overtime) August 31, 2022
On Wednesday, his wife Ayesha Curry, kids, Riley, Ryan & Canon, parents Dale and Sonya Curry (who are in the midst of a divorce), friends, professors, coaches and more gathered on Davidson College's campus to celebrate the four-time NBA champ finishing his collegiate career during a one-man ceremony.
The Curry's.#CurryFor3 pic.twitter.com/Ra7QphPeze

— Golden State Warriors (@warriors) August 31, 2022
It was a huge night for NBA Finals MVP as his now-famous No. 30 jersey number was retired by the school and he was inducted into the school Hall of Fame, making him the first Davidson athlete in any sport to have his jersey number retired. The school has a rule that athletes must have a degree for a jersey to be retired.
"I get kind of awkward at times when I walk into this gym and see this many people showing up just for me and the celebration of what, you know, the graduation and the Hall of Fame induction and seeing my jersey in the rafters," Steph said. "But every single person that I got to play with, that coached me, help me when I was hurt and injured and trying to find ways to get back on the court. All the faculty and staff that supported me through my three years here. I really feel like this is why this matters so much."
No, thank you Steph.#CurryFor3 pic.twitter.com/7JSjWpi12a

— Davidson Basketball (@DavidsonMBB) August 31, 2022
"And I was trying to figure out how to really embrace this moment because my mom said, 'I don't know if anybody's had a solo graduation of this magnitude before,' but it hit me just seeing, you know, familiar faces, friends, people that you went to war with, people that believed in you before even anybody else in the country knew what we were about, set the table for me to come into this community and just be comfortable to be myself and to stay in the present and not putting any extra pressure on just being an amazing college athlete and enjoying the journey of what it meant to be a student here on this beautiful campus."
Sonya Curry - Steph's mother - shared some words to honor her son during the ceremony:
Sonya Curry's Message to @StephenCurry30 #CurryFor3 pic.twitter.com/Ru3okY4d1v

— warriorsworld (@warriorsworld) August 31, 2022
Former NBA star Dale Curry - Steph's father - was also in attendance and gave a speech to honor his son.
On social media, Steph reacted to all of the love he was shown during the special event.
"Some things are worth the wait! #30 up in the rafters looks right!," he wrote in the caption of a carousel of graduation flicks. "Humbled and blessed to be up there with the @davidsonwildcat legends. #TCC forever. ALWAYS a great day to be a Wildcat!"
During his three seasons with Davidson, he earned the title of the Southern Conference's all-time leading scorer. He also set the conference career record for triples made (414) and set an NCAA record with 162 three-pointers in 2008. Steph was named first-team all-conference all three years and was a consensus All-American in 2009.
The Charlotte native played for Davidson College between 2006 and 2009 before he was drafted as the seventh pick of the 2009 NBA draft by the Golden State Warriors. In the NBA, the Warrior player has won four championships, set the record for most three-pointers in a season (which he broke twice), and set the NBA record for career three-pointers, passing Ray Allen.
Congrats, Steph!
Photos: AP Photo/Chris Carlson
​ ​
​ ​ ​