Meghan Markle & Prince Harry Return To Windsor - For The First Time In 2 Years - To Link With Prince William & Princess Kate + British Mourners SNUB Meg
​
Sep 12 | by _YBF
​ ​ ​ ​
Meghan Markle and Prince Harry returned to Windsor Castle for the first time in two years to link with Prince William and Princess Kate to meet members of the public on a walkabout at Windsor Castle, following the death of Queen Elizabeth II. During their walkabout, Meg was quickly reminded why she (and Harry) left the UK for good. Find out what we mean inside…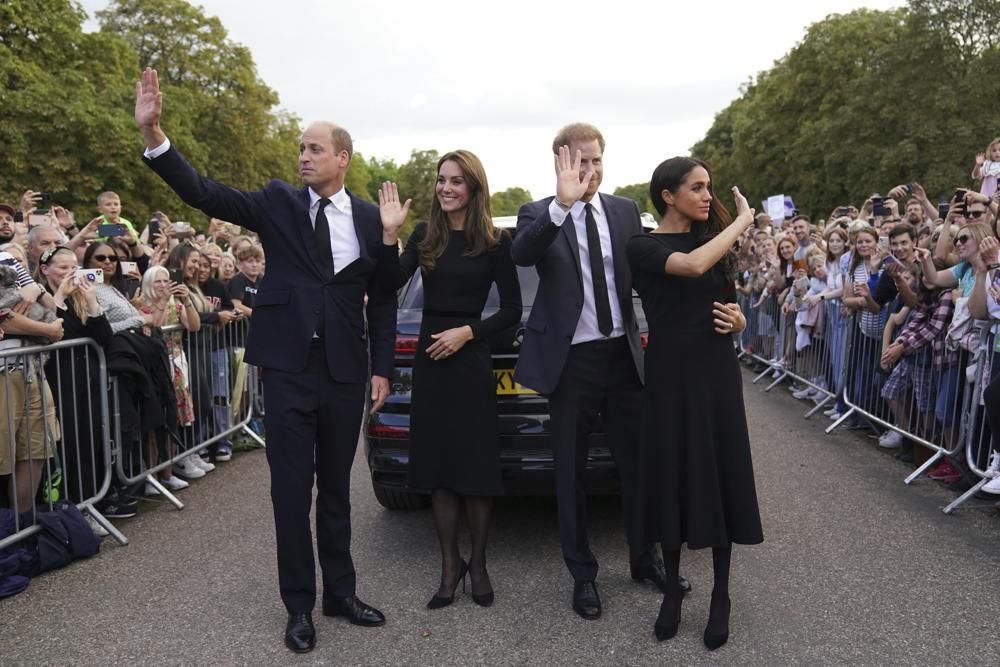 It's been two years since Meghan Markle and Prince Harry have been to Windsor Castle. The couple - who currently live in Los Angeles - made a surprise appearance alongside Prince William and Princess Kate, the new Prince & Princess of Wales, outside of the residence on Saturday following the death of Queen Elizabeth II last Thursday.
Both brothers and their wives were seen waving at mourners as they made their way to view the grand floral tribute, which included cards, letters, and gifts from mourning Brits. You'll notice Meg and Harry were holding hands while William and Kate were not. Showing PDA goes against royal etiquette. At a somber or more formal event, working royals are less likely to show PDA than at a casual event where it would be deemed more fitting.
The walkabout was the first time Harry and Williams appeared together in public since March 2020. They have been at odds since Harry & Meg decided to step down as senior royals. With the queen's passing, Prince William is the second-in-line to the throne after King Charles III ascended as Britain's new monarch. Prince Harry is now fifth in line and his son, Archie, is sixth.
After viewing the tributes, the foursome walked to meet the thousand of mourners lined up outside of Windsor Castle. It didn't take long for some folks to show their true colors. Several women decided NOT to speak or shake hands with the former American actress. Watch below:
So this is Meghan Markle trying to shake hands with the British public. She gets ignored, laughed at and humiliated.
This country has a rotten racism problem… & notice how they're all middle aged white women?
Daily Mail reading, racist Karens.
Absolutely abhorrent behaviour. pic.twitter.com/RLjkI4BI4k

— molly-mae (@mollymaecosplay) September 11, 2022
Disgusting. She handled that better than most because…yeah, no. That was rude and uncalled for. And then they wonder why she and Harry stepped down and jetted out of the UK for California.
It wasn't all bad though. Some Brits were excited to see her:
Meghan in Windsor pic.twitter.com/RWkAXThSfZ

— Myra (@SussexPrincess) September 10, 2022
Meghan Markle the Duchess of Sussex and Prince Harry pic.twitter.com/dM044bMn2S

— FUSE TV (@fusetv) September 12, 2022
We'll just leave this tweet here:
It is absolutely disgusting that the British press, media and public have given Meghan Markle a harder time than they've given Prince Andrew, who paid a financial settlement to the tune of 12 MILLION to end sexual assault allegations. Ridiculous.

— ASHLEIGH LOUISE (@axhleighlouise) September 11, 2022
Hmph.
Prince Harry paid tribute to Queen Elizabeth II - whom he affectionately called Granny - for the first time in a statement posted to his Archwell website.
Here's what he wrote about his grandmother:
In celebrating the life of my grandmother, Her Majesty The Queen—and in mourning her loss—we are all reminded of the guiding compass she was to so many in her commitment to service and duty. She was globally admired and respected. Her unwavering grace and dignity remained true throughout her life and now her everlasting legacy. Let us echo the words she spoke after the passing of her husband, Prince Philip, words which can bring comfort to all of us now: "Life, of course, consists of final partings as well as first meetings."

Granny, while this final parting brings us great sadness, I am forever grateful for all of our first meetings—from my earliest childhood memories with you, to meeting you for the first time as my Commander-in-Chief, to the first moment you met my darling wife and hugged your beloved great-grandchildren. I cherish these times shared with you, and the many other special moments in between. You are already sorely missed, not just by us, but by the world over. And as it comes to first meetings, we now honour my father in his new role as King Charles III.

Thank you for your commitment to service. Thank you for your sound advice. Thank you for your infectious smile. We, too, smile knowing that you and grandpa are reunited now, and both together in peace.
Aww!
BONUS:
Prince Andrew pic.twitter.com/Vr1EuXi45S

— Birmz is Grime (@Birmzisgrime_) September 11, 2022
1. A 22-year-old man was arrested for heckling Prince Andrew as he walked behind Queen Elizabeth II's coffin during her funeral procession in Edinburgh. STORY
Photos: Kirsty O'Connor/Pool Photo via AP
​ ​
​ ​ ​