Nicki Minaj Goes Scorched Earth On Queen Radio, Calls Out Multiple Female Rappers + Megan Thee Stallion Responds + Nicki Calls Out 'RHOBH' Star Garcelle Beauvais & Loni Love
​
Sep 12 | by _YBF
​ ​ ​ ​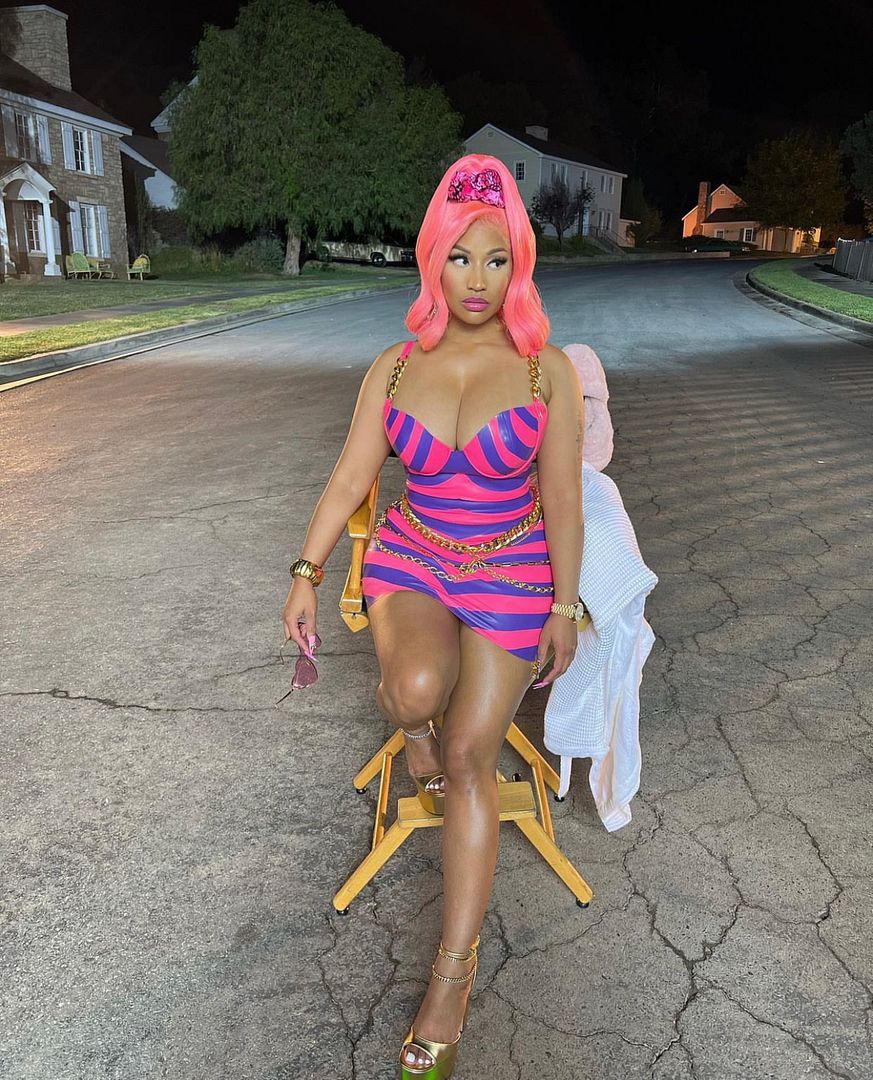 Nicki Minaj had to get some things off her chest last night on her Queens Radio "Tea Party" after dropping her "Super Freaky Girl (Queens Mix)." She called out multiple female rappers, dubbing them ungrateful and entitled. The Head Barb didn't name any names, but she used obvious "code names."
See Megan Thee Stallion's response to the "abortion" rumors, plus her heated rant about "Real Housewives of Beverly Hills" star Garcelle Beauvais and her body shaming tweets about Loni Love inside…
Nicki Minaj teased she would spill tea during her "Tea Party" on Queen Radio and she held up to her promise.
Last night, Nicki hosted a new episode of her Queens Radio show on Amazon's Amp app, which she dubbed "Tea Party," where she trashed all of her female rap rivals, some who she was once cool with. The episode came on the heels of her recently released "Super Freaky (Queens Remix)" that features City Girls' rapper JT, BIA, Katie Got Bandz, Akbar V and Maliibu Miitch. The track flew to the top of the charts and caused all type of controversy on social between with the rap girlies.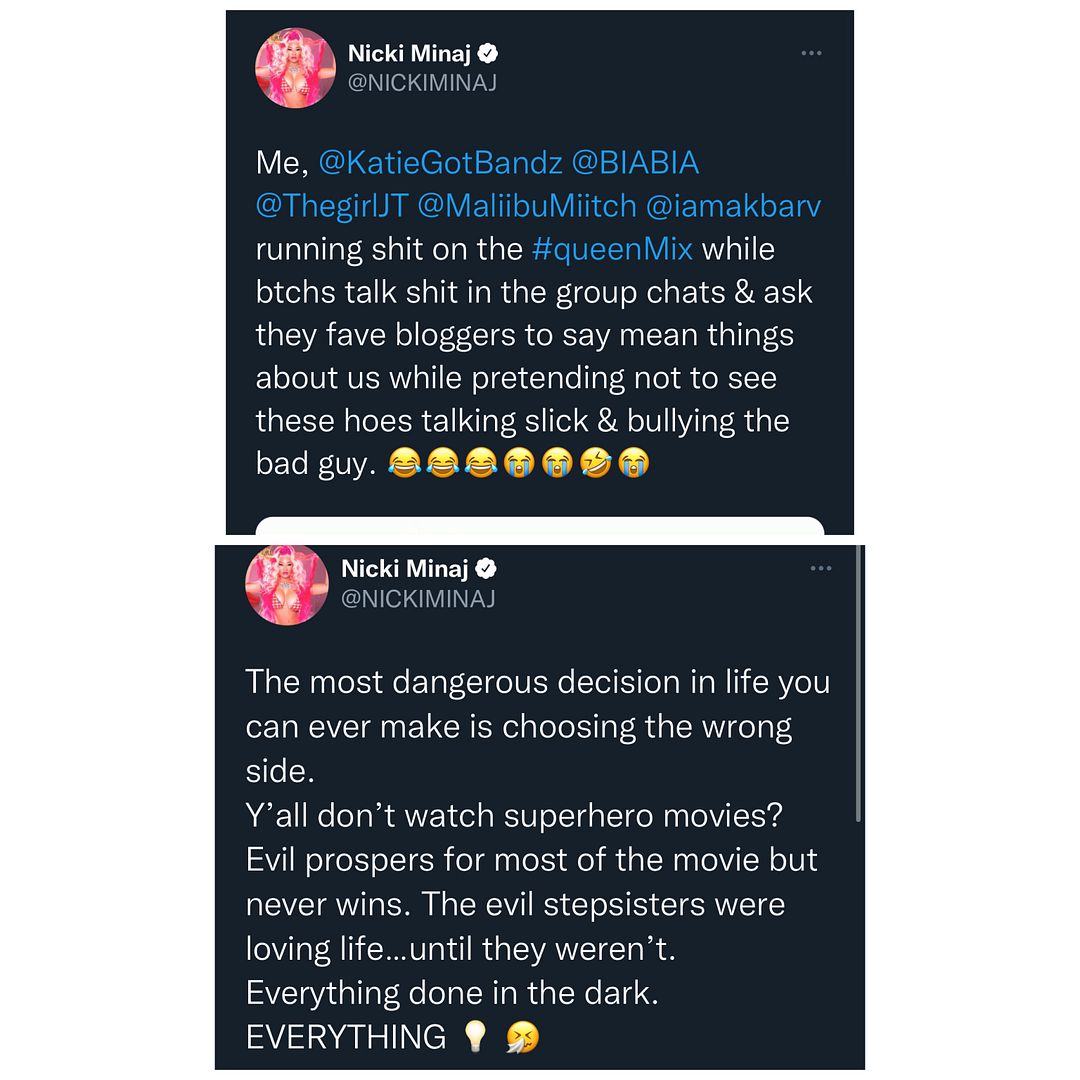 At one point during the episode, she called out the new generation of female rappers, which fans believe she's talking about Coi Leray, Lakeyah and Asian Doll. She used code names like "Olive Oyl" to reference one female rapper.
.@NICKIMINAJ throws shade on #QueenRadio #NickisTeaParty at @lakeyah, @coi_leray, and more and shares why she unfollowed them on Social Media. pic.twitter.com/RFkAwNr059

— Local Gossip (@LocaIGossip) September 12, 2022
"So many of you girls that just came in the game - as soon as y'all find y'all pissy tails on Billboard once or twice, y'all begin to say things about me in subtle ways. And that's why a lot of you pissy tails got unfollowed today. See, we're going to be upfront and direct 2022. You know why? Because Onika doesn't give a f*ck, that's why," she said.
After the "Super Freaky (Queens Remix")" was dropped, a few female rappers seemingly posted subliminals about the girls Nicki featured on the track. The QUEEN raptress explained on social media that she hand picked the ladies who congratulated her on going No. 1, so that's why they were chosen to be on the remix.
She continued, "You don't think I see through the bullshi*? Oh yes, that's why I love my age. With the age has come wisdom to see through you dirty, stank p*ssy h*es that think y'all about to game me, hype some sh*t to get a feature, but y'all really don't like me, but I see through you DUDS. A bunch of motherf*cking DUDS."
Peep the clip above.
During the episode, Nicki shared that an individual (whom she did not name) suggested she terminate her pregnancy at an abortion clinic so she could drink.
"Imagine telling someone you didn't want a drink," she said. "Because you were, at the time, possibly pregnant, because you were actively trying to have a baby. Imagine that person saying, 'Oh girl, you can go to the clinic!'"
She continued, "Imagine posting photos that you're pregnant and the person doesn't even like it or say congratulations. But then, when you post that Beyoncé sent you flowers congratulating you, the person then tries to attempt to send you flowers thinking that, 'Oh, I could use this opportunity as I use everyone else. She'll post that I sent her flowers. I didn't even let them sh*ts in my motherfuc*king house."
The Barbz began to put 2 and 2 together and decided Nicki was referring to Megan Thee Stallion, who she collaborated with on "Hot Girl Summer."
— TINA SNOW (@theestallion) September 12, 2022
A Twitter user tweeted Meg, "@theestallion Nicki Minaj is accusing you of encouraging abortion & child endangerment w/ alcohol.. This isn't something to stay quiet on."
The Houston Hottie retweeted the tweet and responded, "LIE." The Traumazine raptress then went back-and-forth with The Barbz after she set the record straight. Check out the tweets below:
So this person didn't mention me? https://t.co/IHbiccwzbh

— TINA SNOW (@theestallion) September 12, 2022
If someone @ you you can respond right or that don't apply for every user on twitter? If someone directly @ my name …why do they be confused when I reply lol?

— TINA SNOW (@theestallion) September 12, 2022
This person … as in the person who pressed the @ button… y'all not this crazy lol https://t.co/stIuEENTVO

— TINA SNOW (@theestallion) September 12, 2022
The "Chun-Li" rapper said she would be willing to take a lie detector test to prove she's telling the truth about the "abortion" story.
Btch it's true!!!! And there's even MORE. I'm glad u duds r mad whenever duds wanna take the lie detector test LMK. These duds been lying for years. https://t.co/pfYombZuV1

— Nicki Minaj (@NICKIMINAJ) September 12, 2022
Back to Queen Radio…
#NickiMinaj had some choice words for #RHOBH Star #garcellebeauvais yikes. #NickisTeaParty pic.twitter.com/P9SGSIOS9D

— The Gworls Are Fighting (@Barbiedolltvv) September 12, 2022
The Young Money rapper had some words for "Real Housewives of Beverly Hills" star Garcelle Beauvais as well. It seems she's upset Garcelle interviewed Jennifer Hough, the woman who accused Nicki's husband/son's father, Kenneth "Zoo" Petty, of rape, on "The Real" around this time last year.
"It's because they wanted ratings," she started off. "And the next thing that happens to them, they are canceled. And now this lady is on one of the Real Housewives talking about, 'Leave my son alone! Don't leave comments under my son's page!' B*tch if you can't stand to feel the motherf*cking heat then get the f*ck out the kitchen b*tch!" she yelled.
Nicki was referring to Garcelle's son being objected to extreme racist attacks from fans of some of her white castmates.
"Did you care about my motherf*cking son b*tch? Did you care about my motherf*cking son h*e?" she screamed. "I see why that white man left you b*tch! Disgusting!"
Listen above.
We're not sure why Nicki just popped off on Garcelle when Adrienne Bailon Houghton also participated in the interview. We're also confused why Nicki popped off on Garcelle when it was literally her job to interview guests on the show. Hmph.
Nicki Minaj claims that a female rapper did voodoo on her— wishing her death with witchcraft. pic.twitter.com/3gtsuLHzo9

— The Info Spot (@TheInfoSpot) September 12, 2022
During her rant, she also made claims that "your favorite rapper" did voodoo on her.
"What if one of your favorite rappers went and did voodoo? Like, actually went to a voodoo person on multiple occasions. And so f*cking dumb, went talking about it. Not only texting about it, but went talking about it to people and didn't know that somebody was in air reach…that knows me very well. Won't say how. Would you still like that person?," she asked.
"Imagine your self-esteem being so low, that you're resorting to voodoo and witchcraft as if you don't have to pay it back," she continued.
Take a listen to Nicki's "Tea Party" episode below:
Following the episode, Nicki's Twitter timeline has been super messy. Below are some of her tweets:
The Barbz sent folders & folders full of evidence to my lawyer. That's why I fkng love my babies so much. I hope when you go bankrupt that you can at least say it was all worth it. #QueenMix #SuperFreakyGirl

— Nicki Minaj (@NICKIMINAJ) September 12, 2022
Exactly. We been knew he doing his dirty work. No, WhAT yOu NoT gon Do is be able to afford to live when you get hit with this defamation lawsuit. Lmaooooo. Judd said in 40 years he's never seen anyones fanbase send this much evidence in support of a celebrity. Barbz>>>>> https://t.co/7zB8c3Cr0g

— Nicki Minaj (@NICKIMINAJ) September 12, 2022
Worked with every ICON & LEGEND in the game but I'm supposed to just wake up & work with DUDS cuz they been "SHoWiNg mE LoVe" #SuperFreakyGirl #QueenMix out now https://t.co/H7oSwhSQTQ

— Nicki Minaj (@NICKIMINAJ) September 12, 2022
Nicki fired body shaming shots at former "The Real" co-host/comedienne Loni Love:
I can't drag her by myself that's for sure #SuperFreakyGirl #QueenMix OUT NOW https://t.co/3crw0gsOQS

— Nicki Minaj (@NICKIMINAJ) September 12, 2022
Tamar Braxton - Loni's former "The Real" co-host - reacted to Nicki's tweet:
Messy.
It's all fun and games till the barbz come in them mentions and hoes wanna run and cry for SYMPATHY on some shit THEY started. They do to us what they do w Nicki and people are fucking bird brained duds they can't even see it

— F R eeee AK (@angelbaby795) September 12, 2022
Whew, chile! A mess!
Photo: Nicki's IG
​ ​
​ ​ ​