Nick Cannon Welcomes 9th Child With Ex-LaNisha Cole + Abby De La Rosa Says Nick Is Her 'Primary Partner' & She's Monogamous
​
Sep 15 | by _YBF
​ ​ ​ ​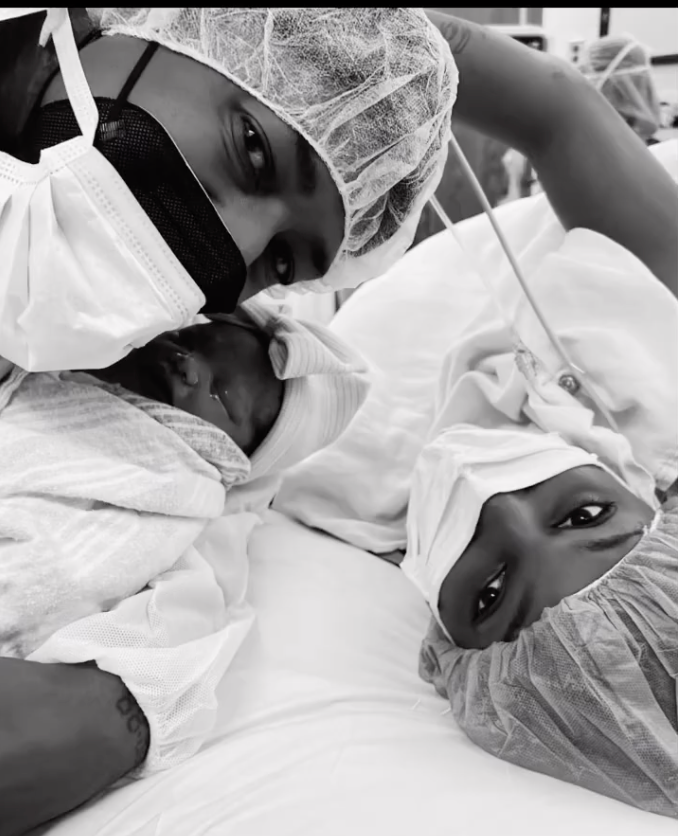 Baby making machine Nick Cannon welcomed his ninth child last night - his first with his ex-girlfriend LaNisha Cole, confirming rumors that her baby was his. Deets on their new bundle of joy, plus what Nick's 4th BM Abby De La Rosa said about the TV host being her "primary partner" inside…
Well, the rumors were true.
When former video vixen LaNisha Cole announced she was pregnant back in May, folks speculated if Nick Cannon was the father. Well, now we know he IS, in fact, the father of her child.
The "Wild 'N Out" honcho, 41, and the video model-turned-photographer, 40, welcomed a baby girl named Onyx Ice Cole Cannon yesterday. This is baby #9 for Nick after welcoming baby #8 in July with "Wild 'N Out" girl Bre Tiesi.
Both Nick and LaNisha shared social media posts to announce their daughter's arrival.
"Once again, today I am in awe of the Devine Feminine!" Nick wrote in the caption of a black-and-white photo of himself holding his newborn baby girl alongside LaNisha moments after the baby was born. "God has given me and @MissLanishaCole the privilege of hosting an Angel here on earth. I vow to protect, provide, guide and love this child to the best of my abilities," he wrote with his song "I Do" ft. Chris Brown playing.
"In this moment of celebration and jubilee, I wish to mute any low vibrational frequencies and only rejoice with the Highest Class of Civilization who are truly aligned with our purpose here in this dimension," he continued. "We all learn so much from these angels we call children. "I am learning that it is not the limited amount of time we have on this planet but it's the limited amount of love that is the issue. And I promise to love this little girl with all my heart, regardless what anyone says…"
Despite what anyone has to say about how Nick is choosing to live his life, he said he's going to live it in the way to "grow into the infinite being God ordained" him to be."
"I've given up on attempting to define myself for the world or society but instead I'm doing the work to heal and grow into the infinite Being God ordained me to be. Hopefully I can teach Onyx the same, to not let others shame or ridicule her with their outside opinions, because when they do they are only projecting their own harsh experiences, pain and social programming onto her unblemished beauty."
The "Masked Singer" host asked people to save their negative criticism aimed at him and to allow LaNisha to revel in this moment as she steps into motherhood.
"As we all know I am not easily triggered and have quite tough skin and have always been an open book but not everyone in my family has that same level of strength. So I pray and ask others to please project all criticism and cynicism towards ME and not the loving and precious Mothers of my children. @MissLanishaCole is one of the most guileless, peaceful and nonconfrontational kind souls I've ever witnessed, and only deserves to revel in this moment of blissful joy of motherhood. Please give her that. She is so loving and pure hearted. As for me, if you are truly concerned during this time of Spiritual Warfare, my inner struggles with self, mental wellness and physical health concerns… Just continue to pray for me and my entire family that God will grant us Peace that surpasses all Understanding."
After posting a black-and-white photo of her daughter on IG timeline, LaNisha took to her IG Stories to express her love for her new bundle of joy.
"Today has been such a special day for us," she wrote. "I can't tell you how blessed I feel to welcome Onyx Ice Cole Cannon into this world. The joy that I feel as a mother is something that has forever opened up my heart in a huge new way. She's surrounded by so much love and I'm already obsessed with her! And you already know there'' be no shortage of pics and videos lol," she concluded.
Swipe through their posts above.
No maternity shoot this go around, but we wouldn't be surprised if they release some maternity flicks together later on.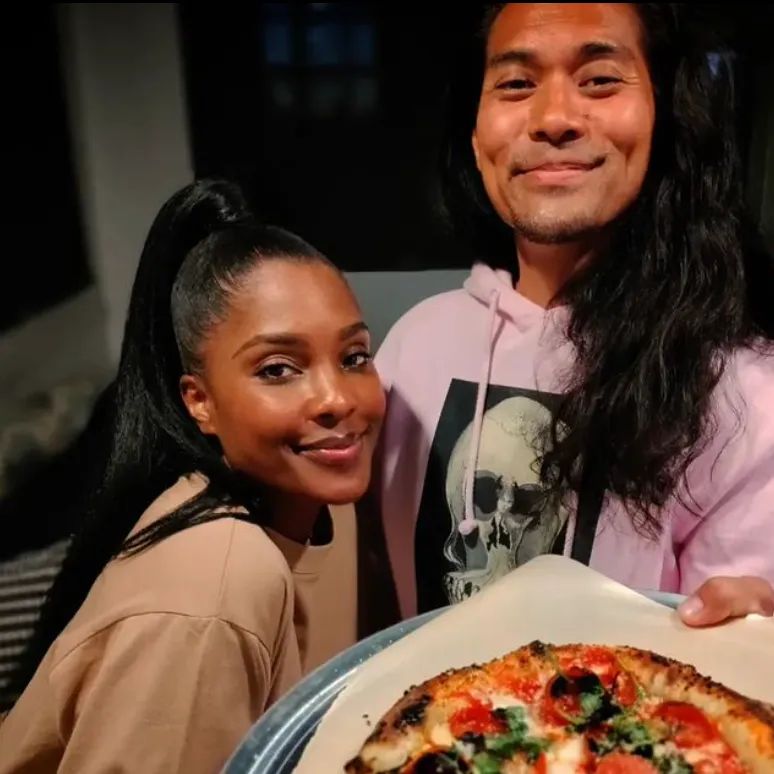 It's interesting because after LaNisha announced she was pregnant, she started posting pictures and videos, as well as posting cutesy comments, with an artist named Brian Paul Kuba, who she tagged in MANY of her baby bump pics and he tagged her as well. While she was pregnant, they were doing pizza date nights in L.A. and traveling together as well.
Interesting.
In January 2021, Lanisha and Nick Cannon seemingly confirmed they were BACK together after photos of them copping new tattoos surfaced on social media. Lanisha decided to get "King Cannon" tattooed under her boob, while Nick got his whole neck tattooed. No mention of Nick getting Lanisha's name inked on his body.
It was odd because right before she copped her tattoo, Nick became a father for the fourth time when he and his ex-Brittany Bell welcomed their daughter, Powerful Queen, Christmas 2020.
The video vixen - who starred in Pharrell Williams' "Frontin" video - was in a relationship with the "Masked Singer" host around the same time it was announced he was expecting twins with another woman - Abby De La Rosa. She ended up having Nick's second set of twins, Zion & Zillion.
So here's another Nick Cannon Family Tree recap:
Ex-wife Mariah Carey - 11-year-old twins, Moroccan and Monroe

Ex Brittany Bell - 5-year-old Golden and 1-year-old Powerful Queen + Pregnant with Baby #11

"Wild 'N Out" girl Alyssa Scott - Zen, who passed away when he was 5-months due to brain cancer.

DJ Abby De La Rosa - 1-year-old twins Zillion and Zion + Pregnant with Baby #10

"Wild 'N Out" girl Bre Tiesi - 2-month-old Legendary Love Cannon

Ex-LaNisha Cole - newborn Onyx Ice Cole Cannon
So, as far as we know, LaNisha (BM #6) birthed baby #9. Abby is pregnant with baby #10 (a girl) and Brittany Bell is pregnant with baby #11 (her 3rd with Nick). If Abby and Brittany have their babies before July 2023 (and there aren't any other pregnant women out there), he will have fathered at least four children in a 12-month span yet AGAIN.
Speaking of Abby…
DJ Abby De La Rosa recently sat down to chop it up on the Lovers and Friends podcast with host Shan Boodram about the special "connection" she shares with Nick Cannon.
During the interview, Abby - who is pregnant with her third child - said she understands that people may not agree with how she lives her life, but she "trusts the connection" she has with Nick. She said Nick is her "primary partner" and she's being monogamous by choice during this pregnancy.
"Naturally, yes, I can understand everyone's distaste and disagreeance in the way that I have chosen to live my life. And I find it funny too when everyone's always coming and being like 'he's playing you, he's playing you,'" she shared. "Technically speaking, we all know about each other. It's just how much do you want to know, how much are you choosing to know. And I trust the connection that I have with Nick."
She talked about how involved Nick is in her kids' lives even though he's stretched thin when it comes to time.
"Me being open in my relationship does not change or take away from the type of mother that I am to my kids," she said. "I'm excited for my kids to grow up and be like, 'Mom and dad, y'all did it your way. And I love that.'"
Peep the clips above. You can listen to her full podcast here.
No words at this point.
Photo: Nick's IG/@_pizza_date_
​ ​
​ ​ ​