Yung Miami Talks Dating Diddy, 50 Cent Enters The Chat Shading His Own's Son's Mother
​
Sep 27 | by _YBF
​ ​ ​ ​
Yung Miami opens up about her relationship with Diddy, explaining what she meant when she said they "go together real bad" in a new interview. Then, 50 Cent enters the chat, shading his son's mother, Daphne Joy, amid rumors that she's dating Diddy. Get the latest inside…
When Yung Miami told Diddy that they go together "real bad" on her debut episode of her podcast "Caresha Please" (which airs on Diddy's REVOLT network) back in June, the Internet was sent into a frenzy. It's clear Caresha, 28, and Diddy, 52, have an understanding when it comes to their "relationship" and some folks just don't understand.
In an effort to clear up any misconceptions, Caresha (whom Diddy calls his Shawty Wop) was asked in a new XXL interview what was her status with the Hip Hop mogul (who she affectionately calls Papi). She explained that they're both living life to the fullest.
"We are dating. We single, but we're dating," she said. "People don't know what dating means. He's single, I'm single, but we're dating. That's what I mean when I say we go together. When we're together, we're together. We're having the time of our lives, but we're still single."
With such a huge age gap, people were initially shocked they were dating. However, they've seemingly started to grow on folks. The "Act Up" raptress shared what she loves about Diddy and how he has enhanced her life.
"He's very funny," she shared. "He's supportive and I feel like he brings a different side of me that—I won't say that I didn't know that I had—he brings out a better side of me. He dig deeper into me to say, "OK, you're this and you're that. And you don't need this, you have that." He brings out the better qualities of myself. That's one thing I love about him. He brings out more confidence in me."
Speaking of enhancing of her life…
The Bad Boy honcho recently gifted Caresha a Maybach truck, which she posted on Instagram and thanked him. Apparently, her daughter's father/ex-boyfriend, producer Southside, felt a way about it because he hopped on social media saying, "We don't do the Maybach cars or trucks anymore. We do vans now." Peep the clip below:
#YungMiami's baby daddy #Southside throws shade about #Maybach trucks after she got one from #Diddy pic.twitter.com/mhZo6bIs2D

— Virtual Celebrity News Network (@virtualcelebnew) September 25, 2022
If you're salty just say that, sir!
In the XXL interview, Caresha talked about co-parenting with Southside, whom she split from in late 2020. They welcomed their daughter, Summer Miami Luellen, in October 2019.
"Yeah, that's my baby daddy. He's real cool," she said. "I'm not gonna lie, at first, it was kind of rocky, but, you know, we had to put our differences to the side and just understand that we got kids together. We can't raise our kids in a bad environment because it really takes a toll on the kids."
Speaking of salty exes…
Diddy spotted out with 50 Cent's baby mama Daphne Joy. pic.twitter.com/xgwE2OU7Lo

— Rap Alert (@rapalert3) April 9, 2021
Dating rumors started circulating when photos of Diddy and Daphne Joy - 50 Cent's baby mama - surfaced at the iHeartRadio Music Festival in Las Vegas. Daphne shared a video of herself in front of a stage at the festival where Diddy performed. They both shared videos of themselves on a private jet as well. Social media detectives even zoomed in on the sunglasses Diddy was wearing to identify Daphne.
It seems Daphne's baby daddy is salty about it.
The "Power" producer - who is currently dating Cuban Link (real name Jamira Haines) - posted a photo of himself with his & Daphne's 10-year-old son, Sire Jackson, with the caption, "Oh sh*t, that's your mommy over there with Puffy. LOL. Remember what I told you the other day, these b*tches be crazy. SMH."
This man is SO lame. On social media, Daphne responded to Fif, saying, "Please stop doing this to me," she wrote. "I never bother you and I'm outstanding mother to our son. Can we please just focus on that. Please."
Daphne then posted a lengthier response to address the concocted drama: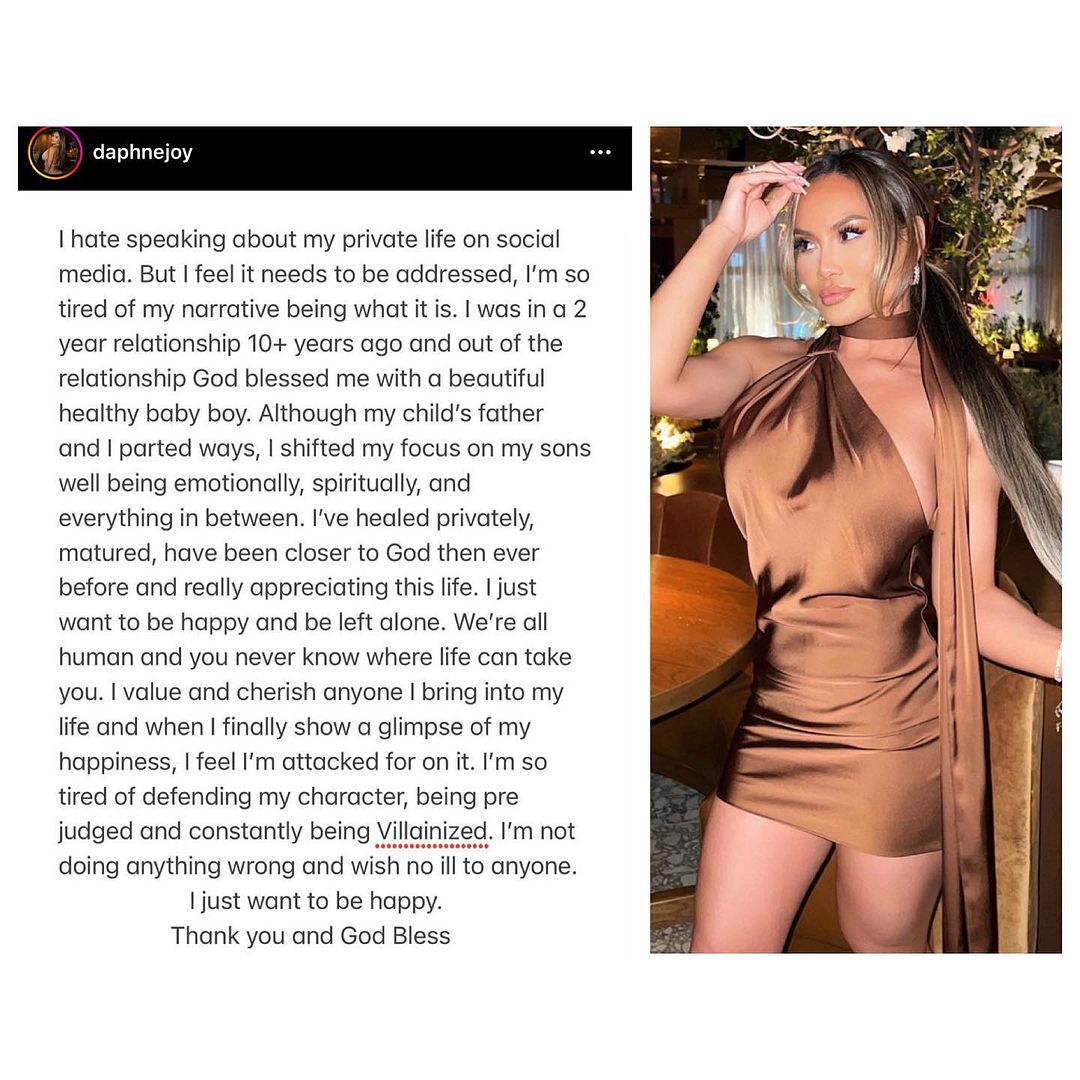 Sounds like 50's feelings are hurt. Hmph.
Photo: Instagram
​ ​
​ ​ ​