B. Simone Responds To Rumors DaniLeigh Had Her Removed From 'Wild 'N Out' Episode On 'Tamron Hall,' Dani Says 'It's Not That Deep!'
​
Sep 29 | by _YBF
​ ​ ​ ​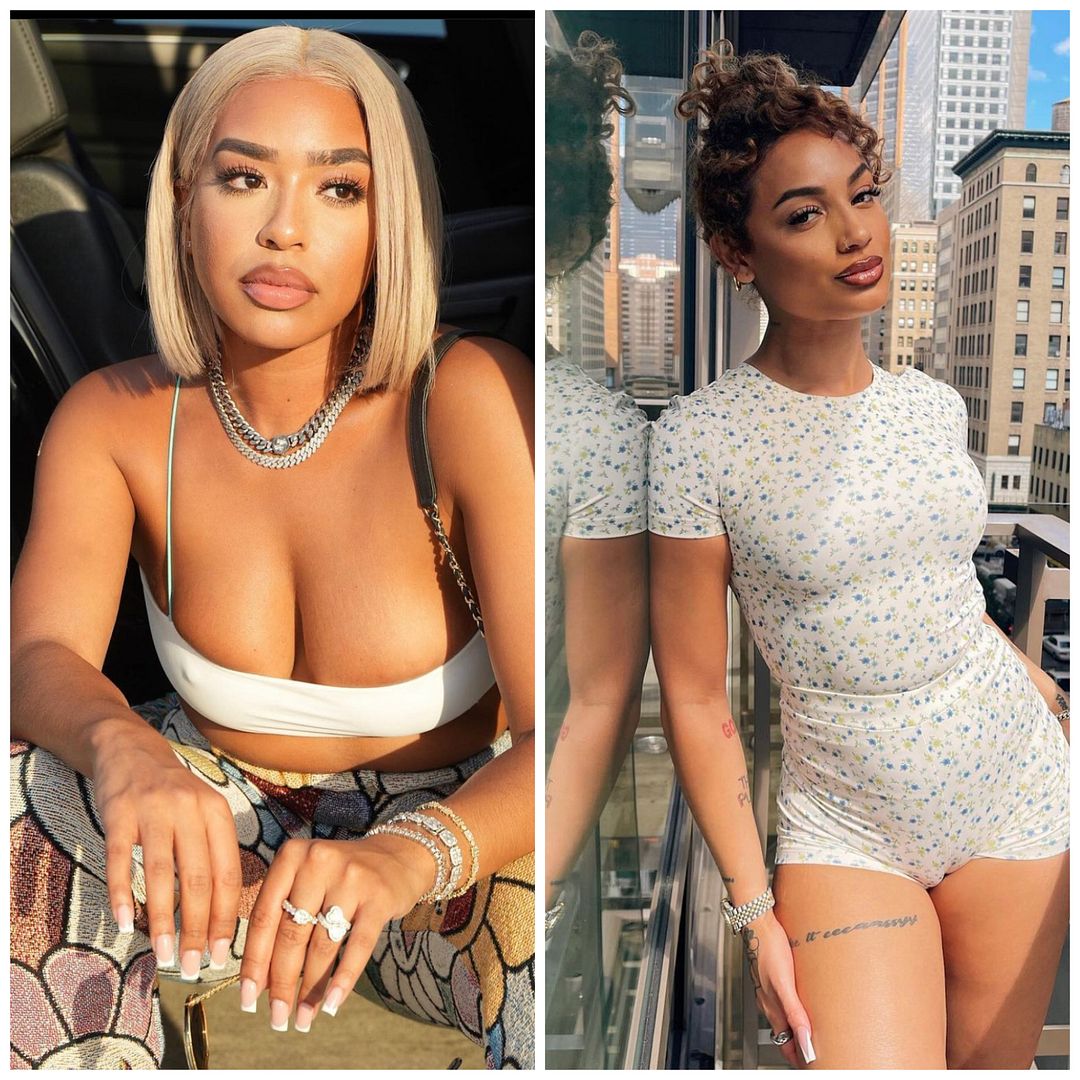 B. Simone confirmed rumors that DaniLeigh had producers remove her from an episode of "Wild 'N Out" during a recent appearance on the "Tamron Hall" show. DaniLeigh responded and said it wasn't that serious - she just didn't want to be around someone she didn't like. More inside…
It's B. Simone vs. DaniLeigh! The reason? Apparently, DaBaby!
Rumors started circulating that DaniLeigh had B. Simone removed from a recent episode of the hit comedy sketch show. It was reported Dani was a celebrity guest on Nick Cannon's show and during filming, she asked producers to have cast regular B. Simone removed from the set during her appearance. Word on the curb was that Dani didn't want to be around B. Simone since she once had a romantic relationship with her baby daddy, DaBaby.
It's unclear if DaBaby and B. Simone were ever romantically involved. However, B. Simone has been very vocal about being a huge fan of the "ROCKSTAR" rapper over the years. She even played the leading lady in DaBaby's music video for "Find My Way."
During a recent episode of daytime talk show "Tamron Hall," the 30-year-old comedienne addressed the drama, confirming she was asked to leave the set after Dani persuaded producers to do so.
"You know what? I'm going to answer that very simply. It is true, but we're gonna have grace for that situation. I don't agree with it, but I do understand it, especially…you know, she's not that mature, so we're just gonna have grace for her and move forward."

She continued, "I know that sounds like…I don't even have a publicist, that sounds like the publicist answer, but I've had time to think about it and not react emotionally, and that's genuinely how I feel."

Tamron jumped in to share advice from her own experience: "Handle it with grace and you will find your happy."

Actress Kim Coles also added, "I was released from the first season of 'In Living Color,' and got the phone call on a Friday night like 'don't come to work on Monday morning'...so all been there done that. And look at where we are right now."
Watch the clip below:
Following B. Simone's confirmation, the "Yellow Bone" singer hopped on Instagram Live to tell her side of what went down and she claims the "situation is not that deep."
"From the jump, it was never a demand. I don't know why the blogs are seeding it out to put it out that I demanded B. Simone not to be on 'Wild N' Out.' 'Wild N' Out' asked me. I love 'Wild N' Out.' I've always supported Nick. I've always supported the comedians on the show. So you know me and B. Simone are not cool," she told her fans.
Dani said she and B. Simone aren't cool so she thought it was the mature thing to do instead of having them both on stage "mad awkward and uncomfortable." Dani - who shares a daughter with DaBaby - said she was just protecting her peace and her energy.
During filming of the show, Dani said B. Simone was still on set and said the show should have paid her for being there. If they didn't, she said, they were wrong. She also mentioned B. Simone made a diss track towards her and that she had previously seen text message exchanges between her DaBaby and B. Simone, but she never brought it up.
Below is a snippet of the diss track where B. Simone calls Dani "baby mama #3"
Wait a minute… hold up! Okay maybe Dani was in her right. Why B. Simone diss her like that pic.twitter.com/l9mLTPfvtx

— gossip girl (@thatssofetchh__) September 29, 2022
Peep clips from DaniLeigh's IG Live addressing the drama below:
Chile…DaDrama!
EXTRAS:
1. FOX 5 News anchor Lori Stokes has announced that she is going to retire. STORY
Photos: Instagram
​ ​
​ ​ ​