Quavo vs. Sweetie vs. Offset OR Lil Baby? Quavo Implies Saweetie Cheated With His 'Dawg' On 'Messy' Track, Drags Yung Miami In It
​
Oct 07 | by _YBF
​ ​ ​ ​
Quavo dropped his new project with Takeoff, and on one song, he implies Saweetie was the one who cheated and claims it was with someone he's cool with. The Internet is torn, speculating Saweetie either cheated with Offset or Lil Baby. On the track, Quavo also mentioned Yung Miami, dragging her into the drama. Everything inside…
As the saying goes…drama sells! And Quavo is tapping into the drama for his new musical offering.
Today, Quavo and Takeoff - dubbed Unc & Phew - released their debut joint album, "Only Built For Infinity Links," which features a track titled "Messy" that has everyone speculating.
Rap fans are connecting the dots of cryptic lyrics Quavo spit on the Newley released track and many believe the Atlanta rapper is sneak dissing his ex-girlfriend, Saweetie, on the track, following her appearance on Yung Miami's "Caresha Please" podcast. It seems the rapper is also dissing his QC labelmate, Yung Miami, as well.
"I said, 'Caresha please' 'cause she too messy/ B***h f**k my dawg behind my back, but I ain't stressin'/ You wanted the gang, you shoulda just said it, we would have blessed it(You shoulda just said it)/ Now sh*t got messy (uh)," Quavo rapped.
Now, the Internet is trying to figure out which one of Quavo's homies Saweetie allegedly slept with. Right now, folks believe it's either Quavo's Migos bandmate/cousin, Offset, who is married to Cardi B, or Lil Baby, who he doesn't have the best relationship with now. You'll recall, when Saweetie and Quavo broke up, she hinted HE cheated.
"I'm single," Saweetie tweeted in March 2021. "I've endured too much betrayal and hurt behind the scenes for a false narrative to be circulating that degrades my character. She "continued, "Presents don't band aid scars and the love isn't real when the intimacy is given to other women."
Now, he's making claims that SHE cheated.
It's interesting that people believe it's Offset. Rumors as it why the Migos broke up have been swirling since they disbanded. Earlier this week, rap trio Travis Porter said the Migos broke up "over a b*tch." Folks assumed it was over Cardi B, Offset's wife. Now, people are leaning more towards Saweetie being the culprit. So funny how folks put women at the center of MEN's dysfunction.
It's also speculated Saweetie allegedly slept with Quavo's labelmate, Lil Baby. Although Quavo and Lil Baby are signed to the same label, they don't get along.
In November 2021 (months after Saweetie & Quavo broke up), dating rumors began circulating about Sweetie and Lil Baby. It's alleged Lil Baby dropped a $100,000 bag on Saweetie in the Chanel store after she posted cryptic photos of herself straddling a mystery man in a store, which fans discovered to be Lil Baby since the mystery man was rocking an outfit similar to what Lil Baby had on in his IG Stories.
Since Quavo and Lil Baby don't get along, it seems Quavo COULD be talking about Offset, especially since he revealed the Migos broke up due to "personal issues" amongst themselves and claimed Saweetie slept with "his dawg." However, it seems hard to believe Saweetie would sleep with Cardi's man.
Yung Miami and her City Girls rap partner JT took to Twitter to laugh: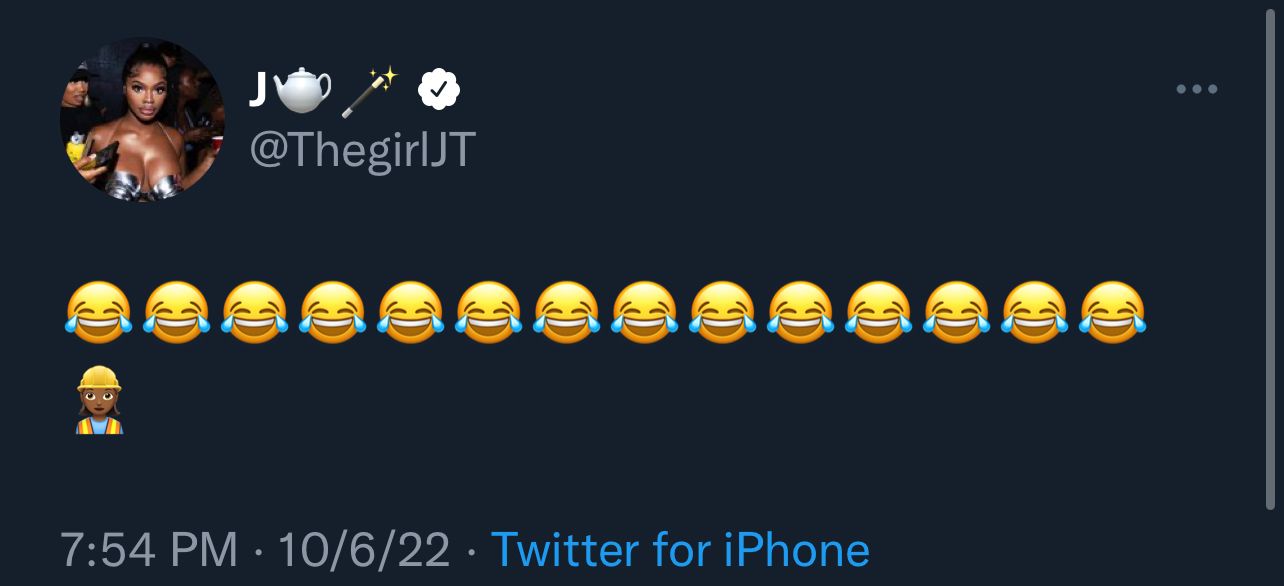 Hmm...we wonder if it had something to do with Quavo's verse.
Photos: Instagram
​ ​
​ ​ ​