COLLEGE COACH DRAMA: Alabama St. Head Coach Eddie Robinson Jr. Explains Why He Shoved Jackson State Head Coach Deion Sanders
​
Oct 10 | by _YBF
​ ​ ​ ​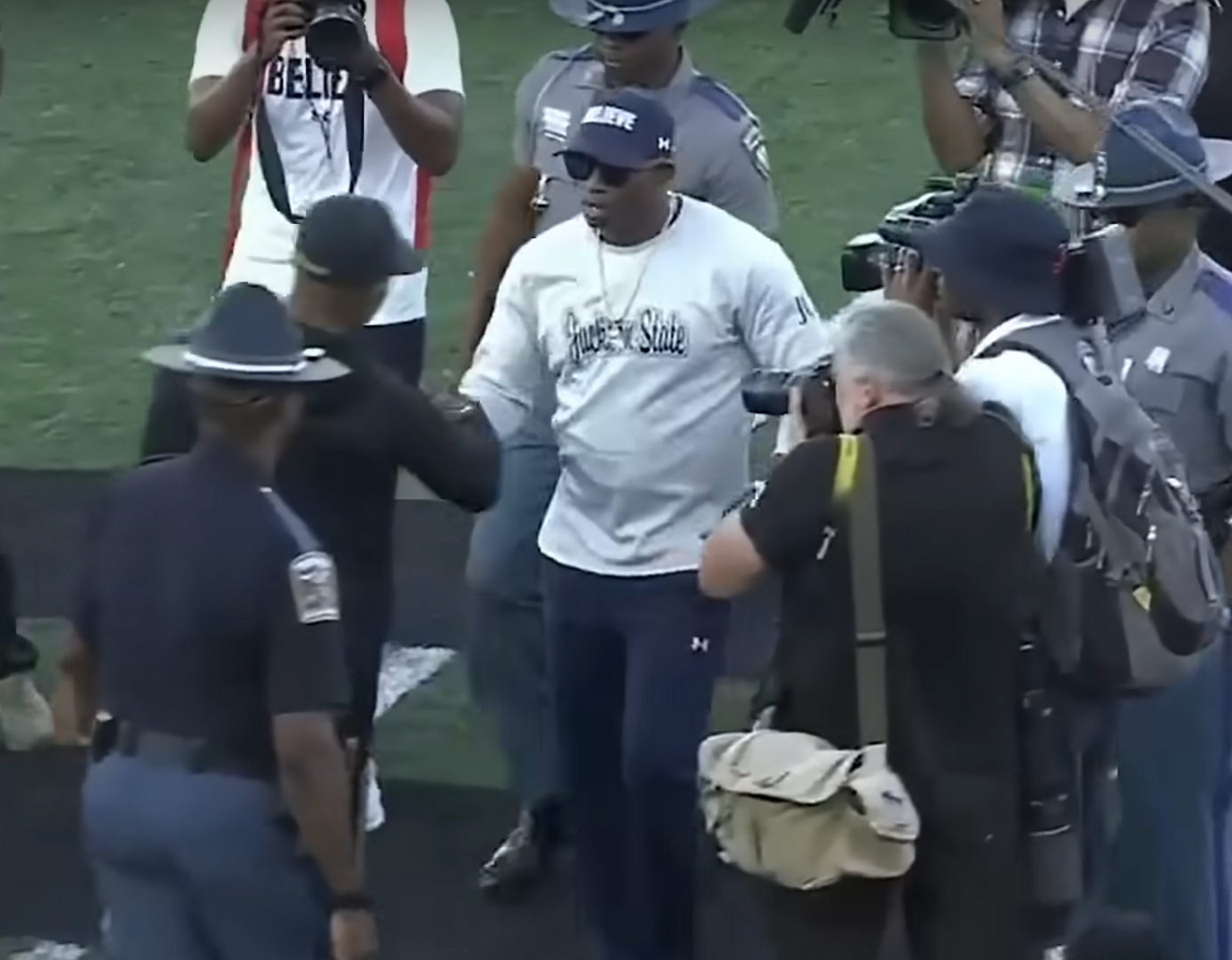 Things got testy between head coaches after Jackson State defeated Alabama State during their homecoming over the weekend. When Jackson State's Deion Sanders went in for a hug, Alabama State head coach Eddie Robinson Jr. rejected his gesture and seemingly shoved Coach Prime. Find out why he said he did it, plus Deion's response inside…
The drama between head coaches continue after a huge upset.
Jackson State dominated Alabama State during their homecoming on Saturday, beating the team 26-12. Let's just say, Alabama State fans were PISSED. And they weren't alone…
After the game, Jackson State head coach Deion "Coach Prime" Sanders walked over to meet Alabama State head coach Eddie Robinson Jr. midfield to dap one another up. However, ish got testy between the two. After shaking hands, Coach Prime leaned in for a hug, but Coach Robinson put his hand up and pushed the Pro Football Hall of Famer away from him, which resulted in Coach Prime throwing his hands up in disbelief.
Watch the heated exchange in the clips above and below:
There was a lot of animosity leading up to the game. Coach Prime captured video of the Alabama players being disrespectful towards him as he made his rounds before the game. Watch the clip below:
Deion sanders shares footage of Alabama state players being disrespectful towards him during his pregame routine pic.twitter.com/vq5fAIK4bo

— Shannonnn sharpes burner (@shannonsharpeee) October 9, 2022
Watch more of the game aftermath below:
Following the upset, Coach Robinson explained he didn't want to do the "brotherly hug" midfield because leading up to the game, Coach Prime had made disrespectful comments aimed at his team. Eddie said there was "no need for an embrace" with Deion. Not only that, Coach Robinson said Jackson State should have taken a knee in the final minute of the game instead of trying to score more points with its backup quarterback.
"I'm going to always be respectful and respect the game," Coach Robinson said. "You've got the great [coaches], W.C. Gorden, Eddie Robinson, those guys, Marino Casem, I'm living on the shoulders of the SWAC."
"He ain't SWAC. I'm SWAC, he ain't SWAC. He's in the conference, doing a great job, can't knock that, got a great team, his son should be up for the Heisman Trophy, I love Shedeur, great player, I love what he's doing for the conference. ... But you're not going to come here and disrespect me and my team and my school and then want a bro hug. Shake my hand and get the hell on."
Coach Robinson was upset over comments Coach Prime made about ASU. Leading up to the game, Coach Prime said Alabama State inviting Jackson State to its homecoming as an opponent was a "money game," because of the large crowds his program attracts.
"I hope he comes back next year, I pray he don't get a Power 5 job, so we can play them next year in Jackson," Coach Robinson said. "And I pray they put us for their damn homecoming."
Watch his interview below:
Coach Prime also addressed the drama during his post-game press conference:
A reporter asked Coach Prime if the incident "further motivated him" and the former NFLer let him know this incident is NOTHING compared to what he has gone through in his life. Peep the clip above.
He continued, "I heard him also spew out comments about what did I say leading up to the week. I was a darn good salesman leading up to the week. Did we sell the game out? Did we sell the game out, yes or no? Had they ever been sold out here? So I thought I did my job. I thought I should be applauded, really."
Coach Prime also had an issue with Coach Robinson saying he doesn't represent Southwestern Athletic Conference (SWAC).
"I'm not one to come back the next day and you going to pick up the phone and you going to apologize and we straight," he said. "No, not whatsoever. You meant that mess. And one of the comments that kind of disturbed me out of all the comments, that I'm not SWAC. Who is? I got time today. Who is SWAC if I ain't SWAC? Who is SWAC if I ain't SWAC?"
On social media...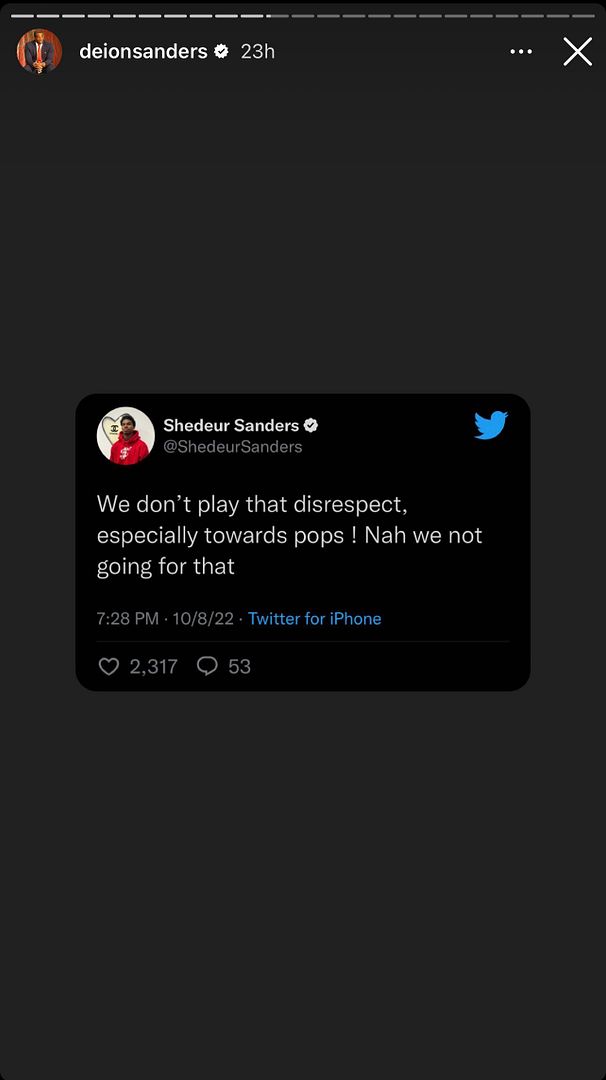 Coach Prime shared a screenshot of a tweet his son/Jackson State quarterback Shedeur Sanders posted.
"We don't play that disrespect, especially towards pops ! Nah we not going for that," Shedeur tweeted.
He also reposted a Twitter post from his daughter Deiondra Saunders:
"Not Eddie Robinson getting sassy. You agreed to play against the best team on your homecoming," she tweeted.
BONUS:
Deion sanders pregame speech vs Alabama State pic.twitter.com/wGtcBL6WsD

— Shannonnn sharpes burner (@shannonsharpeee) October 9, 2022
Watch Coach Prime's electrifying pre-game speech above.
Photos: YouTube Screenshot
​ ​
​ ​ ​