Megan Thee Stallion EATS 'SNL' Takeover, Gets Emotional Performing 'Anxiety' & Puts In 'Bridgerton' Bid
​
Oct 16 | by _YBF
​ ​ ​ ​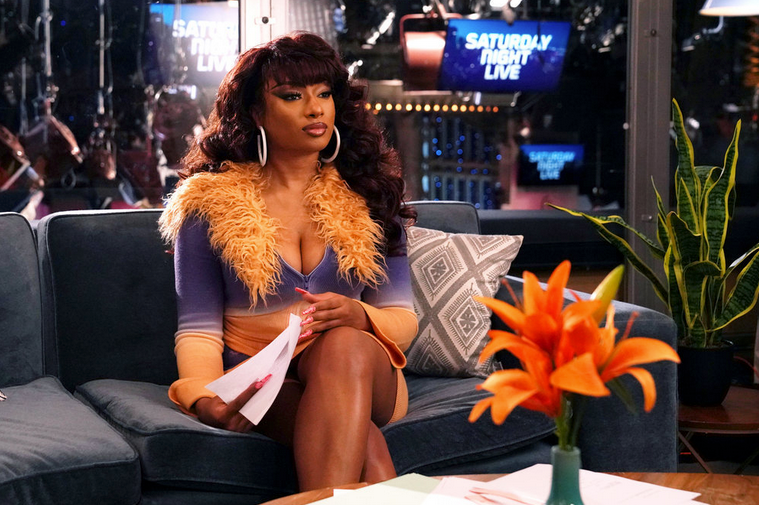 Megan Thee Stallion was a triple threat for last night's episode of "Saturday Night Live" as host, performer and guest star! The Hot Girl Coach hit the stage to perform several of her new hits, she served up laughs in her skits, and she put out a message for Shonda Rhimes in a bid for a role on "Bridgerton." Watch Meg in action inside…
If the show must go on was a person!
Megan Thee Stallion pulled double duty as the host and guest performer for last night's episode of "Saturday Night Live." And not only did she dominate her hosting duties and performances, she was also funny and entertaining during her skits, serving up triple threat energy.
During her monologue, she proclaimed she was "a really good actress" before speaking in a British accent to prove her point.
"Like, I don't want to toot my own horn or nothing but I think I do a pretty good British accent," she said.
The Hot Girl Coach then put in a bid for a "Bridgerton" role on Netflix.
In her British accent, she said, "Put me in Bridgerton b***h."
Ha!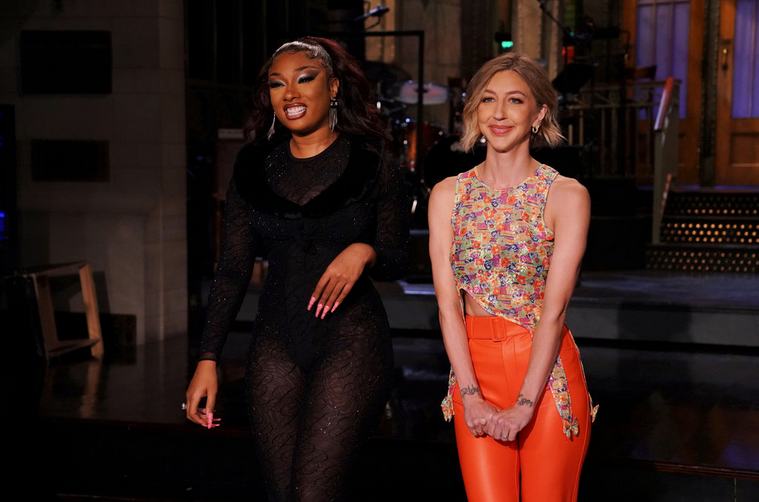 The Traumazine raptress joked about an important "incident" that's been on everybody's mind, and then she brought up Popeyes taking the Hottie Sauce off the menu, rather than what everyone was likely thinking - the Tory Lanez shooting incident.
The "Body" rapper also talked about the new website she just launched to help her Hotties that are struggling with their mental health.
Peep the clip below:
While Megan was in New York City rehearsing for her sting as host and musical guest on "SNL," her home in Los Angeles was robbed of $400,000 worth of merchandise. After news broke, she tweeted she's in need of a major break - and rightfully so.
"Material things can be replaced but I'm glad everyone is safe," she tweeted after the burglary.
Thankfully, no one was hurt. Instead of hopping on a flight back to the west coast to handle that, the Grammy-winning rapper stayed in NYC to finish her gig.
Back on the "SNL" stage…
Megan performed 'Anxiety,' one of her most personal songs on her latest album Traumazine, where she nearly burst into tears during the performance when the lyrics about her mother came up:
"If I could write a letter to Heaven / I would tell my mama that I shoulda been listenin' / And I would tell her sorry that I really been wildin' / And I would ask her to forgive me, 'cause I really been tryin'," she rapped while fighting back tears.
Watch the performance above.
The H-Town Hottie also performed "NDA" and "Plan B" and killed those performances. Check it out above.
The hosting skills were great, the performances were lit, and her acting skills were on point as well. So stop asking "what else can she do besides twerk". Chick already copped a college degree and folks are still asking while never asking the same of any other rapper.
Check out a few of her "SNL" skits below:
We die!
Thank you, @theestallion! Goodnight!!! pic.twitter.com/taB4cBFTgz

— Saturday Night Live - SNL (@nbcsnl) October 16, 2022
Meg did an amazing job!
Hopefully, she can get some rest before she has to head back to court in December.
Photos: Rosalind O'Connor/NBC
​ ​
​ ​ ​